Beloved by fans and critics, Stargate Atlantis succeeded in building a following independent of its parent, as well as satisfying an entire generation who had grown up with Stargate SG-1 with big-name crossovers and lore-laden payoffs.
What's more, it looked as though it could go the distance. With Stargate SG-1 eclipsing even Star Trek: The Next Generation's seven seasons – surely Atlantis could give Deep Space Nine or Voyager a run for their money.
On August 21st, 2008, it was announced that Stargate Atlantis would not be making it to Season 6. The blow was softened with talk of a two-hour Atlantis TV movie on the Sci-Fi Channel to wrap up the storyline, and the announcement of a second Stargate SG-1 spin-off, Stargate Universe.
Executive producer and prolific blogger Joseph Mallozzi explained at the time:
"With 100 episodes under our belts, rising production costs, and the US dollar's steep decline, the odds were stacked against us. [...]  100 episodes is pretty damn impressive feat and, as evidenced by the quality of recent stories and the uptick in the ratings, we'll be going out on a high. Even though I see a lot of anger directed at both MGM and Sci-Fi, the fact is we couldn't have done it without their support. And we're going to count on that support as Atlantis continues its adventures as a movie franchise."
The movie, Stargate: Extinction, didn't happen, but Stargate Universe did. Some fans put two and two together to get 60 – blaming SGU for the cancellation of SGA. The speed with which this narrative took hold can be seen in the speed in which Mallozzi addressed it, writing two days after the announcement of SGA's cancellation:
"Now, at present, a lot of you aren't exactly feeling charitable toward the forthcoming spin-off, Stargate Universe [...] There's been a fair amount of talk about SGU being little more than a shallow space romp based on the preliminary buzz."
The Rising Costs of a Long-Running Show

The decline of the US dollar against its Canadian counterpart is an established fact. In 1997, when Stargate SG-1 set up shop in the great white north, the Canadian dollar was part-way through a period of decline that began in 1992 and only began to climb again in 2002. The comparative weakness of the Canadian currency gave US studios far greater purchasing power, but by the end of 2007, that difference was non-existent.
In 2004, when Stargate Atlantis first aired, CAD $1 was worth USD $0.795. By the time the cancellation was announced in August 2008, CAD $1 was worth USD $0.942. It might not seem like a huge difference, but, for the sake of example, if we take the budget of SGA as USD$2 million per episode: in 2004, that was the equivalent of USD $2.52 million, and in 2008, it was worth USD $2.12 million.
Again those numbers are just for the sake of example and aren't particularly credible, but that's USD $500,000 per episode. Spread over an entire season, you will feel the difference. (The figure of USD $2 million per episode has also been cited for Stargate Universe, but again the source isn't entirely reliable.)
Another factor is that, at the time of work beginning on Atlantis, the production shared crews, soundstages, and other resources with Stargate SG-1. How this exactly impacted the bottom line is not a matter of record, but with SG-1's run concluding in 2007, the overlap with the production of SGA ended around 2006, and so did any cost benefits.

We're not here to relitigate whether "Stargate Universe killed Stargate Atlantis," because it's been comprehensively disproven elsewhere. What killed SGA was rising costs – not just from declining purchasing power, but costs incurred by a long-running cast, and the growing cost of everything from catering to accommodation. What gave SGU a shot was its comparatively lower costs, with, amongst other benefits, repeated use of the same sets hardwired into the premise, and a line-up predominantly composed of newcomers.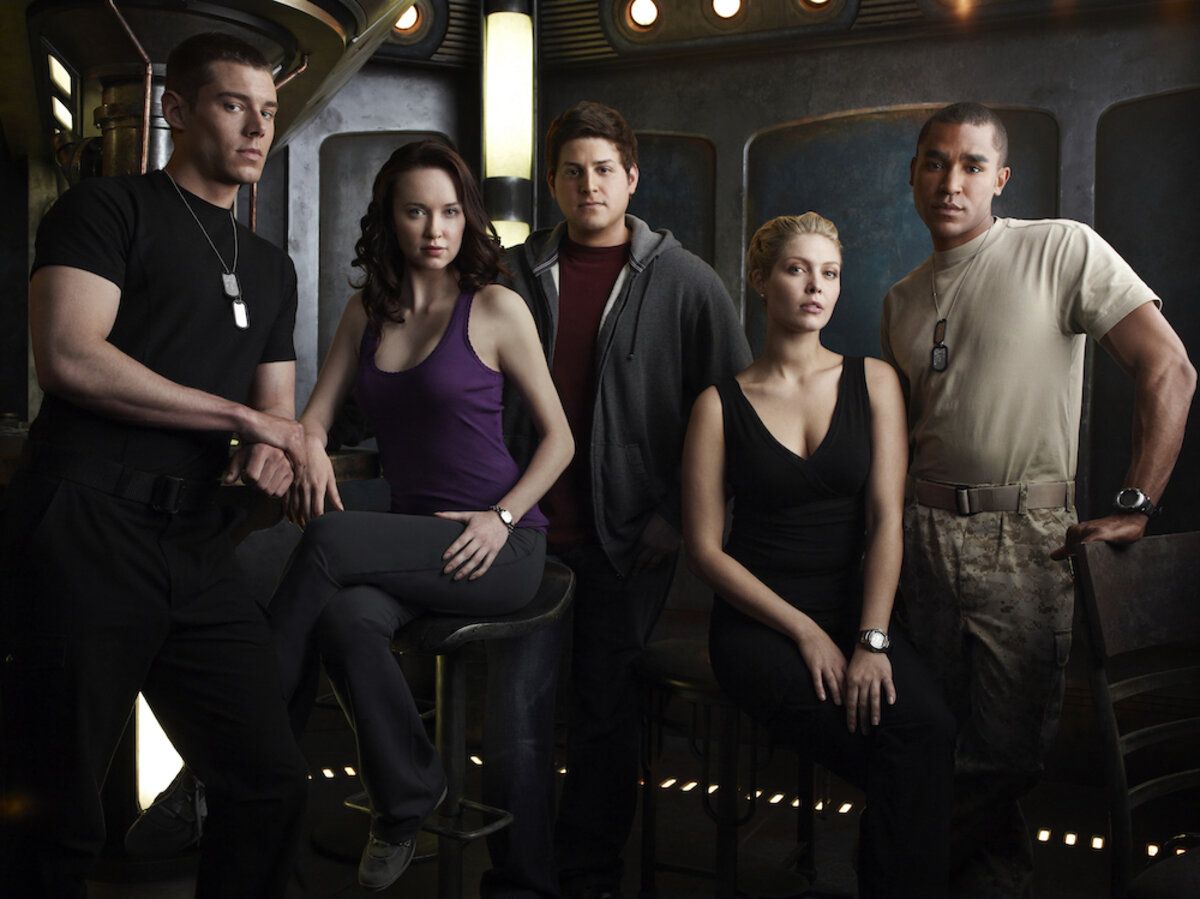 Mallozzi noted in a 2010 blog post that even if Atlantis had made it to a sixth season, there's no guarantee it would have seen a seventh:
"The longer a show is on the air, the more expensive it is to produce. I think that, by season seven, the costs of producing the series would have probably surpassed [any] upside benefits."
GateWorld reported back in January 2009 that the plan was to wind down Atlantis whilst the interest was still high, so that like Stargate SG-1 before it, the story could continue in movie form:
According to series co-creator Brad Wright, the matter seems to be more complex than that. The producers, MGM (the studio that owns the franchise), and SCI FI executives sat down in the summer of 2008 to strategize what they felt is in the best interests of the entire franchise over the long term. Add to this mix the typical life cycle for a television show and the importance of full-length movies to the show's creators, and a picture begins to emerge: In order to make Atlantis DVD movies successful (among an audience much broader than the fanbase), they should be made before general interest in Atlantis has waned.
The article continued:
According to Wright, the three parties mutually decided to end Atlantis and make movies, and then launch Stargate Universe. This would allow the SG-1, Atlantis, and Universe "legs" of the franchise to continue to run together, hopefully far into the future.
Events would soon overtake them.
What Part Did MGM and Sci-Fi Channel Play?

Coupled with the rising costs of Stargate Atlantis was a declining willingness to pay them, a toxic combination of external factors that, as we wrote recently, also saw Farscape axed.  
A lot is made of the Sci-Fi Channel's declining interest in the space-set science fiction that initially built the brand, best exemplified by the rebrand as Syfy in 2009 and the growth of supernatural dramas, reality TV, and wrestling (?!) on the network, but that's to treat correlation as if it were causation. If the management harbored a bias against spaceship shows, they wouldn't have moved forward with Stargate Universe in the first place.