Warning: This article contains spoilers for the Stargate Atlantis episodes 'Suspicion' (S1, Ep5), 'Instinct' (S2, Ep7), 'Common Ground' (S3, Ep7), and 'Vegas' (S5, Ep19). Proceed with caution.
If it's true that your hero is only as good as your villain, then it's no wonder why we fell so hard for the crew on Stargate Atlantis so quickly.
Because they had the Wraith (or is it Wraiths? Argue below) and the moment these pallid energy vampires came on-screen – looking like a cross between the Uruk-Hai and members of a Scandi metal band – it was hard not to love them. There's even a vocal section of fans who get quite annoyed at the fact they are categorized as baddies. After all, it's not your fault if you need other people's life force for breakfast, lunch, and dinner, is it?
It's not hard to see how Wraiths might have been influenced by and subsequently influenced pop culture. Stargate Atlantis co-creator Robert C. Cooper has been given a lot of the credit for hatching the backstory of the Wraith, which he said was his spin on vampire mythology, while series production designer James Robbins created much of their look.
There's definitely an Alien facehugger tinge to the Iratus bug, while its sequel/prequel Prometheus (2012) – which of course came after Stargate Atlantis – mines similar territory as Wraith history by having the Engineers/Michael Fassbender create Xenomorphs through experimentation, in ways different from but in the same ballpark as Stargate's Ancients.
But someone else who had a big impact on the characters was actor James Lafazanos, a young Canadian performer who played several different Wraiths across various Stargate Atlantis episodes, including 'Jimmy' in 'Rising: Part 2' (S1, Ep2) and 'Steve' in 'Suspicion' (S1, Ep5), and 'Poisoning the Well' (S1, Ep7).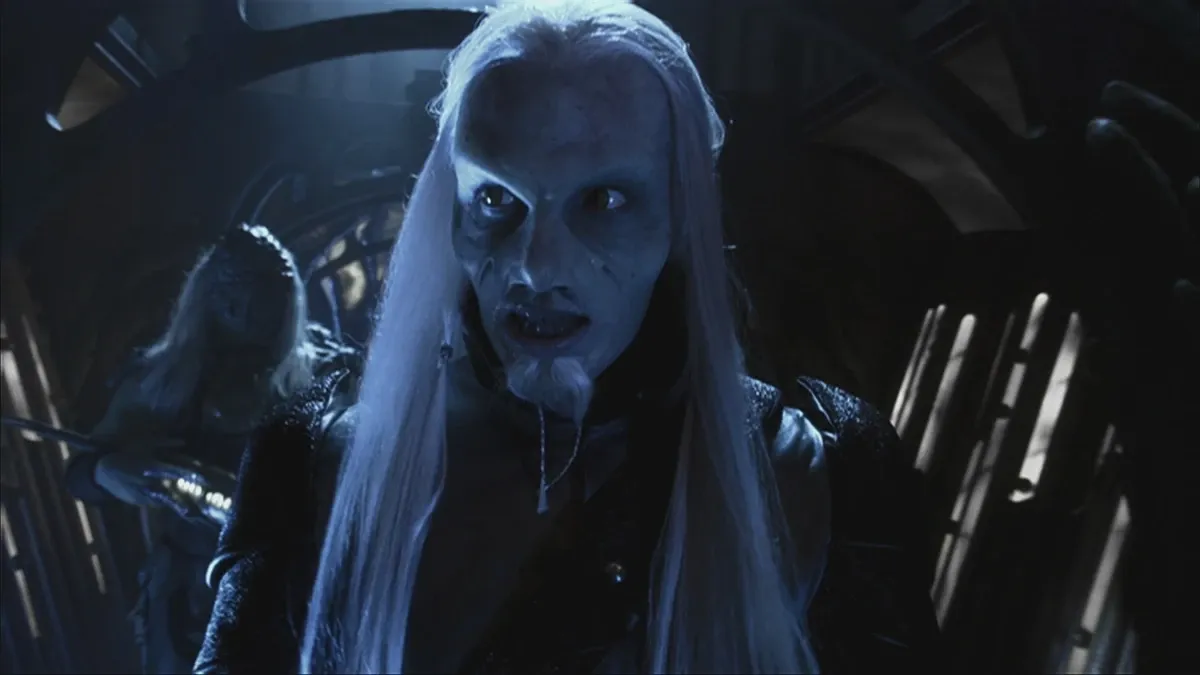 The Creation of the Wraith
Lafazanos, who is originally from Ontario, moved to Vancouver where more film and television production tends to take place, and got called onto the Bridge Studios lot where they were casting.
"It was an interesting set-up," the 44-year-old remembers now. "They usually have a separate casting studio, but this was actually where [Stargate Atlantis] shot. You could hear the other people through the audition room and I could hear the casting director giving them direction and stuff."
The actor didn't know much about the characters other than they were an "alien vampire species" and the series' main villain.
"I was like, well, this has got to be the kind of villain that people look forward to. Whenever they show up, the stakes have got to be higher, everything's got to be a little more on edge."
He started working by himself on what he thought the Wraith should be. So what you see in the finished product has some DNA from the original Predator, Worf from Star Trek: The Next Generation, of whom the actor was a big fan, as well as the lizard aliens from the 80s show V.
"It was freaky and cool," he says of the latter. The writers obviously agreed with him. How else to explain the Season 5 Stargate Atlantis episode 'Vegas' (S5, Ep19) where a Wraith uses make-up to disguise himself as a human (leading in turn to a shot of the Wraith with a bit of his mask coming off, inspired by a shot of Jack Nicholson as the Joker in the 1989 Batman movie)?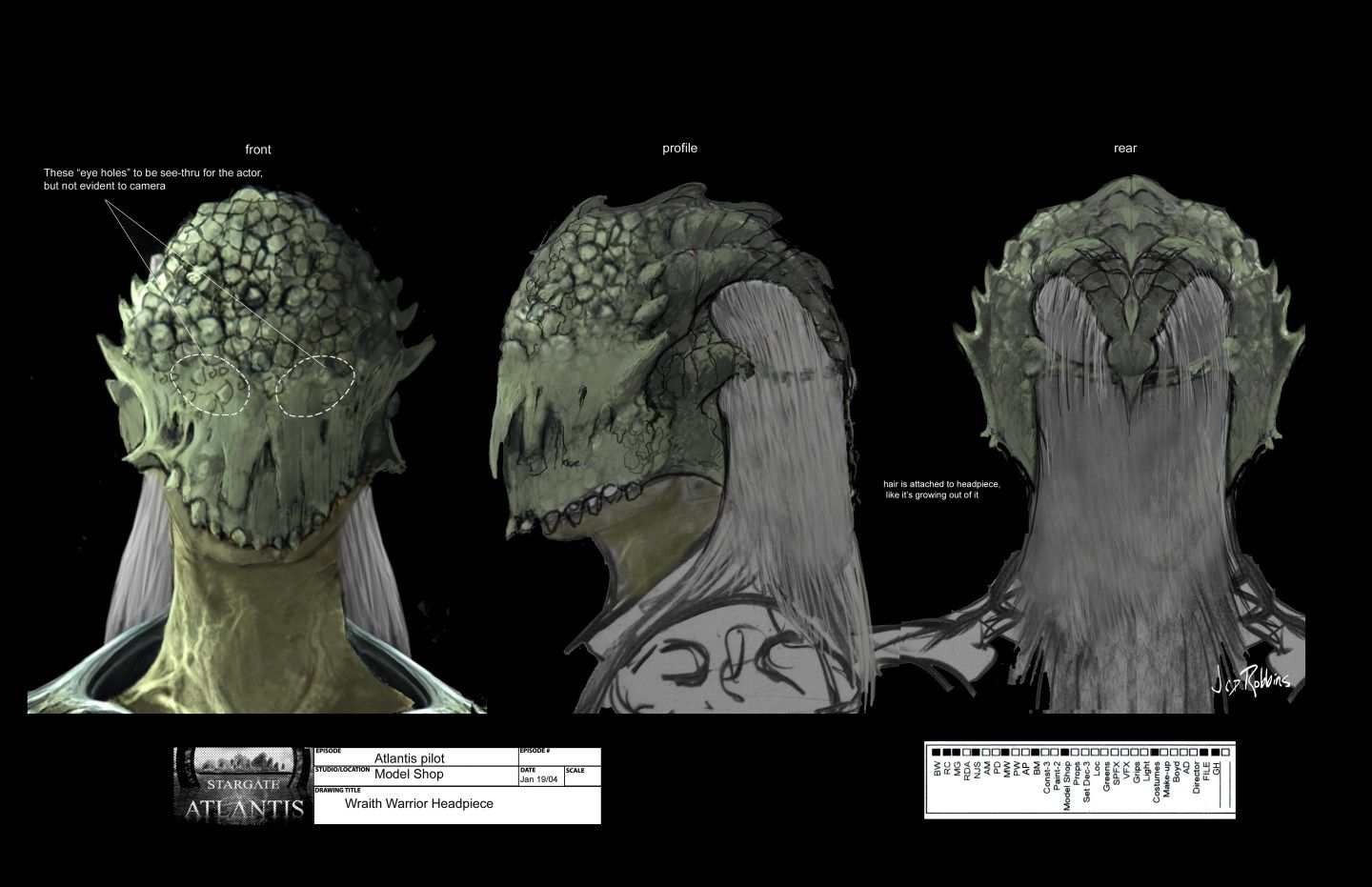 Then of course there were the elements of vampire culture. For Lafazanos, that meant inspiration from Jeff Goldblum comedy Transylvania 6-5000 (1985) and a little bit of Anne Rice.
Cooper has said that the extra 'nostril' slits that the Wraith "made them look a bit like sharks" as well as intimating at telepathic abilities. That chimes with Lafazanos. "Even though they're not written as reptilian," he says, "they kind of have that vibration of a cold-blooded killer."
The actor took these ideas into his audition and was promptly told to try it a different way. But he stuck to his guns and even though what they were nudging him towards was counter to his instincts, they offered him the role(s) after that first meeting. "I think that's what really set me apart from the other people auditioning for that role," he explains.
Filming the Wraith in Stargate Atlantis
Once filming started, Lafazanos was really able to sink his teeth into the characters. He was vastly helped by the transformative makeup which he had to wear all day, sometimes up to 14 or 15 hours at a time.
"Some people I worked with for two seasons and did not know what I looked like," he remembers, recalling a moment he had to re-introduce himself to an assistant director who regarded him blankly when he said hi. "I always felt like I needed to disarm people in a way. I had to make a joke, just to let them know there's a human under here."
The costume itself would take around two hours to put together.
"It would start with the gluing of the main facial prosthetic," he says. "Usually after that, it was the blending of make-up. Sometimes they would use an airbrush and paint it on almost graffiti-style, or a brush. And then putting the final realistic-looking details of the makeup on. Contacts would be near the end, then prosthetic teeth, which I could easily take in and out, and the wig. Wardrobe would be the last thing we'd put on."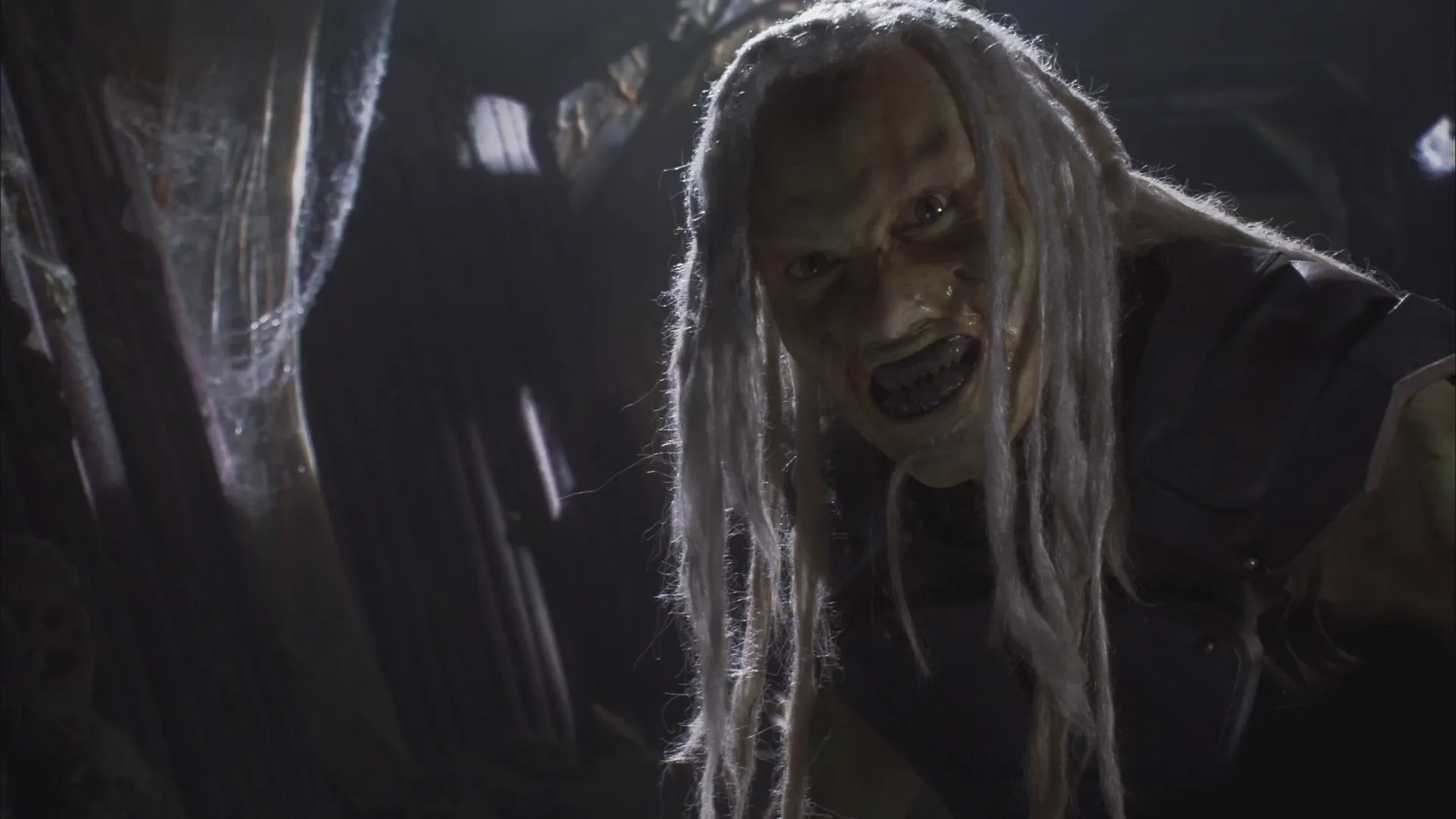 It was the subtle variations of clothes and skin that allowed the actor to fill in his 'Wraith of the Week' backstory, guided by the script and directors like Martin Wood and Peter DeLuise.
"Once I see the outfit for this particular Wraith, along with the writing, I'm like, 'Oh he's this type of guy,'" says Lafazanos. "Some were more street tough, some were more elite." Unfortunately, he can't tell you what the tattoos or rings specifically mean.
Whichever one he was playing though, he always tried to bring intensity to the episode.
"You really embody this character. It almost makes it easier with that extra mask on because you don't see yourself in the mirror, you see this other being. Between takes when you're sitting around chatting with the other actors, sometimes you forget you're in make-up. But people never forget when they're looking at you."
The Ethics of the Wraith in Stargate Atlantis
So should we be more sympathetic to the Wraith? After all, they do (very occasionally) offer to reverse the aging process, even giving those lucky 'followers' a bit of a cosmetic nip and tuck in the process (see the Stargate Atlantis episode 'Common Ground' – S3, Ep7). Lafazanos is loathe to wade into Reddit debates about the ethics of the species. He argues that he played the characters as survivors who found a good food source and didn't really think about exploring another way to provide their daily sustenance. But being humanoid – and thus able to use tools – and capable of independent thought, maybe they could have found a different way to feed. Do opposable thumbs give them a choice and should that take precedence over instinct? After all, he says, "Everything is energy, right?"
"I'm vegan, I choose not to eat the flesh of other creatures," he continues. "Could there be vegan Wraiths? If so, would they be less quote-unquote evil? It's a tough call to make.
"I'd like to think there was one enlightened Wraith that started giving teachings like the Buddha or something and said, you know what we don't have to feed on humans, we can find other forms of energy to sustain us… He started guiding the Wraith to lead a more mindful existence."
Of course, they did explore this to a degree in the show, such as with Dr. Keller's gene therapy, formulated from data in Michael Kenmore's database that despite removing their hunger for humans, would essentially kill those who agreed to treatment (exactly what happened to 'Todd' although he managed to cure himself thanks to an Iratus bug queen). And then in the Stargate Atlantis episode 'Instinct' (S2, Ep7), in which a rural villager believes he has created an antidote to stop his adopted Wraith daughter from craving human life force, only for it not to actually work.
Still, a Wraith yogi, who builds a mindfulness app? Well, it would be a great launching point for some fanfic, no?
Bringing "Steve" the Wraith to Life
Lafazanos physically appeared in 15 episodes of Stargate Atlantis, as well as showing up in archive footage in two others. 'Jimmy' was the first, but in amongst the "gnarly old survivor who'd been to Hell and back" and ones that were "a little more refined", the actor's favorite is 'Steve', who featured in the fifth and seventh shows of the first season. In the first, 'Suspicion' (S1, Ep5), Teyla (Rachel Luttrell) is shown to have been accidentally signaling the Wraith to their whereabouts and Sheppard (Joe Flanigan) manages to capture 'Steve' before the latter can self-destruct.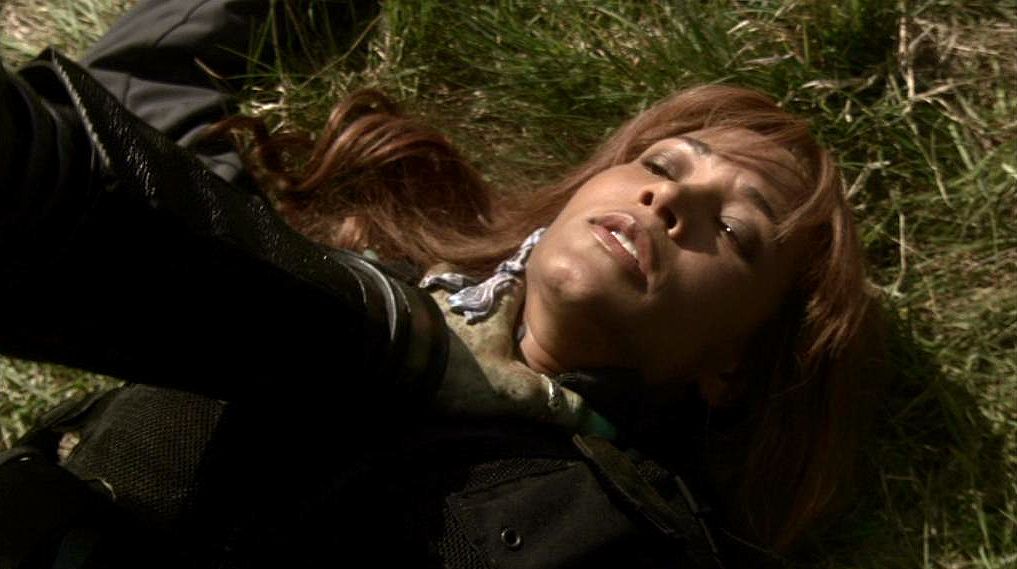 "Steve the Wraith was one I knew at the time of shooting [was important]," says the actor. "And I know people afterward were talking about him. Plus he didn't die at the end of the first episode! That was another indication that he was a little special."
He was also an important catalyst for the crew in their ongoing battle against the Wraith.
"Filming those episodes, I was like, 'Okay, this guy's personality, we're going a little deeper into what makes them tick. What they are really about.' It was also a journey for the [main] characters to discover, 'What are these Wraiths all about?'"
"They made a toy of Steve, right?" he adds, laughing. "I ended up giving it to my father one year. I was like, 'see Dad? I've made it as an actor, they've made a toy of me.'"
Looking Back on Life As a Wraith
"I think now with time gone by, I appreciate it a lot more," says the actor about his time on Stargate Atlantis. "I look back now and think I was really lucky to have this experience."
For him, it's actually the stuff in between the shooting he remembers most. Hanging out on set with Rainbow Sun Francks (Lt. Ford), or nipping off to a local five-star hotel for a massage paid for by a director who took pity on him after he had to spend a scene lying uncomfortably in an alien ship holding area.
He does check out what fans post on Twitter in relation to the characters he played, although he's still waiting for one Stargate Atlantis follower that he met in the gym to return the season one and two DVDs he lent him (hint, James – you're not getting them back). He's also written a sci-fi comedy script that he's shopping around hoping to direct.
Thankfully, one thing he doesn't get to do as often as in his Wraith days is, well, die.
"I was killed quite a bit," he laughs. "It was a running joke, like, how are they going to kill me this week? I was squibbed up and [the] blood was always more viscous-ly, oily than human. It was a mess."
This article was first published on May 16th, 2021, on the original Companion website.
As a member of The Companion, you're supporting original writing and podcasting, for sci-fi fans, by sci-fi fans, and totally free of advertising and clickbait.

The cost of your membership has allowed us to mentor new writers and allowed us to reflect the diversity of voices within fandom. None of this is possible without you. Thank you. 🙂
Comments