Now an educator shaping the next generation of VFX wizards, Ed Kramer's career spans two decades of cinematic spectacle, taking in such science fiction classics as Stargate (1994), Galaxy Quest (1999), and the Star Wars prequels.
In a special live interview and audience Q&A to launch his Companion podcast CGI Fridays, Kramer revealed some incredible artifacts from his career and shared the stories behind them – taking us right back to the birth of one of sci-fi's longest-running series: Stargate.
As digital effects artist for VFX house Kleiser-Walczak Construction Company, Kramer was instrumental in creating some of the most iconic visual effects shots in Stargate (1994).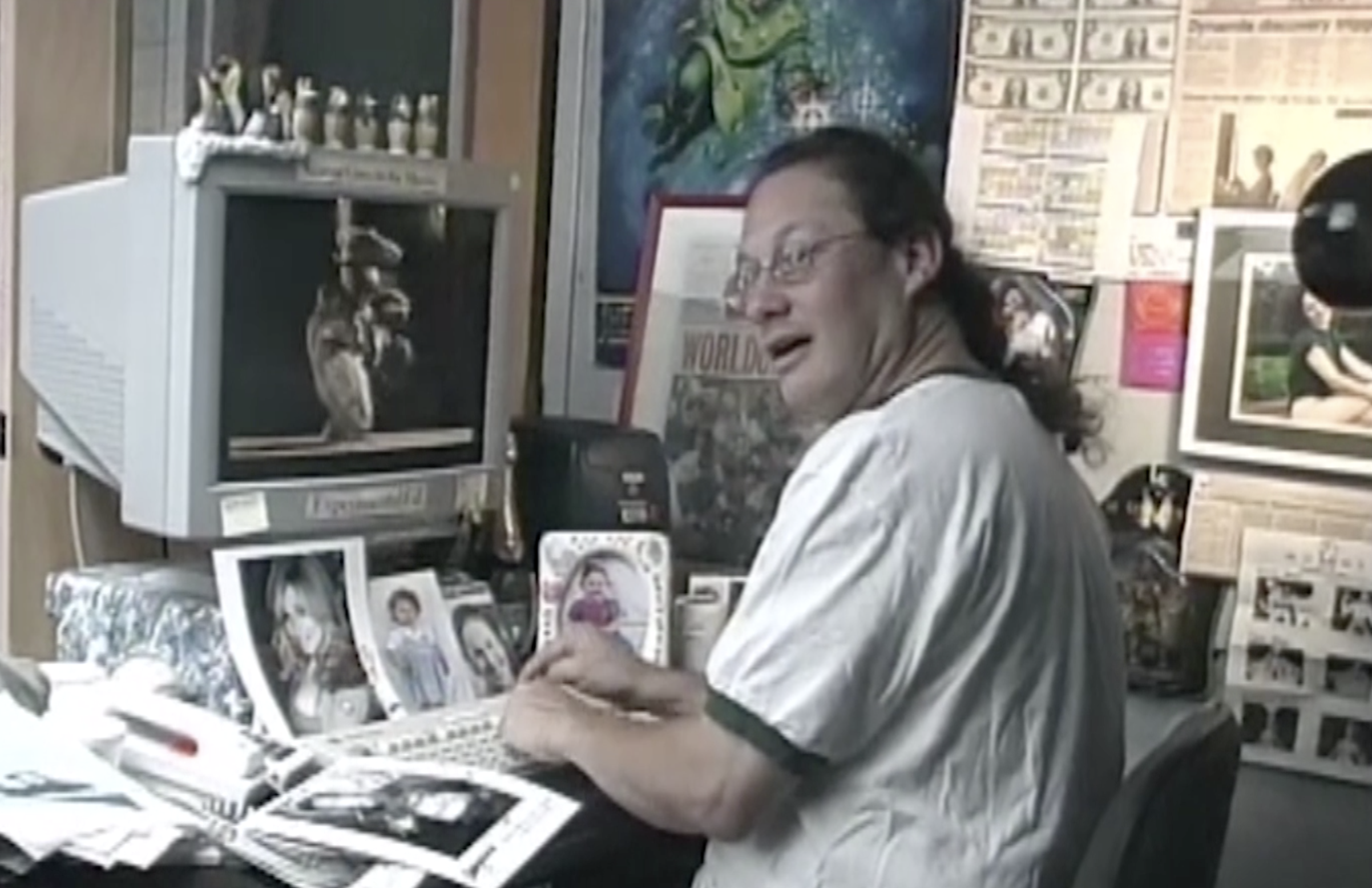 The original movie may provoke mixed feelings with fans of the decidedly lighter-hearted Stargate SG-1, but there's no denying director Roland Emmerich and writer Dean Devlin's epic the credit it deserves for establishing the look of the Stargate universe.
Over the course of the interview, Kramer shares moments and stories from his incredible career – including his production notebook for Stargate.
"First of all, there was what I was tasked with doing was figuring out how to do these helmet morph shots. So I had to get a lot of reference of the helmets and Djimon Hounsou wearing the helmet."
Kramer's notes contain not just the outcome of meetings with Roland Emmerich, but a sketch by digital effects supervisor Jeffrey Okun showing Djimon Hounsou's Horus Guard helmet retracting. It's fascinating to see the level of involvement the director had in developing the look of the shot – which 30 years on still sends a shiver down the spine.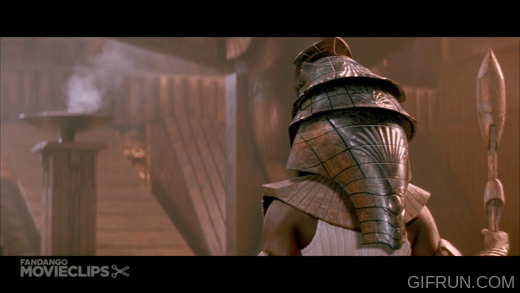 A memo from Kramer dated December 8th, 1993 notes: "Roland seemed to like a smoother motion rather than a staccato effect [...] the face of the human should be revealed last, as the focus of the whole effect."
On December 17th, Okun reports that the director is looking to a middle point between the smoother and staccato movements discussed on the 8th: "Imagine very mechanical sounds and make it move to that. Less smooth. Also morph – pause morph – pause morph." He includes a sketch to emphasize his point.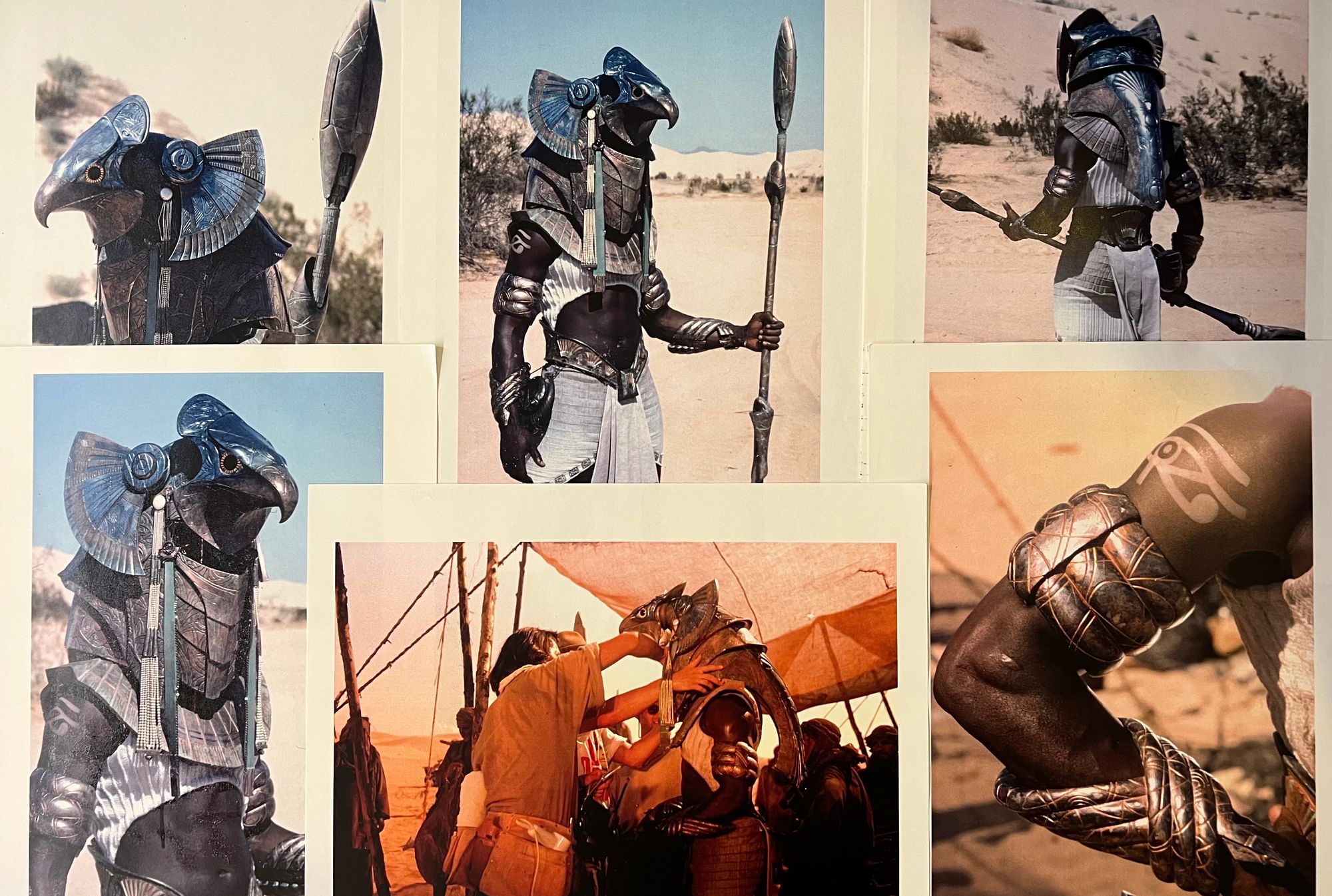 Whilst the helmet morphing was too expensive to replicate effectively on a TV budget (notably the Serpent Guard helmets were opened in full view only very occasionally), the ka-woosh of the Stargate itself opening – called a ker-thudge in the movie – was retained.
Kramer shares original notes and a sketch by Kleiser-Walczak software developer Frank Vitz showing where the cameras had to be placed behind the surface – or meniscus, which refers to the curved surface of a liquid – of the Gate in order to create the reflection.
"These are Frank's original notes about creating the Stargate effect. He was figuring out, you know, where do we position cameras? What elements are going to be CGI? How are we going to incorporate live action to create reflections?"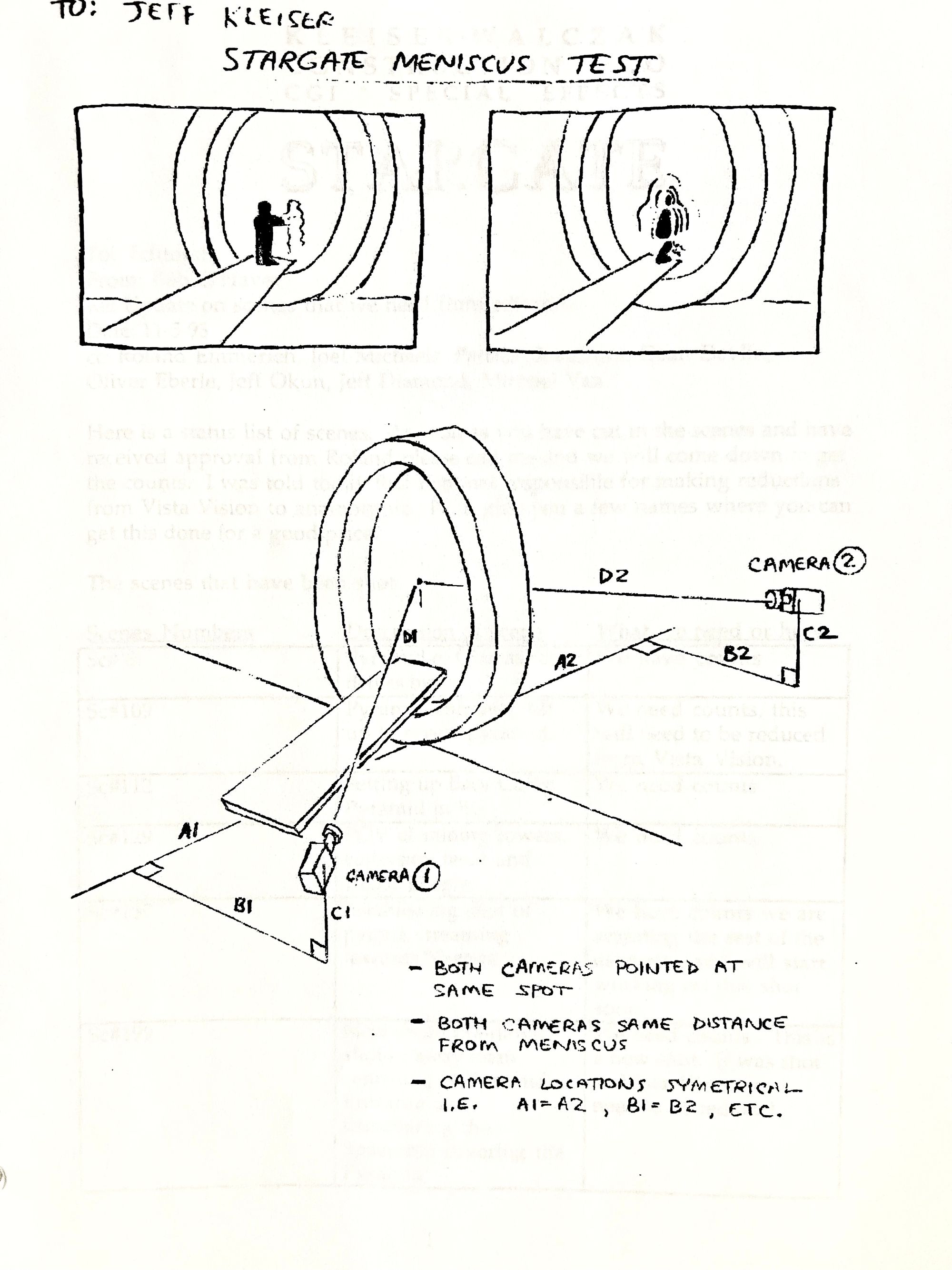 Vitz describes the Stargate effect as "sudden and violent, tremendous energies just barely contained [...] When it is quiescent, it is an almost perfect mirror, but is still throbbing with energy held in check."
Frank Vitz and Jeff Kleiser, co-founder of Kleiser-Walczak Construction Company, are interviewed in CGI Fridays Episode 1 and CGI Fridays Episode 2 where they go into deeper detail on the making of the original Stargate movie.
As a member of The Companion, you're supporting original writing and podcasting, for sci-fi fans, by sci-fi fans, and totally free of advertising and clickbait.

The cost of your membership has allowed us to mentor new writers and allowed us to reflect the diversity of voices within fandom. None of this is possible without you. Thank you. 🙂
Comments