Warning: This article contains spoilers for the Stargate SG-1 episodes 'Meridian' (S5, Ep21), 'Abyss' (S6, Ep6), 'Heroes, Part 2' (S7, Ep18), 'Citizen Joe' (S8, Ep15), and Ripple Effect', S9, Ep13, and the Stargate Atlantis episodes 'Sunday' (S3, Ep17) and 'The Kindred: Part 1' (S4, Ep18). Proceed with caution.
Joss Whedon was holding a meet-and-greet with Firefly fans after a preview of the feature-film sequel Serenity (2005) when he was approached by a middle-aged couple. They were disconsolate over the unexpected death of Wash (Alan Tudyk), the series' beloved pilot. Whedon tried to explain the rationale for his choice. "You don't understand," came the reply. "You hurt us."
Whedon tells this story himself in the Serenity DVD commentary. That the sudden demise of Wash could pain someone is all the more remarkable when one realizes that we are talking about a character who had appeared in only 14 TV episodes, three of which never aired. If such was the case with truncated Firefly, imagine the consequences when a familiar face from season after season is no longer there. Fan bereavement inevitably follows, but why—and how is it we attach ourselves so closely to the Washes and Spocks of science fiction?
"When fans are passionate about fictional characters and worlds, they can find role models and sources of inspiration, explore their own identities, and become part of a community of other enthusiasts that can be supportive and affirming. Especially over long periods of time, fans' attachment to the things they love can be a powerful source of joy and motivation and a significant part of their everyday lives," writes Dr. Lynn Zubernis in Psychology Today.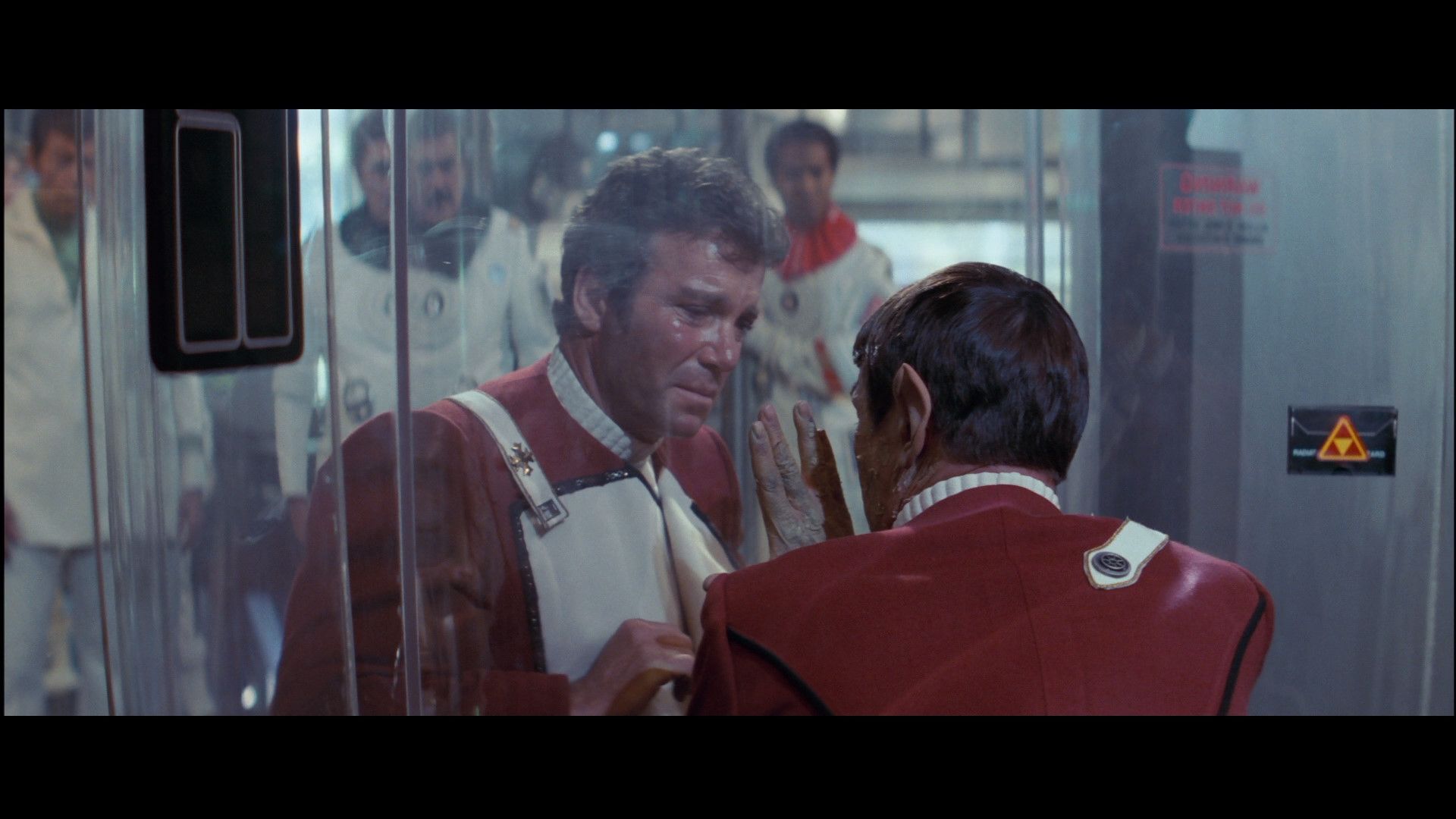 "For the vast majority of people, [fandom] is probably a good thing," psychology professor Dr. Dan Wann of Murray State University asserts. "Still, it's important to recognize that there are potential qualities out there for people who get too wrapped up in it."
Fan overreaction—sometimes to the extent of death threats—is nothing new. When Leonard Nimoy's onscreen expiry in Star Trek II: The Wrath of Khan (1982) filtered out, even in the pre-Internet age, Paramount Pictures received messages like "If Spock dies, you die." As recently as the conclusion of Pretty Little Liars (2017), showrunner I. Marlene King was fielding death threats. This dark underside to fandom has been well-chronicled (just ask Amber Heard) but sometimes honest, inward grief is the response.
"When a fan favorite ends, some aficionados will walk away and invest in a new fandom, perhaps retaining a lingering fondness for the thing they once loved and reworking their" fandom," Dr. Zubernis writes.
"Other devotees may feel abandoned and re-evaluate their opinion of the lost show or band or celebrity, questioning their emotional investment and perhaps creating their own more palatable endings by writing their own fan fiction."
One of the most popular genres of fan fiction—other than "Porn with Plot"—is the "Hurt/Comfort" story, which provides consolation to character and audience alike. For the purposes of narrative economy, we'll concentrate on the Stargate fandom and the fate of three of what Zubernis would call its "comfort" characters.
Daniel Jackson's Death in 'Meridian'
After 100-plus episodes of Stargate SG-1, with the series facing an uncertain transition from Showtime to the Sci-Fi Channel, the powers that be elected to write out Dr. Daniel Jackson (Michael Shanks) in the Stargate SG-1 episode 'Meridian' (S5, Ep21). To say this was an unpopular decision would be an understatement. The controversy—amplified via the Internet megaphone—would hover through Season 5 and overshadow both Season 6 and Jackson's intended replacement, Jonas Quinn (Corin Nemec).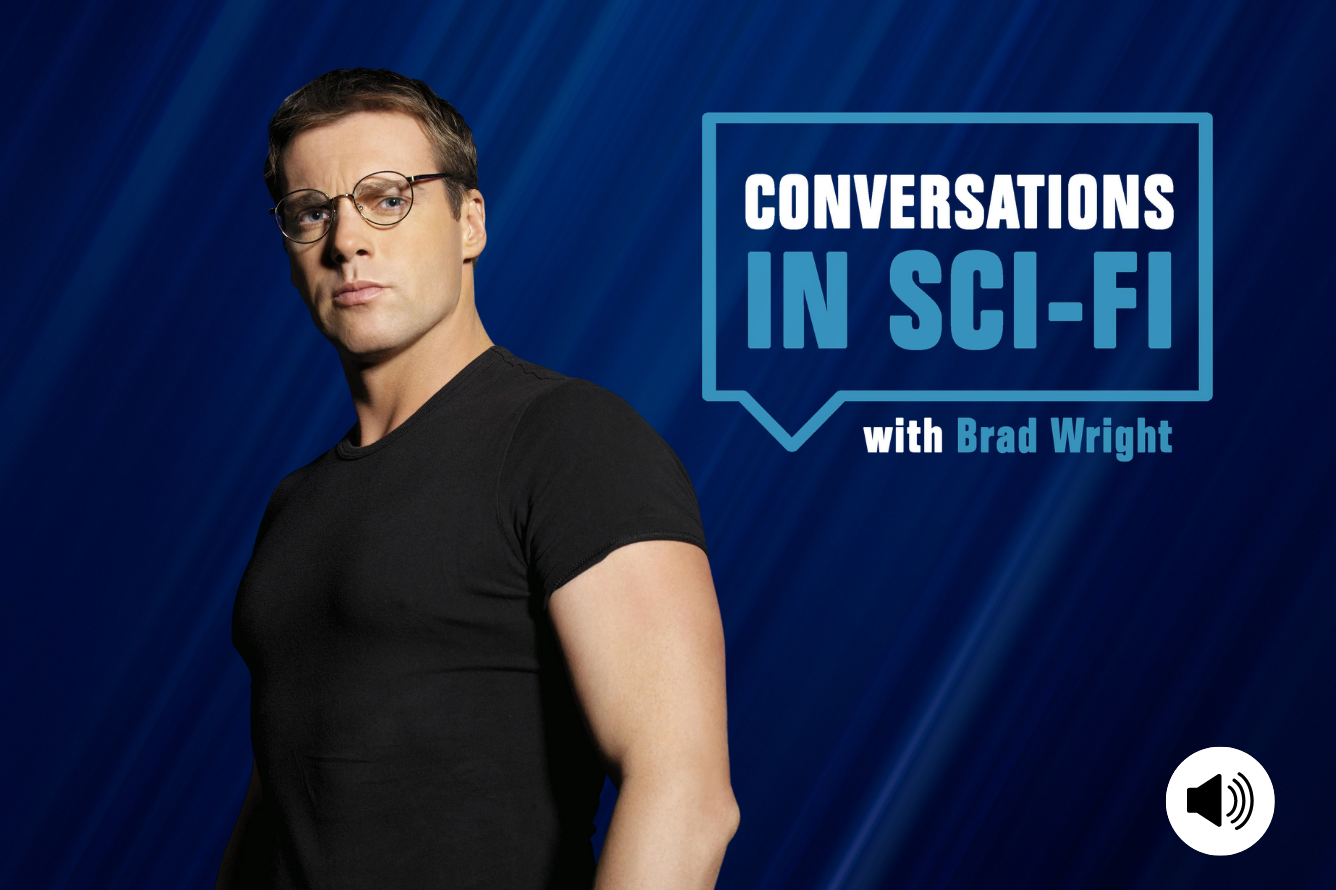 Fan dissatisfaction with Quinn illustrates a dynamic that @LeaveHeardAlone founder "Rebecca" described thusly to the Atlantic Monthly: "We hang so much of our own identity on these things that we love. So if those things are threatened, you either have to admit that you're sort of a bad person for liking those things or you have to convince yourself that everyone else is wrong."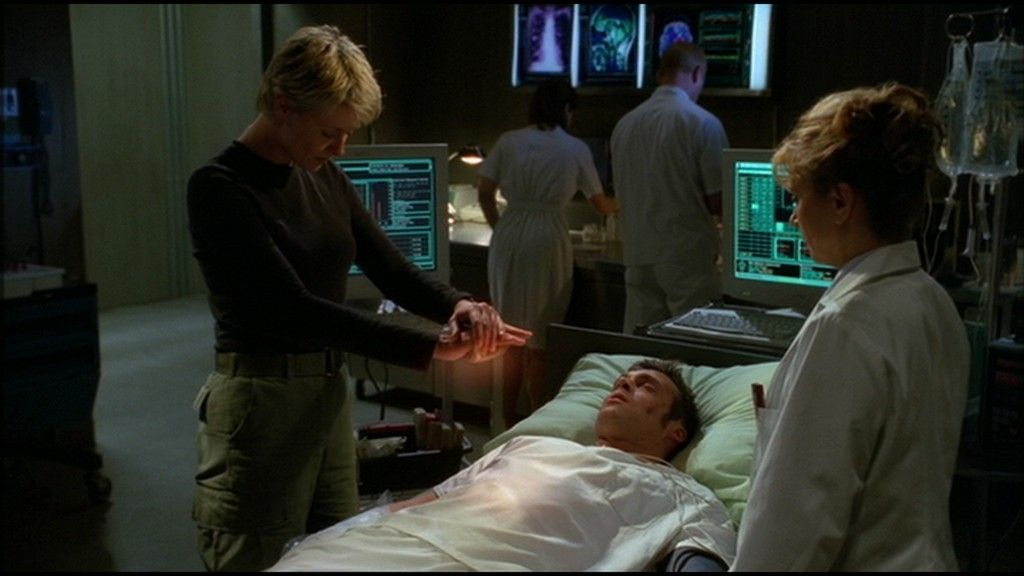 According to Shanks' costar, Teryl Rothery, who had a front-row seat for the uproar, the fan fisticuffs didn't impinge on the set. "I certainly didn't feel that. The only thing I felt was missing my buddy. I'm sure all of us missed him not being there. But you continue on."
Still, she's sympathetic to the feeling of loss that pervaded the extended Stargate universe.
"I get it: If I have a favorite show, I don't want to see my favorite character pass away. You want that story to continue. You want to see where the character is going to go. So Daniel Jackson was adored, still is," she says from her Vancouver home. "The pressure was on to the writers by the fans right from the get-go saying, 'I hope that this is not going to be something that is going to be ongoing because we love this character.'"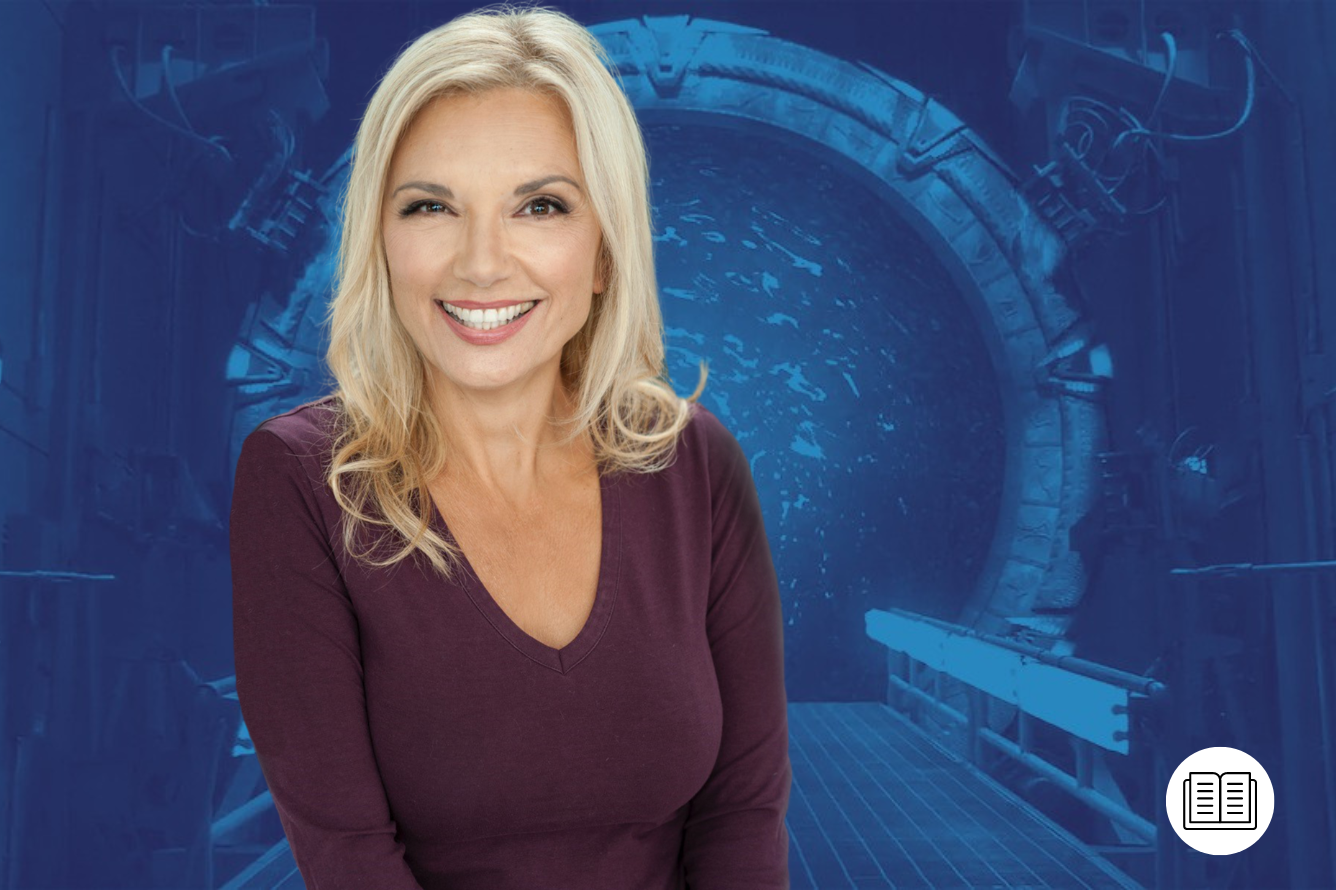 The shifting sands of the Web have covered many of the traces of the Daniel Jackson brouhaha but fan sites and video tributes can still be found by the Internet archeologist. And there was a happy ending for the bulk of the fandom when Jackson was resurrected (or rather, 'descended') for four additional seasons and two movies, plus video games, audio adventures, etc.
Janet Fraiser's Death in 'Heroes, Part 2'
Less fortunate were fans of Rothery's Dr. Janet Fraiser, who met a peremptory end in the Stargate SG-1 episode 'Heroes, Part 2' (S7, Ep18). Prolific fan fiction author Geonn Cannon (who has gone on to become an official Stargate novelist with two titles to his credit) admits "I cried! Like, legitimate tears. If someone had seen me they would have thought I'd lost an actual family member. And being a writer, part of processing it was fixing the situation (Janet WAS hurt, but she was wearing the new armor so she survived… Meanwhile, Janet would keep out of sight by creating a sort of Doctors Without Borders for worlds in need of modern medicine). That helps a lot when you can trick your brain down a path where things worked out better."—or one writes the character out in a way that is more cathartic for them, as 'Rysler' does in Za'Ha'Dum."
At the time, Rothery was oblivious to fan reactions "because I was so rooted in it. Because it was my character. It was beautifully written [by Robert C. Cooper] how she left saving that life and ultimately having that baby named after her. But, of course, you miss it. You miss being with your friends. I know of course it touched the viewers. And I'm grateful that it did. That means we all did our job if it brought some kind of emotion out in those watching."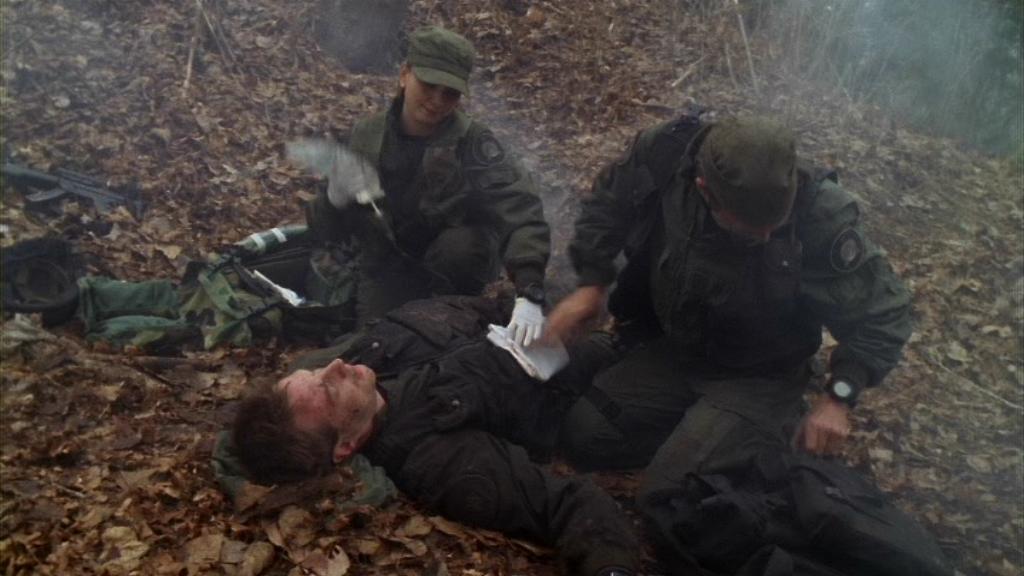 As to the 'why' of characters creating such attachment, Cannon says, "I wish I had an answer for that! When I wrote my Riley Parra series, I never expected Caitlin Priest to be the breakout character. And I think it's different for every person. That's why Stargate has diehard Daniel fans and those who feel it should be called Teal'c and His Friends. It all boils down to seeing some part of ourselves in the character. Who we are, [and] who we hope to be. I think that's why it hurts so much when they're taken away or when bad things happen to them. "
For Rothery, fandom is the gift that keeps on giving. "The nicest expressions [of love] haven't stopped. They keep going. It's how much they embraced the character… That's a testament. I left in Season 7 and gratefully came back in 9 for that one episode ['Ripple Effect', S9, Ep13], but they went 10 seasons and they're doing movies, and that's huge.
"Kudos to the whole Stargate universe, and all the writers and producers, and everybody who put it together because it really touched a lot of people. And I'm just really grateful to be a part of that."
Carson Beckett's Death in 'Sunday'
The Stargate SG-1 braintrust parodied its own fandom in 'Citizen Joe' (S8, Ep15), describing them—through the person of Stargate-fixated Indiana barber Joe Spencer—as victims of "manic psychoses combined with grandiose delusions." Not surprisingly, the installment was, as director Andy Mikita recalls it in the DVD commentary, "somewhat of a controversial episode with the fans," who are portrayed as fan fiction-writing, obsessives with marginal social skills.
Taken in the right frame of mind, 'Citizen Joe' can be quite droll, especially when the screenwriters take jabs at their own work. ("They rejected 'Hathor'? But it was gold!") However, fan grief gets a rough going-over, as when Spencer, played with tragic intensity by Dan Castellaneta, cries out tearfully to the skies, surrounded by a pile of garbage, "No, he can't be gone. Daniel's dead!" When next we see Joe he is immobilized with despair in his barbershop—but he goes skipping and leaping with joy down the streets when he is vouchsafed a glimpse of ascended Daniel in 'Abyss' (S6, Ep6).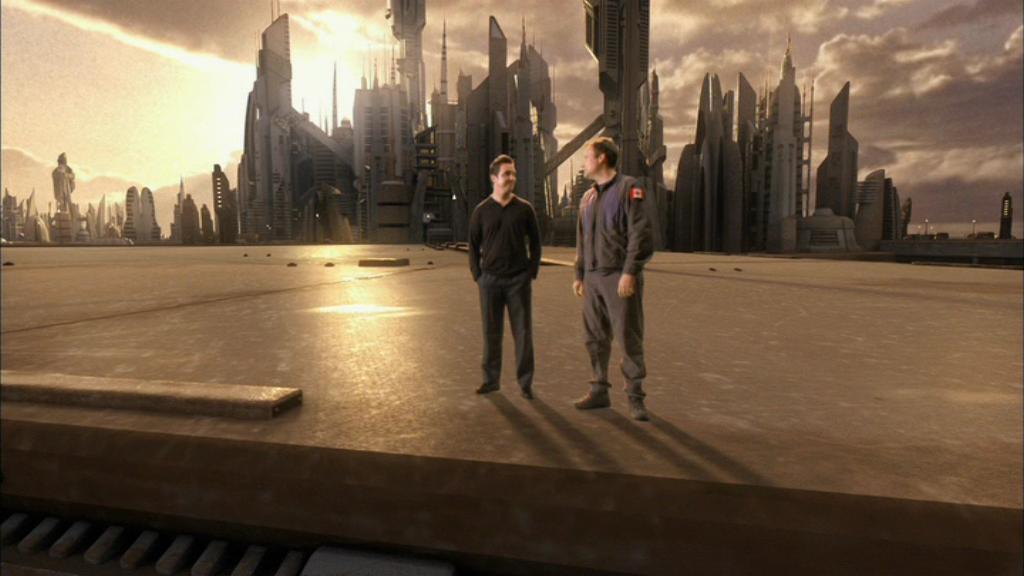 Holding an MD on Stargate meant an express ticket for the Big Adios. But fans were ready, organized, and loaded for bear when the Grim Reaper came for Dr. Carson Beckett (Paul McGillion) in the Stargate Atlantis episode 'Sunday' (S3, Ep17).
In the case of Beckett, the Scottish medic who addressed his patients as "son" and "lassie" had so endeared himself to the fandom that he had been promoted to series-regular status only the season before. This made his demise seem all the more arbitrary and capricious to viewers.
When news leaked of a funeral scene being shot with the coffin draped in the Scottish flag, a "Save Carson Beckett" campaign swung into high gear. It culminated in a large rally outside Bridge Studios, where Atlantis was filming. Fortunately for the fandom, there had been a near-instant case of 'writers' remorse' and Joseph Mallozzi MacGyvered a fixit in 'The Kindred: Part 1' (S4, Ep18) (with writer Alan McCullough handling the finer points of Beckett's reentry). Using what McCullough describes in his DVD commentary as "the back door of science fiction," a clone of Beckett was discovered, one who would make six more appearances in Stargate Atlantis' fifth and final season. It wasn't Carson 1.0 but the fanbase seemed mollified.
And not just the viewership. When 'Sunday' was screening in the Stargate Atlantis writers' room, dead silence fell over the producers during the final 10 minutes. As Beckett was eulogized, Mallozzi snuck a glance over at showrunner Brad Wright—who was crying.
Yes, even an executive producer can be a bereaved fan.
This article was first published on June 2nd, 2022, on the original Companion website.
As a member of The Companion, you're supporting original writing and podcasting, for sci-fi fans, by sci-fi fans, and totally free of advertising and clickbait.

The cost of your membership has allowed us to mentor new writers and allowed us to reflect the diversity of voices within fandom. None of this is possible without you. Thank you. 🙂
Comments