Gale Force Nine has announced the return of their hit board game Firefly: The Game, with a 10th Anniversary Collector's Edition coming to the crowdfunding platform Gamefound.
It's been a decade of daring adventures, and we're celebrating with a special edition shinier than a stack of Alliance credits. Announcing Firefly: The Game – 10th Anniversary Collector's Edition. The biggest Firefly game ever made, this collection is more packed than Kaylee's toolbox – containing 10 years' worth of Firefly: The Game content, and much more to complete your Firefly experience!
More information is expected to drop this week, but what we know for certain is backers will receive a set of holographic Big Damn Hero cards.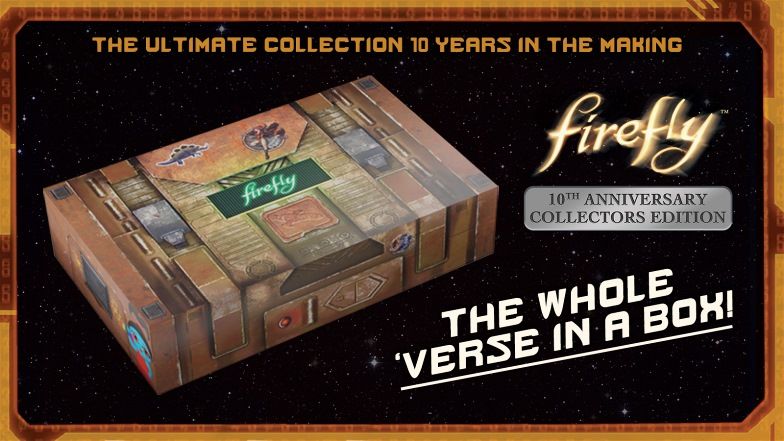 If you've not played Firefly: The Game before, the premise is: players begin a ship and travel from planet to planet, with cards representing cargo. As you travel from world to world you turn over 'burn' cards which might reveal Alliance ships (who can confiscate illegal cargo), Reavers (who can do much worse), or other mishaps. Completed cargo runs earn you cash, which can be used to purchase upgrades.
The original release is long out of print and can reach the US$900 mark on eBay with all 11 expansion packs, including new ship, equipment, and character cards, rules for PvP combat, and new mats to represent new areas of space.
Firefly: The Game – 10th Anniversary Collector's Edition already has 12,531 followers so expect it to be pretty hectic, but the good news is that fans who already have the game will be able to access the new content, with Gale Force Nine's Matt confirming: "You won't have to buy everything again."
Shiny.
As a member of The Companion, you're supporting original writing and podcasting, for sci-fi fans, by sci-fi fans, and totally free of advertising and clickbait.

The cost of your membership has allowed us to mentor new writers and allowed us to reflect the diversity of voices within fandom. None of this is possible without you. Thank you. 🙂
Comments