The woman behind the iconic Susan Ivanova is keeping busy. Not only is Claudia Christian returning to the role for the forthcoming animated movie, Babylon 5: The Road Home, but she's successfully funded the second issue of her comic-book, Claudia Cristian's Dark Legacies on Kickstarter.
The comic, which is co-written by Dr. Chris McAuley (Dracula: The Return) and drawn by legendary British artist Glenn Fabry (Hellblazer, Preacher, 2000 AD), isn't Christian's first foray into fiction. In 2007, Christian wrote the Babylon 5 novel Baptism of Fire, and in 2016, the original novel Wolf's Empire: Gladiator with Morgan Grant Buchanan.
Claudia Christian's Dark Legacies #2 continues the story of Commander Jessica Steele "as her investigation into shadowy intergalactic conspiracies and mysterious alien technology leads her to an unexpected family reunion."
If you missed the first issue – not to worry, you can either add it to the rewards or buy it directly from Scratch Comics.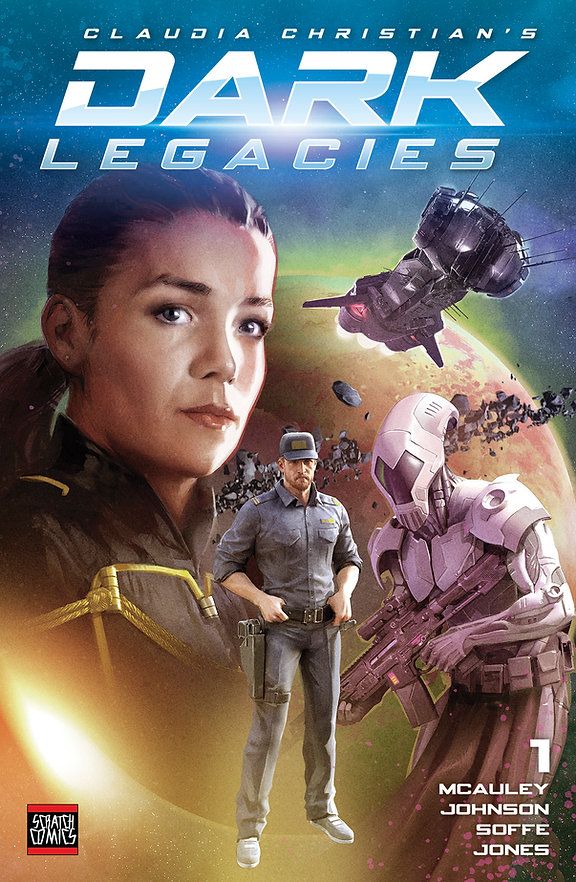 What's especially cool is that Christian's Babylon 5 family is deeply involved in Dark Legacies, "not just lending their likenesses to the characters, but also contributing to the ideas behind their characters, working closely with Chris and Claudia to flesh out the back stories and contributing ideas about distinctive character traits."
Bruce Boxleitner (John Sheridan) is the inspiration for "the hard as nails mercenary turned Martian lawman Jake Reeves," Patricia Tallman (Lyta Alexander) plays Jessica's sister, Rebecca, and Peter Jurasik (Londo Mollari) plays an assassin ally. There's clearly a lot here for Babylon 5 fans to get a kick out of.
The campaign is already past its original funding target of £7,500 with 19 days to go, so get involved.
As a member of The Companion, you're supporting original writing and podcasting, for sci-fi fans, by sci-fi fans, and totally free of advertising and clickbait.

The cost of your membership has allowed us to mentor new writers and allowed us to reflect the diversity of voices within fandom. None of this is possible without you. Thank you. 🙂
Comments