Warning: This article contains spoilers for the Star Trek: The Original Series episodes 'What Are Little Girls Made Of?' (S1, Ep7), 'Catspaw' (S2, Ep7), and 'Wolf in the Fold' (S2, Ep14), and the Thriller episode 'Yours Truly, Jack the Ripper' (S1, Ep28). Proceed with caution.
Speaking to The Hollywood Reporter during the promotional roadshow for Star Trek: Strange New Worlds, producer Akiva Goldsman made an interesting reference:
"If you think back to The Original Series, it was a tonally more liberal — I don't mean in terms of politics, but it could sort of be more fluid. Like sometimes Robert Bloch would write a horror episode. Or Harlan Ellison would have 'The City on the Edge of Forever, which is hard sci-fi. Then there would be comedic episodes, like 'Shore Leave' or 'The Trouble With Tribbles'."
We don't talk about Robert Bloch much, do we?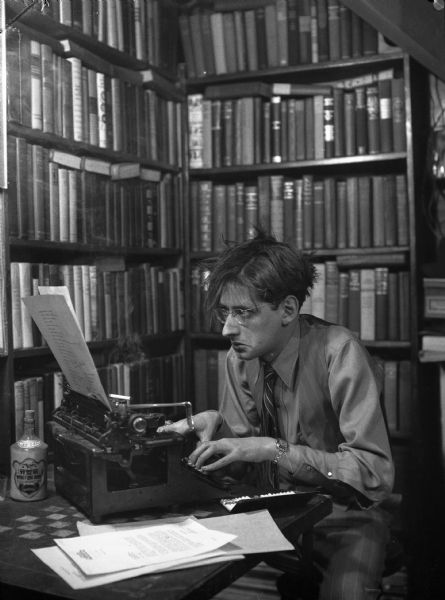 Like a hydrogen bomb, Harlan Ellison's contributions – and grievances – suck the air out of any discussion around the various high-profile early contributors to Star Trek: The Original Series. Especially during the 1970s and 1980s when syndication and then the movies began to craft consensus from the rough cuts that comprised its canon and fandom formed. Harlan Ellison became the story that Star Trek fans told themselves about Star Trek: that it was about big ideas, that it was "hard SF", and that Ellison's rightly celebrated 'The City on the Edge of Forever' is the best of The Original Series.
That Robert Bloch wrote three episodes is a curio. An aside. An oddity. A blip. No matter how enjoyable his contributions to Star Trek: The Original Series was, Bloch was first and foremost a popular horror writer, the author of Psycho, and an influence on Stephen King. His "based on characters created by" credit can be found on Bates Motel – Ellison's name, meanwhile, adorns Babylon 5.
A teenage acolyte of H.P. Lovecraft and his flamboyant Arkham House publisher August Derleth, Bloch's first published stories were either inspired by his mentor or took place in the growing shared universe known as the Cthulhu Mythos. Lovecraft – for all his faults, and they are legion, was touched – and the only story he dedicated to another human, he dedicated to Bloch. Lovecraft's The Haunter of the Dark (1935) followed a young writer called Robert Blake and was a sequel to one of Bloch's own stories, ​​The Shambler from the Stars (1935).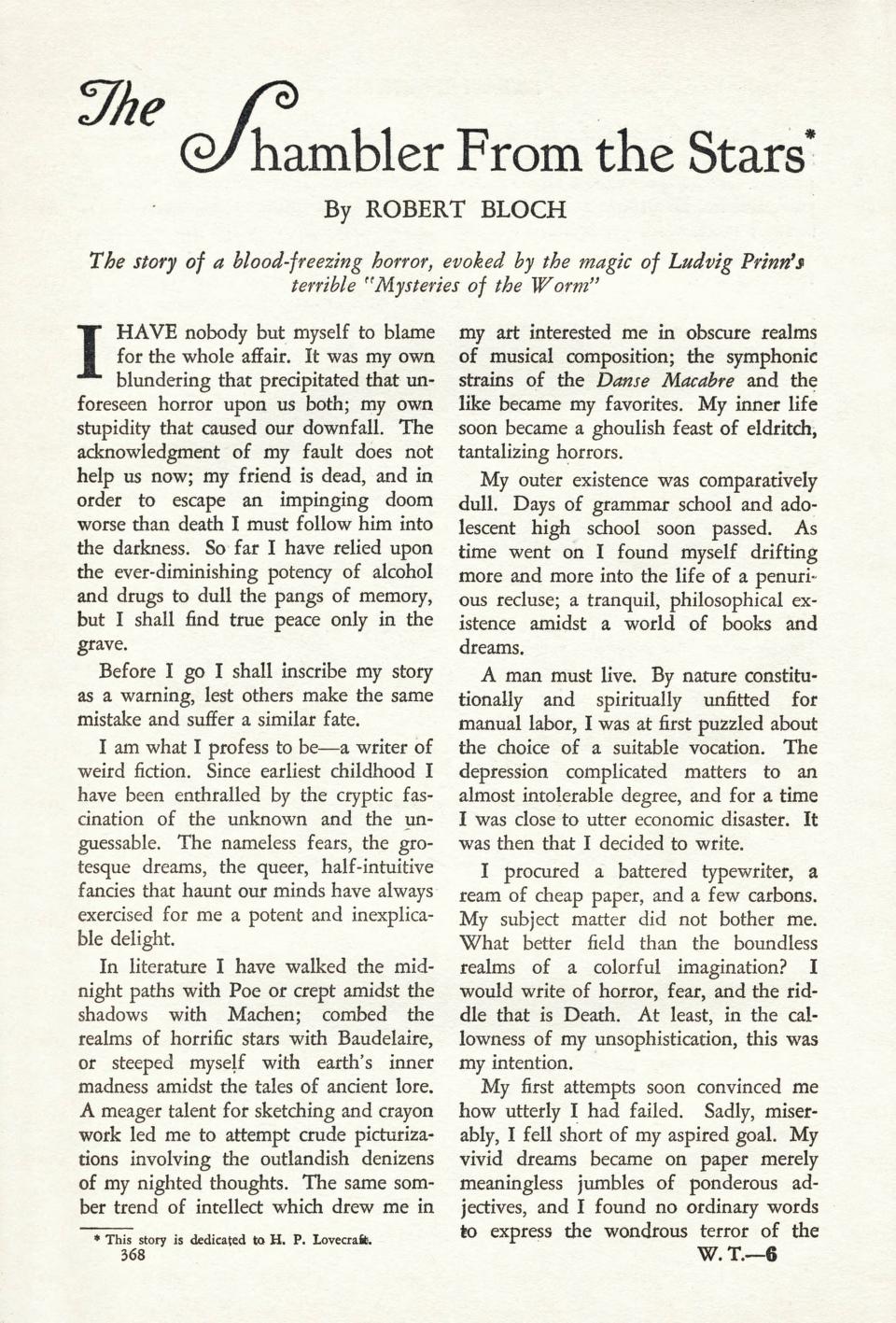 Following Lovecraft's death in 1937, Bloch broadened his output by degrees, building on the themes he had inherited but establishing his own. He became more preoccupied with the inner workings of, well, psychos from Jack the Ripper to Norman Bates. He dabbled in straight science fiction and moved in science fiction circles, but he was – like his Star Trek episodes – an anomaly.
In his introduction to The Best of Robert Bloch (1977) – misleadingly part of Del Rey's Classic Science Fiction series – publisher Lester del Rey acknowledged that "Science fiction was more of a hobby than a profession for him, one he pursued as more of a reader than a writer."
And yet… Star Trek.
Weird Trails: Robert Bloch's Road to Star Trek
It's unbelievable a figure so important to Star Trek is so enigmatic as Samuel A. Peeples. Although associated with Westerns – as Brad Ward, he wrote "Grade-A Yarns" for Ace Books with titles like The Hanging Hills (1953) and The Marshal of Medicine Bend (1954) – Peeples was prolific in pulp fandom, appearing on the letters' page of Thrilling Wonder Stories and Super Science Stories as early as 1940, where he invited overtures from other fans in the Texas area and desperately sought the final pieces for his Edgar Rice Burroughs collection.
Peeples first met Bloch in 1954 at the 12th World Science Fiction Convention (in attendance Isaac Asimov, Doc E.E. Smith, Fritz Lieber, and rocket scientist Willy Ley) and the two struck up a friendship. In 1957 – having impressed the right people with his prodigious paperback output – Peeples pointed his wagon west towards Hollywood and a slew of straight-shooting shows like The Rifleman, and Rawhide. Following a persuasive long-distance telephone call and the promise of a writing gig in TV, Bloch relocated to Hollywood in 1959 and received his first of four credits on the crime drama Lock-Up ("True Stories of THE ACCUSED! THE CONVICTED! THE CONDEMNED!").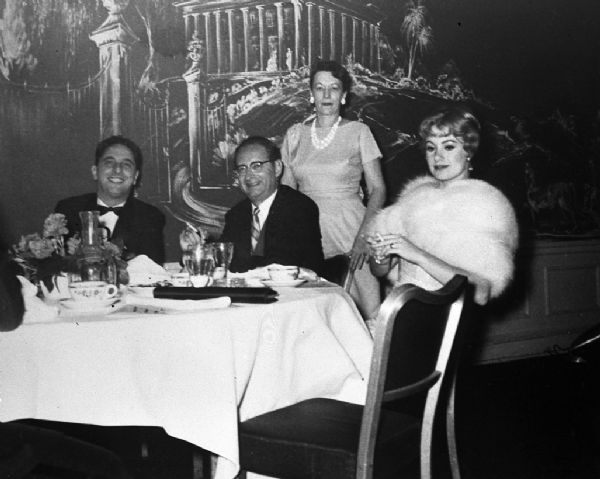 Inevitably Bloch soon found more suitable vehicles for his talents, contributing to 10 episodes of the Boris Karloff anthology Thriller – which adapted Yours Truly, Jack the Ripper amongst other tales – and 17 to Alfred Hitchcock Presents, including one so stomach-churning that it was never broadcast ('The Sorcerer's Apprentice' – S7, Ep39). Unlike later anthology shows The Twilight Zone and The Outer Limits, Alfred Hitchcock Presents and its expanded successor The Alfred Hitchcock Hour preferred its tales rooted in reality. All of this was grist for the bloody mill of Bloch who was as comfortable with serial killers as supernatural chillers.
Also in production at Revue Studios using many of the same crew as Alfred Hitchcock Presents was Psycho. Despite being based on Bloch's 1959 novel – itself a loose retelling of the Ed Gein case cribbed from the headlines – he wasn't given the opportunity to adapt the screenplay. Bloch received only $9,500 before the publisher, his agent, and the taxman took their cut but it did much for the author's reputation, which was already growing in Hollywoodland. His gratitude to his old friend was evident, dedicating his 1961 collection Nightmares to publisher August Derleth, contemporary Fritz Leiber, and Samuel A. Peeples.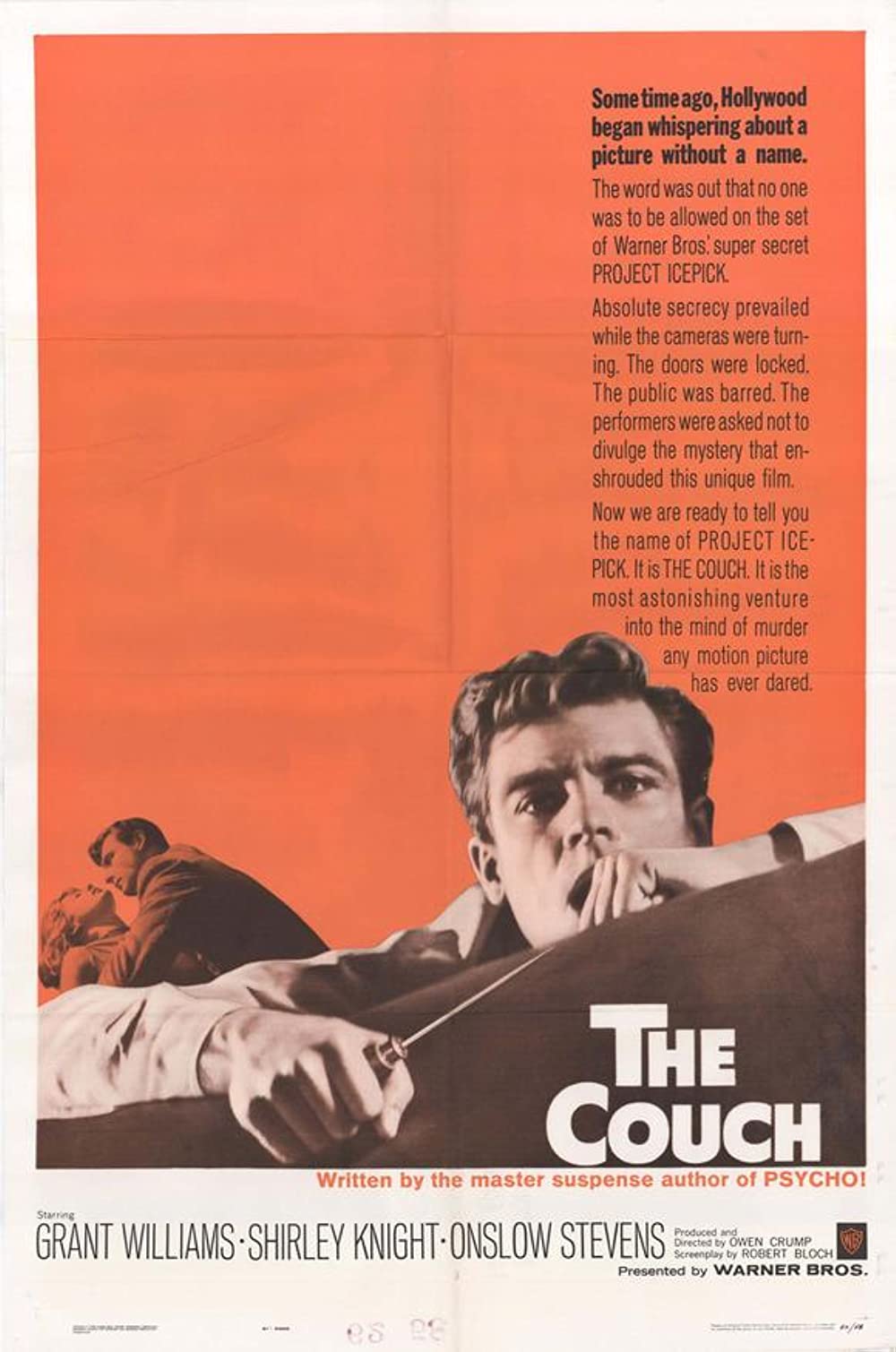 Whilst Psycho wasn't 'his' movie, Bloch moved in on the big screen as well as small, selling his original screenplay for The Couch (1962), working with horror huckster William Castle on Strait-Jacket (1964) and The Night Walker (1964), and beginning a long and more prestigious association with British studio Amicus. After The Skull (1965) – starring Peter Cushing and Christopher Lee – was adapted from one of his shorts, he seized on the opportunity to work with them on scripts for The Psychopath (1966), The Deadly Bees (1966), and Torture Garden (1967) before the decade closed.
Samuel A. Peeples was also keeping busy. Another member of his friendship circle, Gene Roddenberry, was developing a science fiction show. With little knowledge of the genre himself, he made use of Peeples' prodigious library and formidable knowledge, borrowing from him the phrase "Wagon Train to the Stars." Roddenberry's memos of their lunches record Peeples recommending to him eight writers, five of whom would make the cut.
Among them was Robert Bloch.
Following concerns that 'The Cage' – the original Star Trek pilot – was too po-faced, NBC decided that Roddenberry's "Wagon Train to the Stars" needed a little more Wagon Train. Peeples was employed to write the second pilot and what became the third broadcast Star Trek episode, 'Where No Man Has Gone Before' (S1, Ep3) with all the fisticuffs and daring-do the network could ever want. A grateful Roddenberry offered Peeples a line producer role, but his saddlebags were clearly stuffed – Peebles created Custer for ABC in 1967 and Lancer for CBS in 1968 – and so Gene L. Coon entered Star Trek history instead.
Peeples didn't stick around but his assistant-turned-screenwriting protege did. Dorothy Fontana – better known by her gender-neutral pseudonym D.C. Fontana – got her start, coincidentally, in the studio typing pool during the production of Psycho. So whilst she didn't know science fiction, she knew Bloch. "We were turning out the pages for Mr. Hitchcock and his production staff," she told SHOUT! Factory in 2019. "I liked it so much that the head of the typing department let me read the whole script, which was very nice of her."

Fontana had ridden with Peeples on Frontier Circus and The Tall Man, before hanging up her harness to take a job with cop-turned-creative Gene Roddenberry on his first series, The Lieutenant. When the show was canceled in 1964 after only one season, she followed him onto Star Trek: "He got about 25 or 30 books of science fiction short stories by noted writers, and he had me read every one of those stories and break it down as to whether it might be a possible story for Star Trek that they could buy. They didn't, but he did use some of those writers."
"I was in the first group that was invited to see the pilot," Bloch told Cinefantastique Vol 27 No. 11/12 (July 1996), 'and they asked me to do one. I must tell you that my arrangement with my agent is that I never solicit an assignment, never have. They call in and I either go or don't depending on whether or not the thing seems suitable to me."
The Cthulhu Mythos and 'What Are Little Girls Made Of?'
Bloch's first Star Trek script and his only one for the first season, 'What Are Little Girls Made Of?' (S1, Ep8), has the Cthulhu Mythos stitched into its premise beyond the superficial thrills of having ancient android Ruk (The Addams Family's Ted Cassidy), intone: "I was left here by the Old Ones."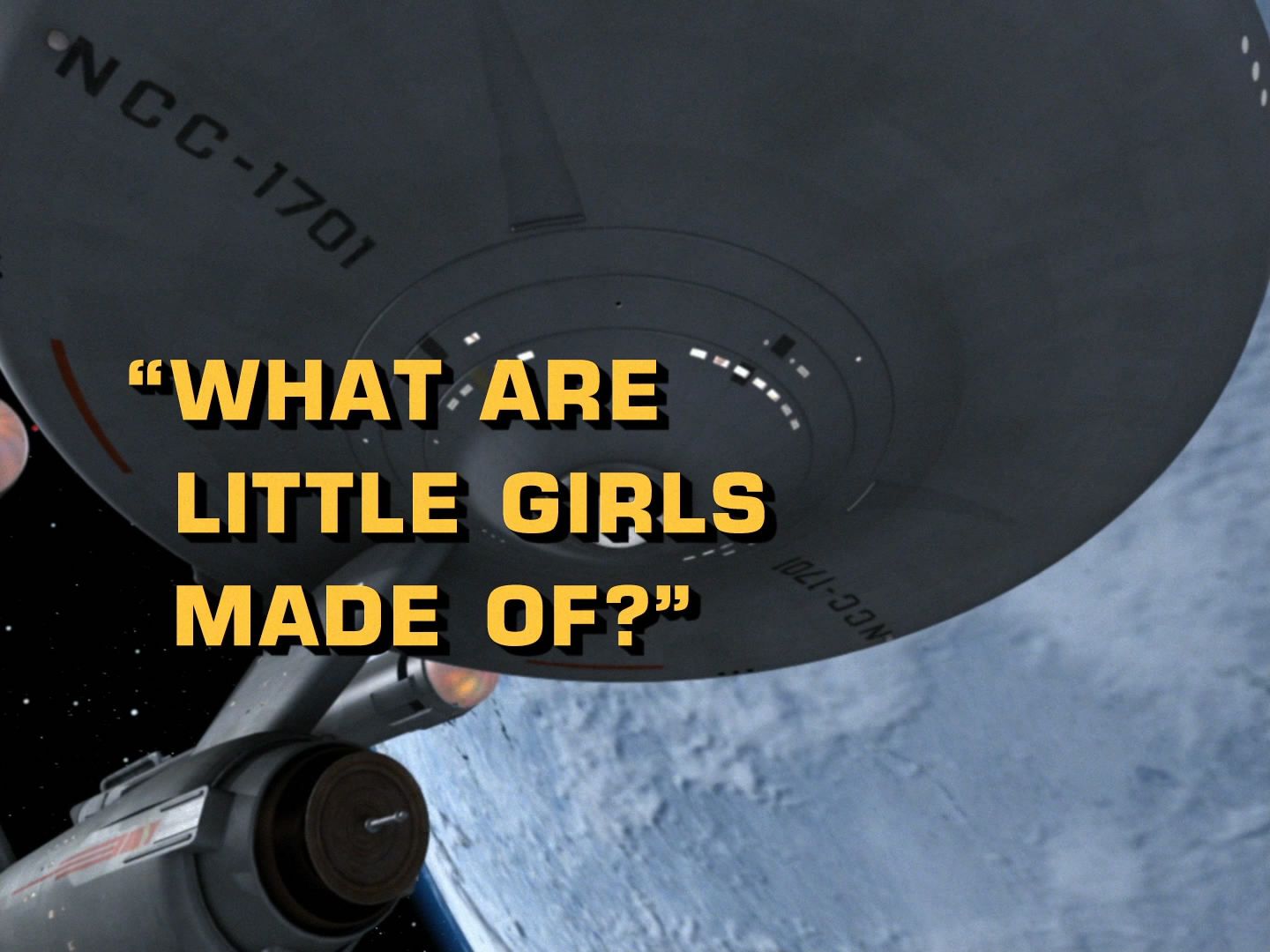 If you make Kirk a sea captain and turn the snow-caked planet of Exo III into the Antarctic then the hunt for a lost expedition feared dead, but in fact, transformed by their findings subterranean city of a long-forgotten alien race, then it's basically a sequel to H.P. Lovecraft's At the Mountains of Madness (1931). The striking visual twist of the turntable that transforms an eerie husk of stunted limbs into a perfect android duplicate likewise echoes the reveal at the climax of Lovecraft's The Whisperer in Darkness (1930):
"The three things were damnably clever constructions of their kind, and were furnished with ingenious metallic clamps to attach them to organic developments of which I dare not form any conjecture. […] For the things in the chair, perfect to the last, subtle detail of microscopic resemblance—or identity—were the face and hands of Henry Wentworth Akeley."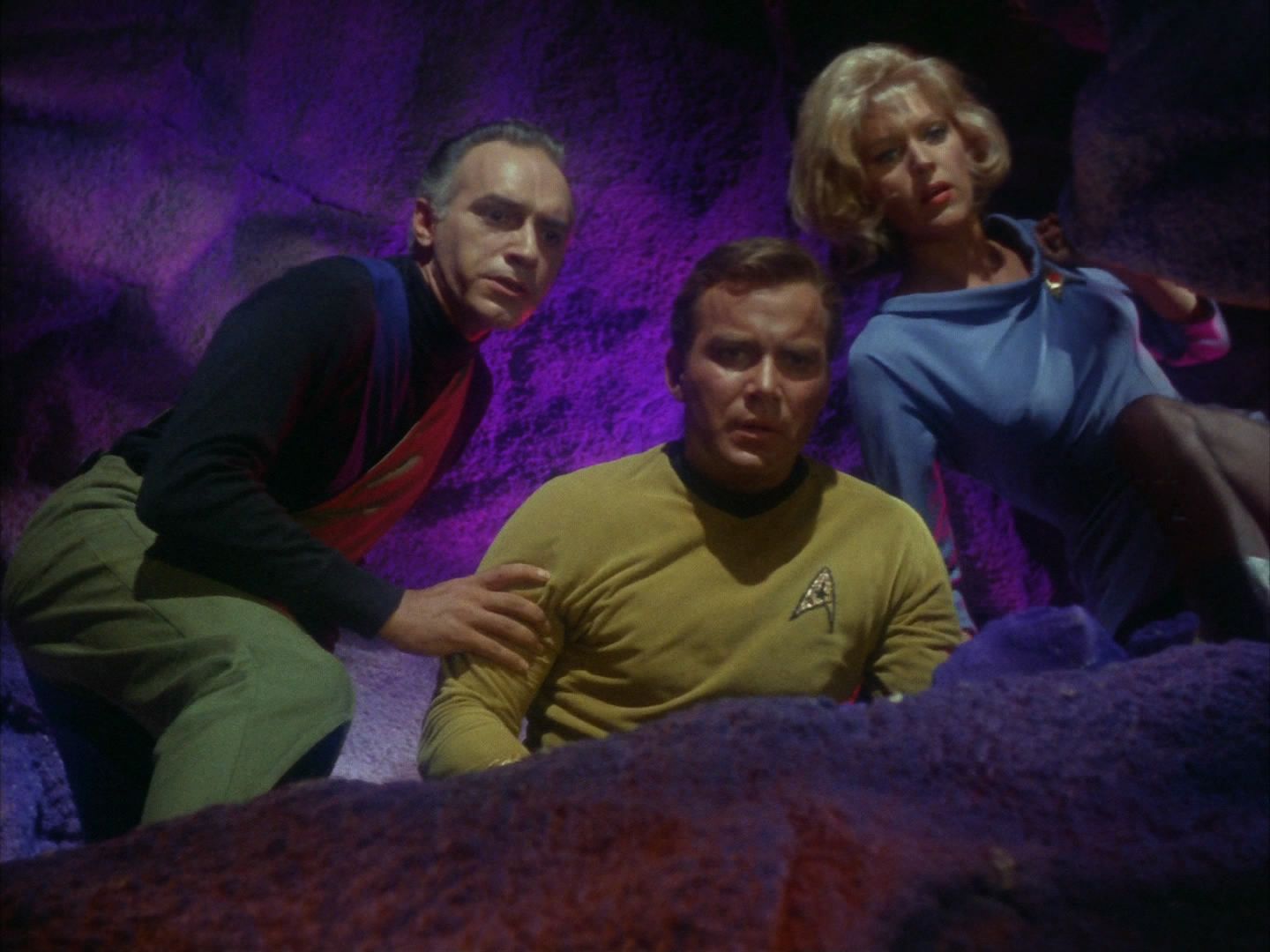 Horrors abound in 'What Are Little Girls Made Of?', from a hapless redshirt's fading scream as he's tossed down a "bottomless pit", to the severe Ruk eerily calling out to Kirk in the voice of Nurse Chapel (Majel Barrett). Then, there is Dr. Roger Korby himself,  reminiscent of every ethically untethered 'mad scientist' from Mary Shelley's Frankenstein to Lovecraft's Herbert West.
"Do you realize the number of discoveries lost because of superstition, of ignorance, a layman's inability to comprehend?"
Some slender comparisons can also be found in Bloch's Iron Mask (1944), in which the French Resistance encounters the historical Man in the Iron Mask, who is revealed to be a 13th-century robot given "perpetual life, and human intelligence" by an English monk Roger Bacon. Programmed to destroy France, the Android in the Iron Mask throws in his lot with the Third Reich.
Although reportedly rewritten by Roddenberry whilst the episode was being shot, Bloch was altogether more sanguine than some of the other literary guest writers, such as Jerry Sohl who put 'This Side of Paradise' (S1, Ep24) under a pseudonym, and Harlan Ellison, who spent many thousands of interviews bemoaning the butchering of 'The City on the Edge of Forever' (S1, Ep28).
"They did that show fairly consistent to what I had written," he told Starlog No. 113 (December 1986).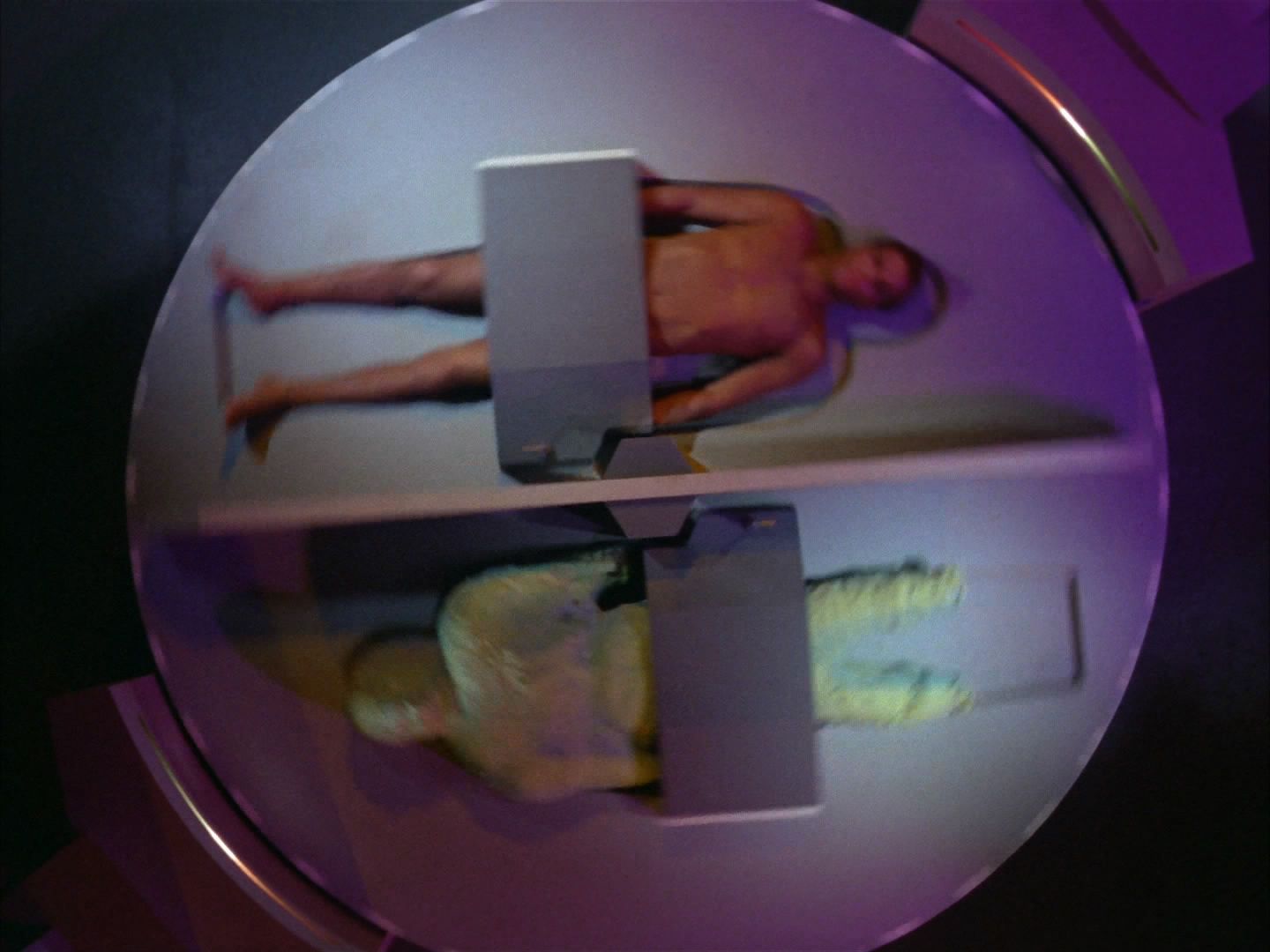 Then story editor John D.F. Black remembered it very differently, telling Edward Gross and Mark A. Altman in Captains' Logs: The Unauthorized Complete Trek Voyages (1995):
"Robert Bloch is one of those venerables. He's a writer with a phenomenal and enormous stature among science fiction writers. I respected him and when he came in the story was already on line; the deal had already been made when I signed on to the show. It was a story that I wanted to see what the hell he would do […] in the translation from story to teleplay. I don't think I would have touched it. [Gene Roddenberry] did.
"I don't know what went wrong with it. I think it was one of those things that on paper was one thing, and translating it through actors and through a director was another. But the script, by and large, worked as I perceived it. I know that there was a long stretch between the first draft and the second, and I can't remember if it was because it was difficult to execute what had been told to – Bloch – or whether in fact he had some hang-up and he was pissed at the comments."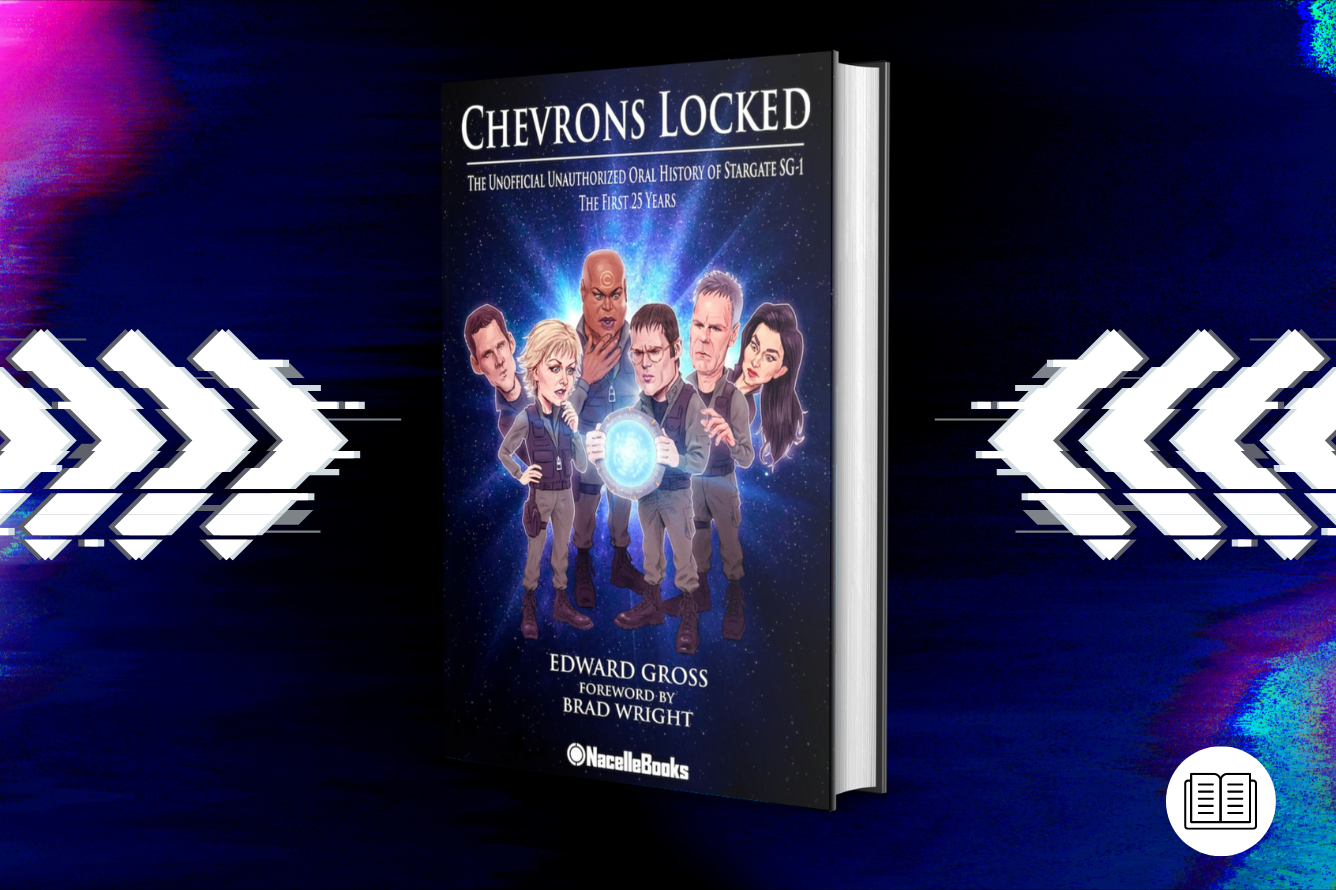 Trek or Treat: Broomstick Ride and 'Catspaw'
Bloch's second episode for Star Trek is also his most overtly ghoulish. Tasked with a holiday episode – the only one of its kind in Star Trek: The Original Series –  Bloch takes the license to chill and runs with it. Beneath the fog, disembodied heads, and other props from a seafront ghost train, Bloch digs deep into the Cthulhu Mythos and his own back catalog.
'Catspaw' (S2, Ep7) lifts a number of striking visuals from the pages of his short story Broomstick Ride (1957). The story takes place on the planet Pyris ('Catspaw' takes place on Pyris VII), where astronauts are surveying a blasted heath when they spy broomstick-riding witches away to a black sabbath. The planet's ruler takes them into protective custody – "He, the self-styled representative of modern intergalactic culture, was prisoner of these superstitious savages." – and warns them to leave Pyris before the witches do them harm.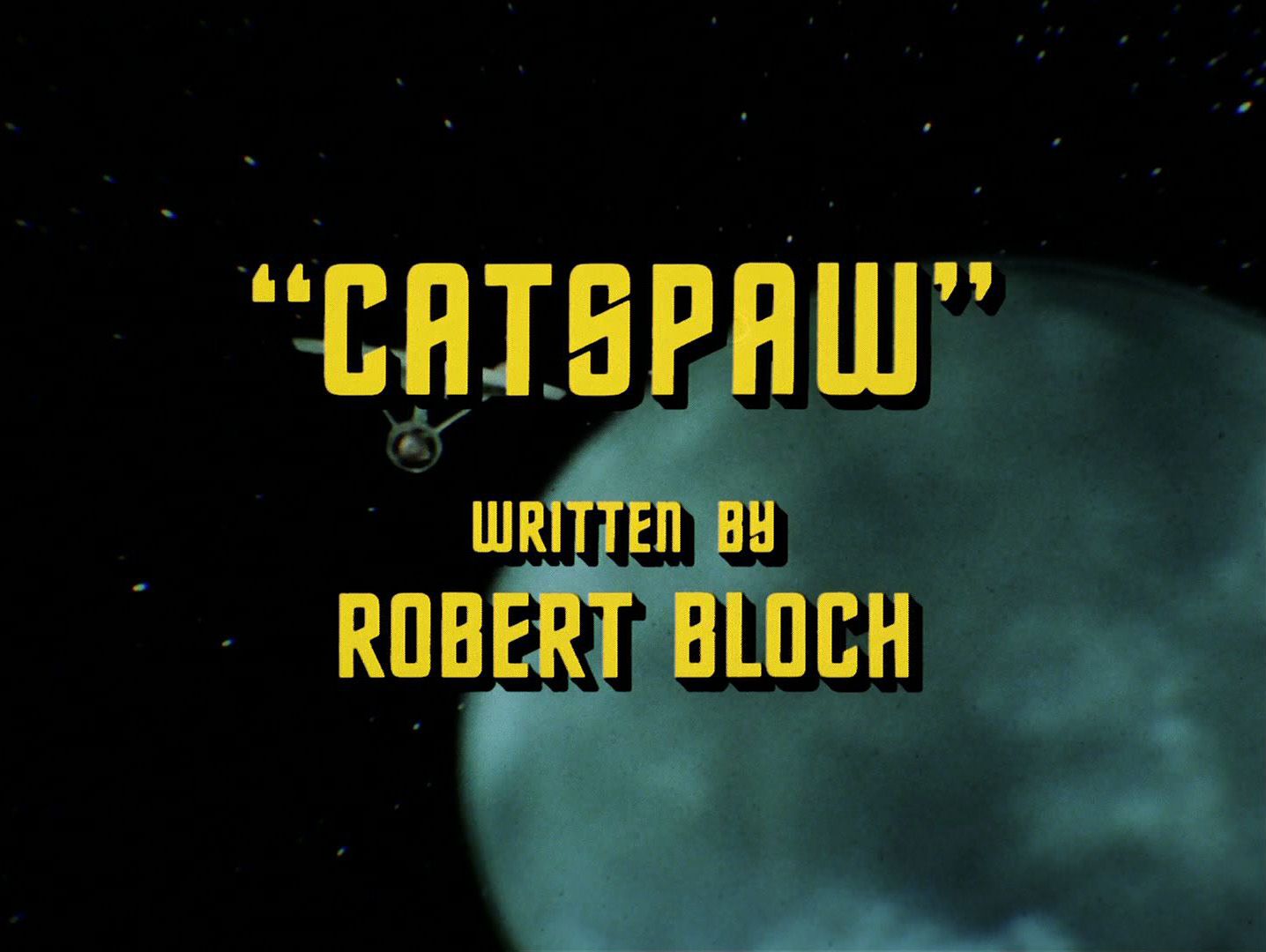 'Catspaw' has no witches of the broomstick-riding and pointy-hat variety, but an illusion of three disembodied hags confronts the party on their own blasted heath:
"Captain Kirk! … Captain Kirk! … Captain Kirk!"
"Go back! … Go back! … Go back!"
"Remember the curse!"
"Wind shall rise!"
"And fog descend!"
"So leave here, all, or meet your end!"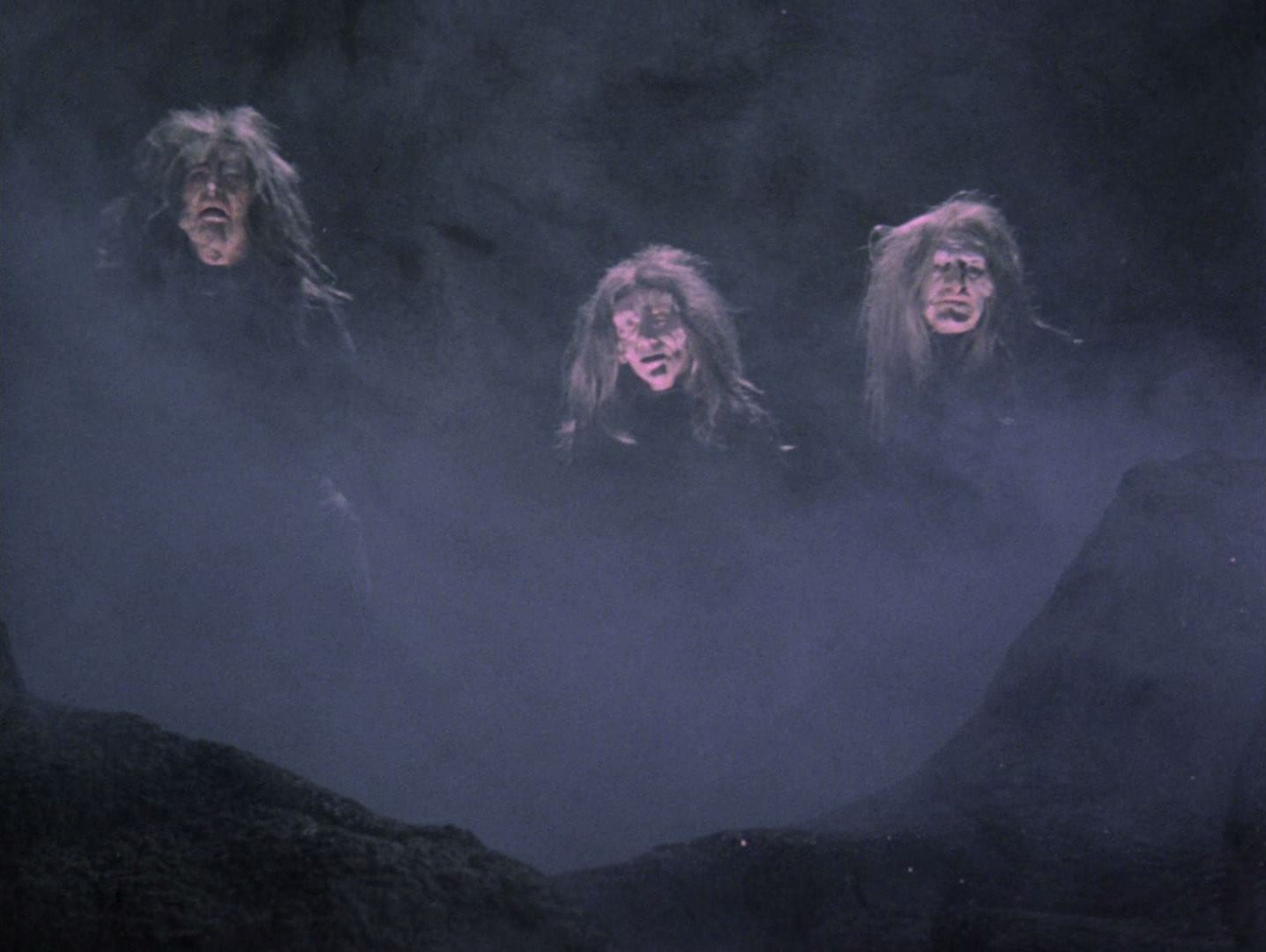 Rather than witches, Kirk, Spock, and McCoy encounter Korob (Theo Marcuse) and Sylvia (Antoinette Bower), members of a shapeless race who have taken the form of the suburban Satanists in Ghost World (2001). Korob in particular never quite manages much in the way of menace. This – along with the gloomy castle, cobwebbed corridors, and chained skeletons – is an illusion plucked by the pair from the mind of their subjects. It's not explicitly stated, but by citing the theory of race memory, Bloch opens up the very Lovecraftian possibility that we've seen these creatures before – or at least something similar.
Spock: I refer you to the psychological theory of the racial subconscious. The universal myths, symbols.
Kirk: Ghosts, witches.
Spock: And dungeons and castles and black cats. They all belong to the twilight world of consciousness.
Kirk: They tried to tap our conscious mind.
Spock: And they missed. They reached basically only the subconscious. Korob seemed puzzled by your reaction to the environment he'd provided.
At the start of The Dunwich Horror (1928) – one of the foundation texts of the Cthulhu Mythos – Lovecraft quotes from Charles Lamb's 1823 essay 'Witches, and Other Night Fears':
"Gorgons, and Hydras, and Chimaeras—dire stories of Celaeno and the Harpies—may reproduce themselves in the brain of superstition—but they were there before. They are transcripts, types—the archetypes are in us, and eternal. How else should the recital of that which we know in a waking sense to be false come to affect us at all? Is it that we naturally conceive terror from such objects, considered in their capacity of being able to inflict upon us bodily injury? O, least of all! These terrors are of older standing. They date beyond body."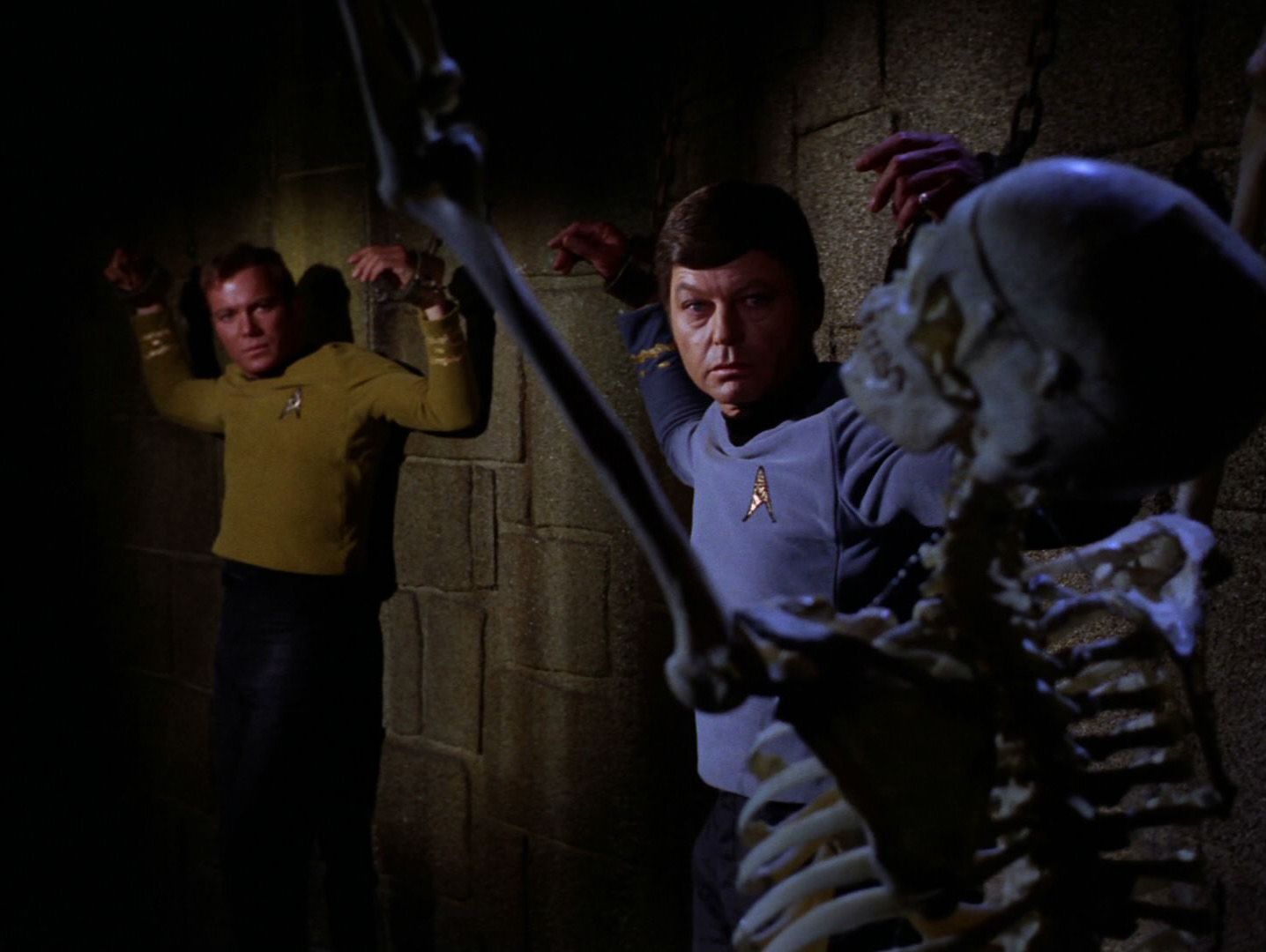 These powerful beings – later revealed, underwhelmingly, to e fuzzy felt pipe-cleaner puppets – are described by Spock as "totally alien in all respects." Dispatched by the "Old Ones" for unknown ends, Sylvie has become drunk on the experiences available in our reality. This is the first appearance of extra-dimensional entities in Star Trek and it's a hallmark of the Cthulhu Mythos, although neither H.P. Lovecraft nor any of his fellow travelers felt compelled to have them bicker like a couple on a caravan holiday.
Sylvia: You are a fool. We have nothing like this and I like it. To touch, to feel to understand the idea of luxury I like it. And I don't intend to leave it.
Korob: We have a duty to the old ones.
Sylvia: What do they know of sensations? This is a new world.
Korob: You're cruel. You torture our specimens.
Perhaps the episode's finest hour is the one most directly inspired by Broomstick Ride as Sylvia invokes sympathetic magic. Presented without explanation in the episode, this – in folklore – is the belief that people or things can be magically affected by objects crafted in their images such as witch's poppets or Voodoo dolls. Sympathetic magic can also involve written charms or amulets. It's such an obvious supernatural device that it wouldn't take a writer of Bloch's pedigree to draw on it – but to mention sympathetic magic by name (as he does in 1941's A Sorcerer Runs for Sheriff) is something else entirely.
"In the mythology of your race, this is called sympathetic magic. Jackson, the crew member who returned to the ship. You wondered what killed him. I made an image of him. In the essence of my thoughts, the image was Jackson. And when I killed the image and knew that it was dead, he died."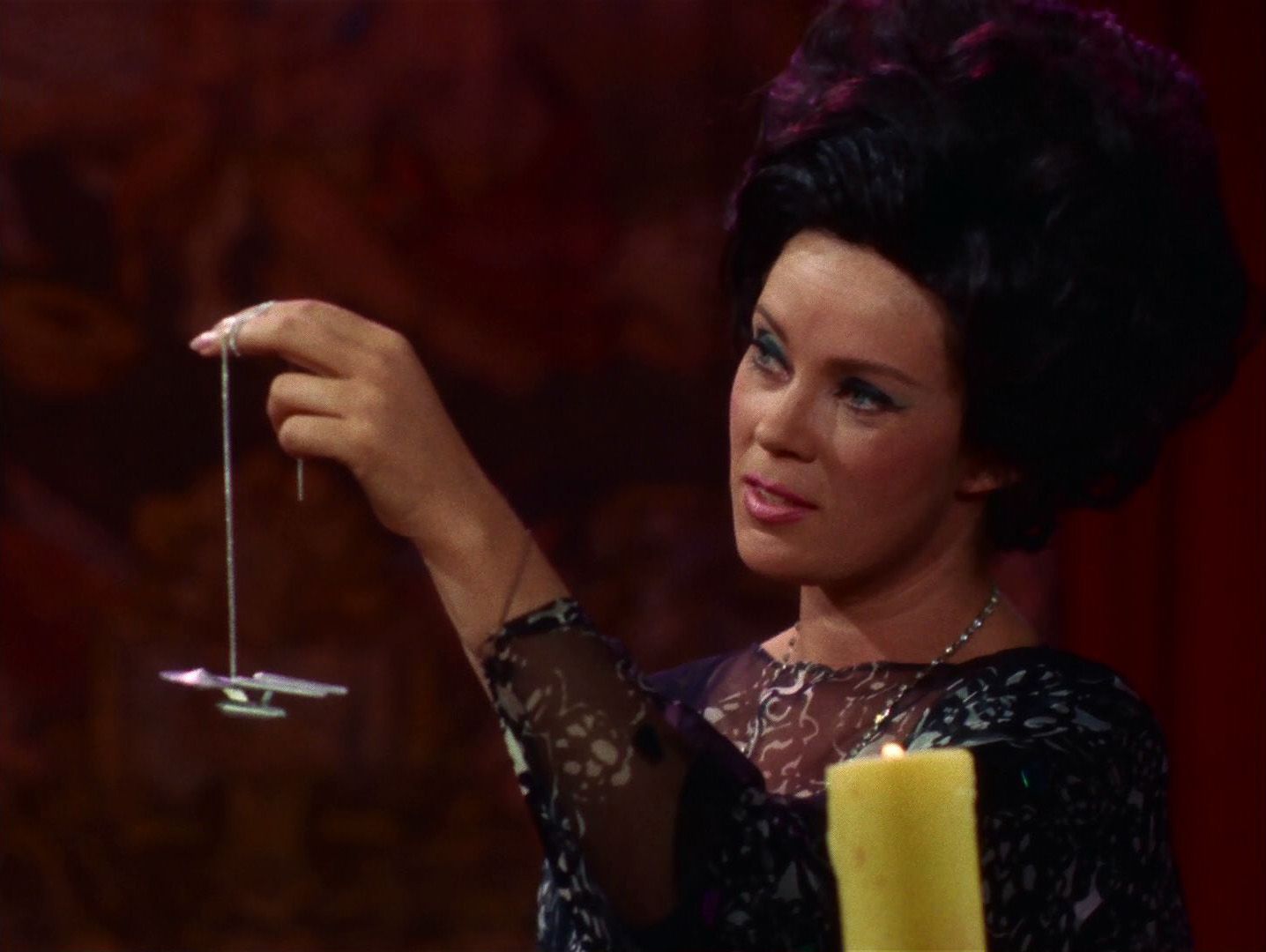 She dangles a silver chain with a miniature Enterprise on the end and holds it above a flickering candle. Frantically contacting the bridge, Kirk discovers that Enterprise is "burning up." He surrenders, but his counterparts in Broomstick Ride were not so lucky.
The hooded one cocked his head again. "I can sense it now," he said. "The ship has taken off. It climbs swiftly. Thousands of miles."
The hooded one bent over the brazier as the flames roared up. Carefully he thrust the silvery object into the crimson coals. The flames licked, tasted, then consumed with incredible speed. In a moment the object melted away.
[…]
Ten thousand miles above Pyris the spaceship exploded, melted into nothingness.
'Catspaw' was filmed largely as written – to a fault. Bloch's imaginings were beyond the budget, from the pipe-cleaner aliens at the climax to footage of a 'giant' black cat roaming around some cardboard corridors, there's plenty that's risible in an otherwise atmospheric jaunt to Pyris VII.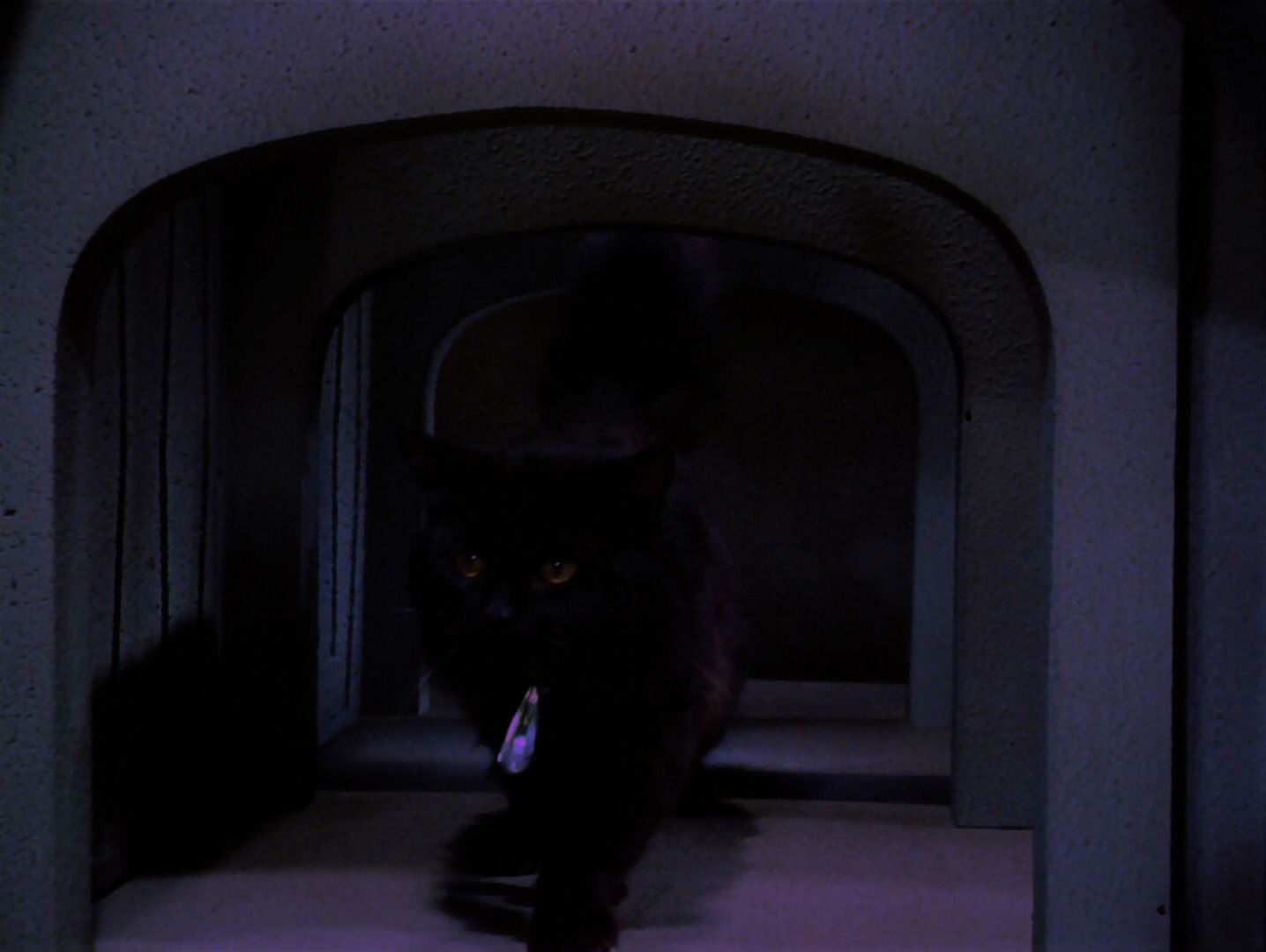 "I do have some quibbles about the way in which things were done," he said in Starlog No. 113 (December 1986). "It wasn't their fault, but they just didn't have the budget. 'Catspaw' cried out for the use of opticals in post-production effects. Shooting a cat's face in tight close-up is not exactly any substitute for having a giant cat. Running down a few feet of cardboard corridors isn't the same thing as having your characters trapped in a labyrinth of frightening proportions! Otherwise, 'Catspaw' was shot pretty much as I had written it."
Or maybe it wasn't. In Cinefantastique Vol. 17 No. 2 (March 1987), Bloch elaborates on the giant cat sequence. A man of mischievous humor – he wrote his own "unauthorized autobiography" – Bloch may have been joking:
"I wrote a charming little scene where the cat bit off Spock's head as I recall, but it was utterly abandoned. I thought I could get that by because I had a lot of chewing going on. I thought we'd settle with the censors: we'd bargain and we'd take out the chewing. But you know, they didn't buy that at all…"
Jack to the Future: Yours Truly, Jack the Ripper and 'Wolf in the Fold'
A woman screams. Kirk and Bones race through the foggy streets of Argelius II, an Orientalist fantasia of belly dancers and souks shrouded in the soundstage smoke machine of gothic horror. "She's dead, Jim," offers Bones, the fog swirling like an ocean around their knees. "Stabbed, a dozen times," replies Kirk soberly.
A man groans. The camera pulls up towards the terrified face of Montgomery Scott pressed up against the wall – a bloodied, curved dagger in one hand and the other braced against the stonework.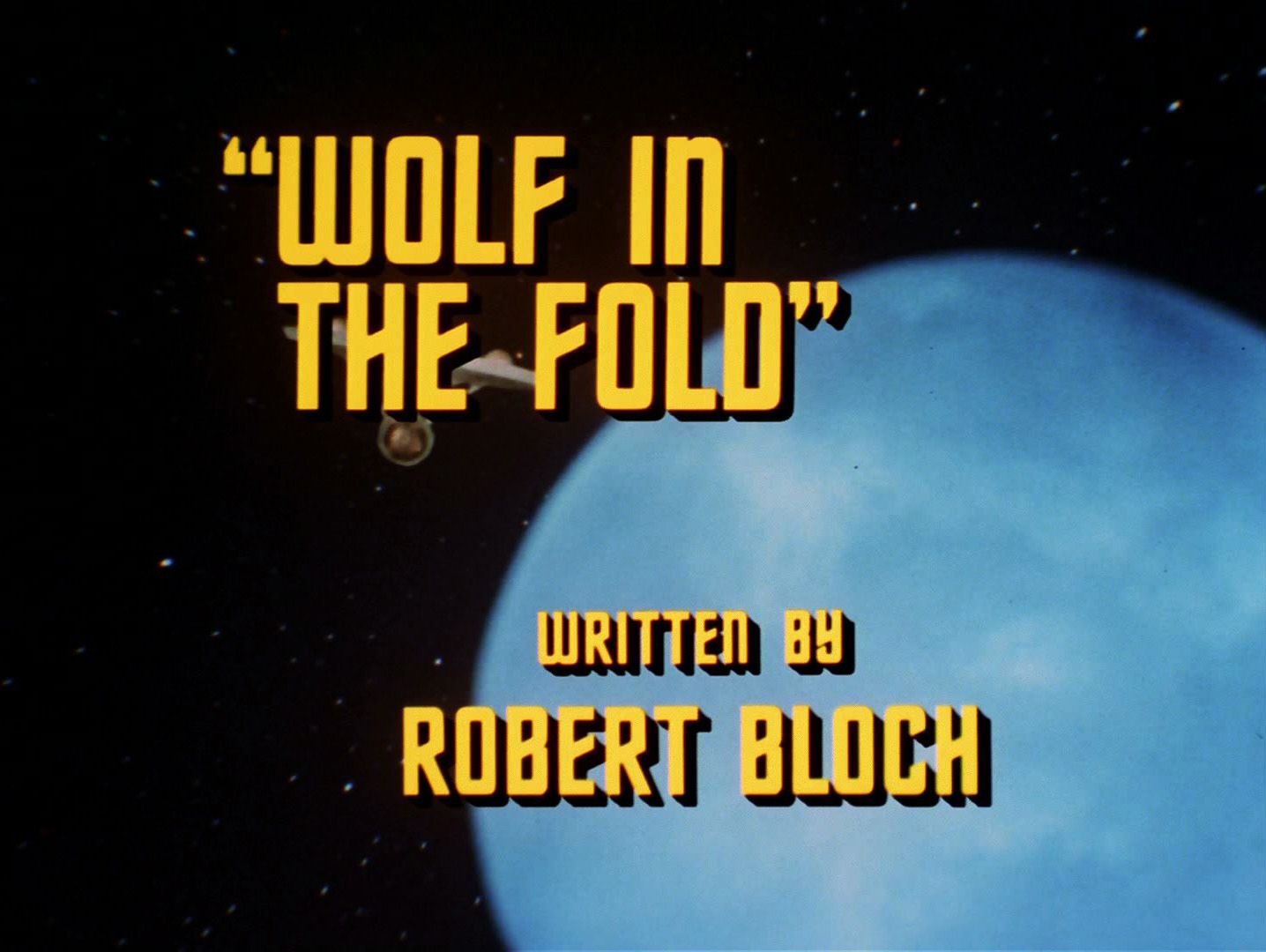 Robert Bloch's third and final episode of Star Trek: The Original Series – 'Wolf in the Fold' (S2, Ep14) – finds him in his place of power. Scotty (James Doohan) is accused of having murdered an Argelian woman in an apparent fugue state – after all, we all go a little mad sometimes. With the nebbish Hengist (John Fiedler) proving a less than effective investigator, the planet's prefect Jaris (Charles Macaulay) offers his wife, Sybo (Pilar Seurat) who has inherited the empathic powers of Argelius II's long-forgotten priesthood. Kirk and Scott volunteer scientific methods – a "24-hour regressive memory check" using a "psycho-tricorder" – but before it can be put to the test, Scotty appears to kill again.
An extended cast of shady suspects is reeled in, all of whom are in their own ways unsettling for Sybo's seance. The camera pans around the circle as she speaks.
"Yes, there is something here, something terrible –  I feel its presence. Fear, anger, hatred… anger feeds the flame. Oh… oh, there is evil here. Monstrous, terrible evil. Consuming hunger, hatred of all that lives. Hatred of women. A hunger that never dies. It is, strong, overpowering, an ancient terror. It has a name – Beratis Kesla Redjac. Devouring all life, all light, a hunger that will never die. Redjac! Redjac!"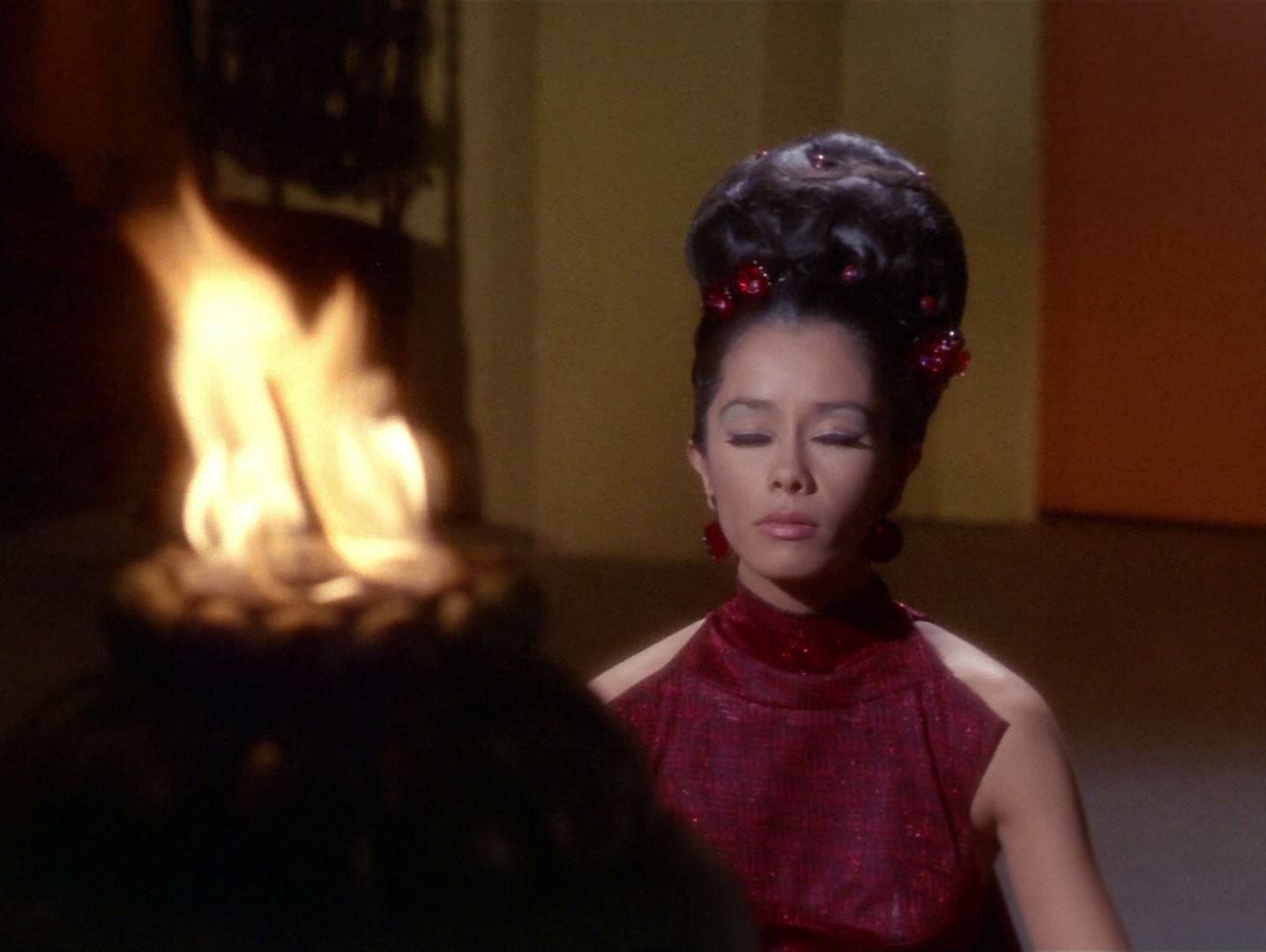 The lights drop. Sybo screams. The lights rise and Scotty is holding Sybo, a dagger in her stomach. She falls from his arms, his hand is red with gore. Whisked aboard Enterprise, a space-age lie detector proves he isn't the killer, in fact, the killer isn't someone…
"No, some… thing. Cold it was, like a stinking draft out of a slaughterhouse. But it wasn't really there."
'Redjac' – it transpires – is 'Red Jack', a "creature without form, feeds on horror and fear, that must assume a physical shape to kill" and did so as Earth's most notorious unsolved serial murderer: Jack the Ripper. The creature seizes control of Enterprise's computer, promising to torment the crew into a rich stew of terror before Spock sets it to work calculating the value of Pi.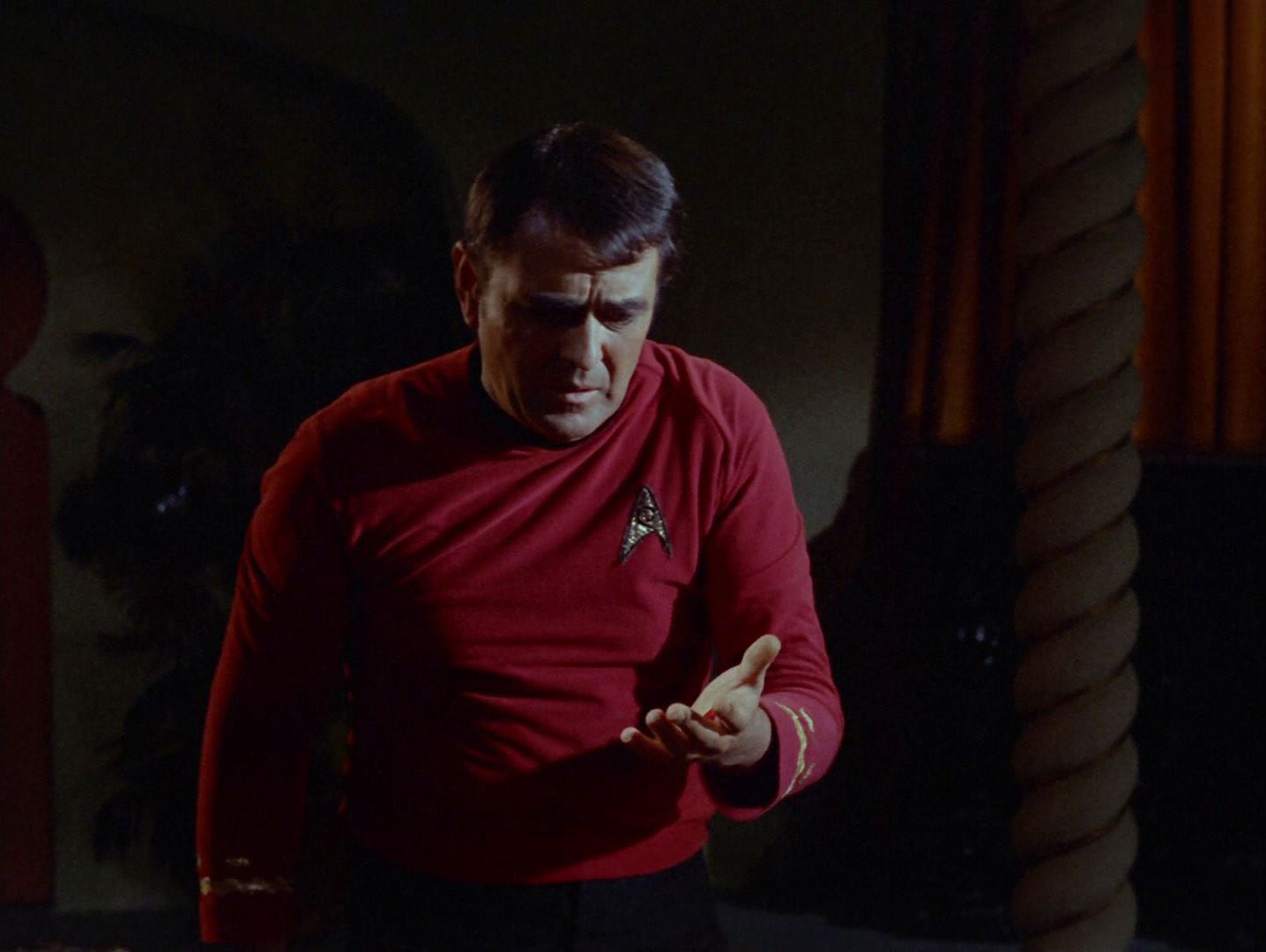 In 1943 – with one foot firmly planted in the gothic horror stylings of the Cthulhu Mythos and another in contemporary America – Robert Bloch's most celebrated short story, the one that came to define his style, was published in the pages of Weird Tales. In Yours Truly, Jack the Ripper, psychiatrist John Carmody finds himself in the orbit of Sir Guy Hollis, a British diplomat who maintains that the Victorian serial killer is active in Chicago and enlists his aid in drawing the fiend out. Carmody humors the Brit at first, but things soon take a turn.
Sir Guy shrugged, "It is said that when you offer blood to the dark gods they grant boons. Yes, if a blood offering is made at the proper time – when the moon and the stars are right – and with the proper ceremonies – they grant boons. Boons of youth. Eternal Youth."
"But that's nonsense!"
"No. That's – Jack the Ripper."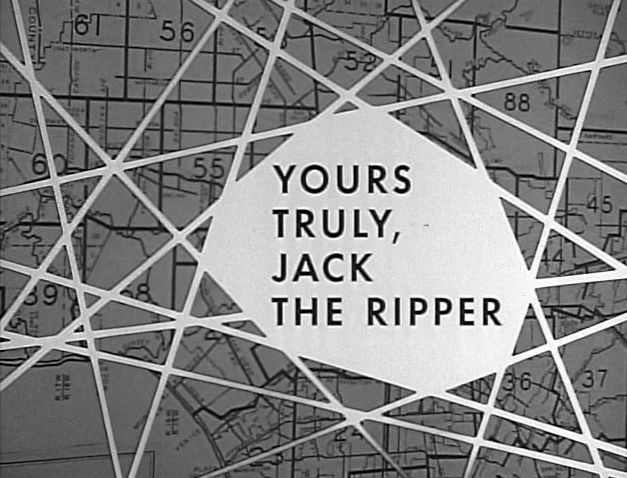 Like the Redjac of Star Trek: The Original Series, the Ripper of Yours Truly… is ageless, although he derives his power from dark forces rather than being one of those dark forces himself. The two struck again and again in different locations across time, preferring lonely sidestreets cloaked in fog be they Shoreditch, Chicago, or Outer Space. It's not just Redjac that has a hint of the Cthulhu Mythos about it, with "fear is among the strongest and most violent of emotions" Spock all but quotes H.P. Lovecraft's guiding philosophy: "The oldest and strongest emotion of mankind is fear…" (Supernatural Horror in Literature, 1927)
Kirk: Jack the Ripper?
Hengist: Well, that's ridiculous. He lived hundreds of years ago.
Tark: A man couldn't survive all these centuries.
Jaris: Just before she died, my wife said, "It is a hunger that never dies."
Tark: But all men die.
Kirk: Yes, all men die, and Jack the Ripper couldn't be alive if he were a man. But everything we've uncovered points to Jack the Ripper. Which is an impossibility isn't it? Or is it?
It's undeniable that 'Wolf in the Fold' was influenced by Yours Truly, Jack the Ripper, but to call it a "straight lift" as some do suggests they've not read the story. The central conceit was loosely similar, but these were ideas Bloch would return to pick at in one of his few 'pure' science fiction shorts A Toy for Juliette (1967), the fantastical A Most Unusual Murder (1976), and historical fiction novel, The Night of the Ripper (1984). Regardless, the end result is genuinely creepy, credit to the cast and the director, but also to the deft hand of Gene Roddenberry and D.C. Fontana, then the show's story editor, in having the clarity to commission a very specific script from Bloch, and the courage to stick with it.
"They asked me if I would do Jack the Ripper in the future," Bloch commented in Cinefantastique Vol. 17 No. 2 (March 1987). "My idea of sticking his personality into a computer was fairly novel 20 years ago. I should have given the computer entity command of objects not directly connected to it – such as knives.
"I was a little surprised when I saw it on the screen because it had been pretty well-structured so that any loose ends had been tightened. I was never told who had a hand in making the changes and revisions but I rather suspect it was 'D.C.' because I think most of 'em were pretty good."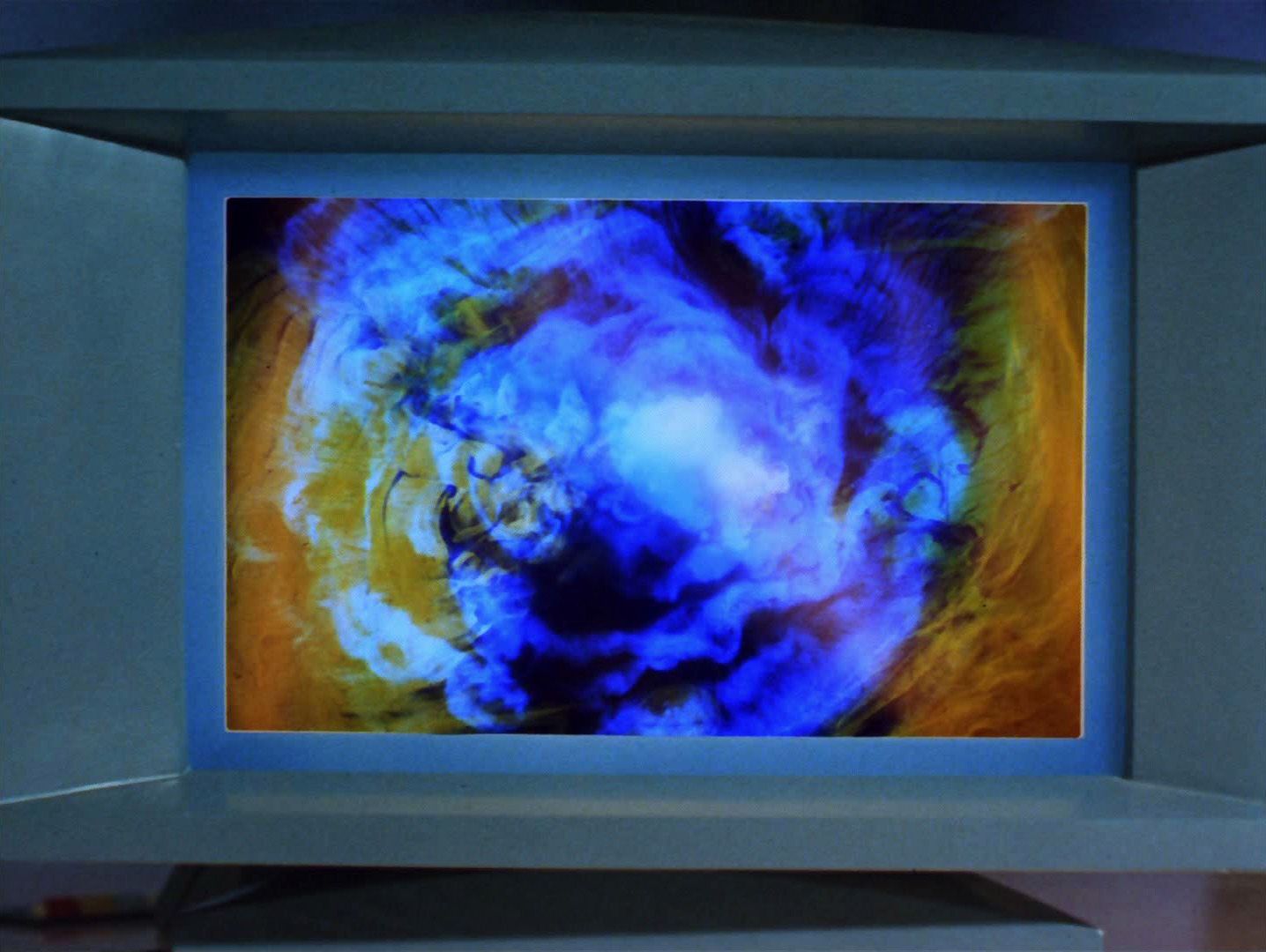 However, in a later interview, Bloch hints at some behind-the-scenes twitchiness over the screenplay. Speaking in Cinefantastique Vol 27 No. 11/12 (July 1996), he commented:

"I understand from what [writer of 'The Man Trap'] George Clayton Johnson said […] they wanted a rewrite and they called George in, asked him if he could make certain changes in it, and he flatly refused. He said, 'This is the script, it is cohesive. You can't tamper with it without absolutely altering everything in the story.' He said, 'Either you want this kind of story or you don't.' So that was it for changes in the rewrite: nothing was done by George or anyone else."
Bloch's original screenplay is collected in the Subterranean Press anthology confusingly titled Yours Truly, Jack the Ripper (2011), and the differences are for the most part minor saving the climax, where rather than Spock trapping Redjack in an impossible calculation, Kirk feeds it the teaches of Christ and Buddha to convince it of the essential superiority of good, which is possibly the only recorded instance of Bloch's screenplay being more hopeful and life-affirming than the story as it was broadcast.
Hit the Road Jack: Robert Bloch after Star Trek
That was it for Robert Bloch and Star Trek: The Original Series. The blip smoothed out Bloch went on to write two more movies for Amicus, arguably his best – The House That Dripped Blood (1971) and Asylum (1972) – and a number of episodes for anthology shows like Journey to the Unknown, Night Gallery, Tales of the Unexpected, and Tales from the Darkside
Although his old friend D.C. Fontana remained involved, behind the scenes Gene Roddenberry had been sidelined, and Star Trek's budget had been slashed for its third season. Bloch knew he would be unlikely to get away with a second 'Wolf in the Fold'.

"The word was out," he reflected in Cinefantastique Vol. 17 No. 2 (March 1987), "and the people that were in control were not people that felt were close to the Star Trek concept as it had begun. Roddenberry was nowhere to be seen. Producer Gene Coon – very much a stabilizing force – was gone also. When he was eliminated and a bunch of strangers came in – they were not playing the same game… the game was let's figure out some gimmicks and stick 'em on the air. It was antithetical to the actual strengths of the concept that enabled it to survive."
Later, Bloch confessed that he had been approached to write for Star Trek: The Next Generation, but the moment had passed.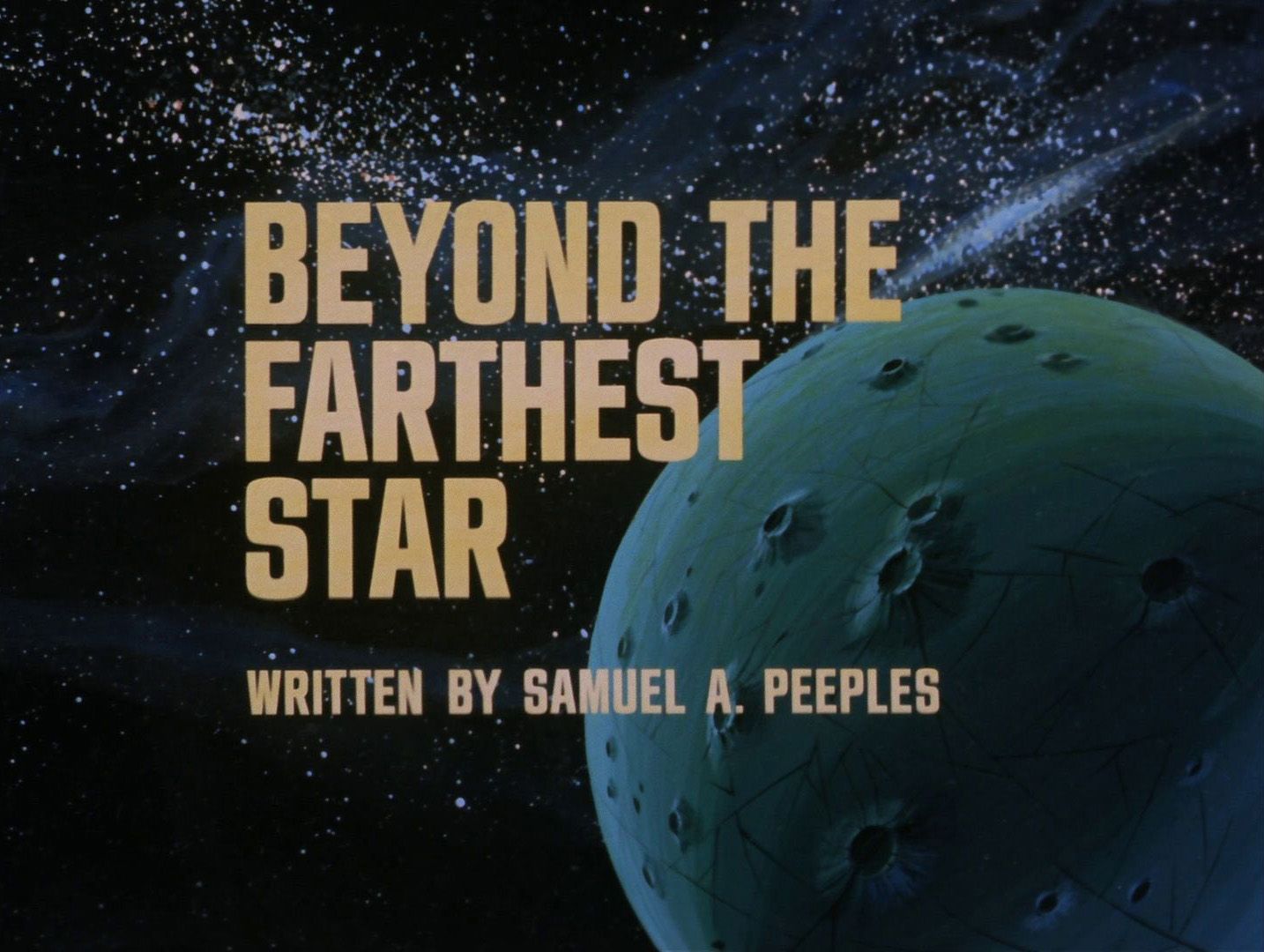 The enigmatic Samuel A. Peeples, however, did make a return for Star Trek: The Animated Series in 1973. 'Beyond the Farthest Star' (S1, Ep1) – the name borrowed from an Edgar Rice Burroughs novel, naturally – dealt with a malevolent entity trapped in a vast ancient spaceship of organic, almost fungal structure orbiting a dead star. The original crew – somewhat bleakly for a kids' cartoon – committed suicide to keep the creature from making it to civilization.
It may be fanciful, but I'd like to think this was a tip of the hat to Bloch's – and Lovecraft's – work.
Spock: A physiological symptom of latent primal superstition. The fear of primitive people confronting something unknown to them.
Kirk: Compared to the people who built this ship, we are primitives. Even you, Mr. Spock.
This article was first published on July 19th, 2022, on the original Companion website.
As a member of The Companion, you're supporting original writing and podcasting, for sci-fi fans, by sci-fi fans, and totally free of advertising and clickbait.

The cost of your membership has allowed us to mentor new writers and allowed us to reflect the diversity of voices within fandom. None of this is possible without you. Thank you. 🙂
Comments