"There's life out here, Dad. Weird, amazing, psychotic life. And death. In Technicolor."
The science-fiction series Farscape was wild, brash, and bold. It was also incredibly alien. Shortly after Farscape was commissioned, creator Rockne S O'Bannon and executive producer Brian Henson were told in the Sci-Fi Channel president's office to "Just make it as weird as you possibly can."
Within the first 20 minutes of Farscape's pilot episode, the bewildered John Crichton (Ben Browder) is dragged aboard the living spaceship Moya and captured by a band of escaped alien prisoners, before being struck by a neurotoxin from the tongue of the hulking alien Ka D'Argo (Anthony Simcoe). You never saw that on Star Trek.
"The level of effort that went into creating a real world, as opposed to 'Here's a blob and a set with some flashing lights,' was excellent," says Simcoe to The Companion. "That goes from makeup to animatronics, to sets. We were right on the cusp of practical effects and CGI."
The Alien Ecosystem of Farscape
What differentiated Farscape from other science fiction television is that the aliens were not just actors in platform boots with putty on their foreheads. These were stunningly realized beings that looked alien and had a similarly alien outlook on life.
Ka D'Argo was a towering warrior with tentacles on his head. The priestess Zhaan was a plant-based life form. Then there was the diminutive Rygel, with his floating sled, and the multi-limbed Pilot, who was bonded to the living ship Moya.
Everything about Farscape was designed to emphasize the alien aspects. Even the curved organic corridors of Moya reinforced that this was a living being.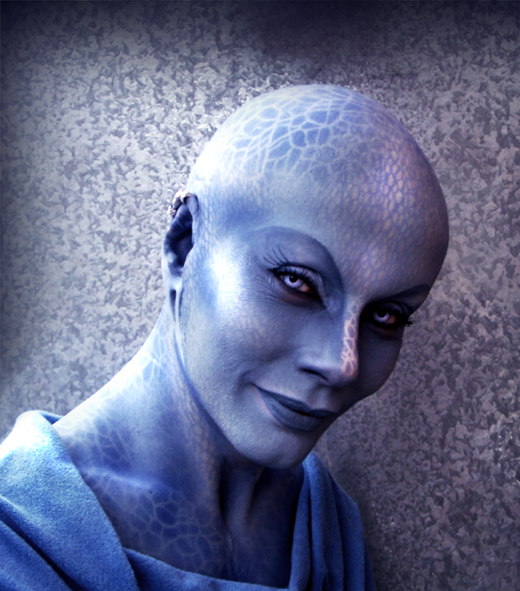 Each of the characters became associated with a particular color, which was seemingly used as a narrative short-hand describing their nature. D'Argo predominantly wears clothes of fiery colors against his dark skin. The serene Zhaan is a tranquil blue-skinned alien who wears matching flowing blue robes. Likewise, Rygel is frequently associated with green and purple; colors that are associated with greed and royalty respectively. Finally, the eldritch Chiana is colored in smokey shades of grey, evoking the sense of mystery and beguilement that was so integral to her nature.
Unlike the numerous iterations of Star Trek, Farscape was not human-centric science fiction. It has a genuinely alien vision of the future, where humans are not the predominant species. (Although there were the cold-blooded Sebaceans and their myriad offshoots because even the Creature Shop needs a break.)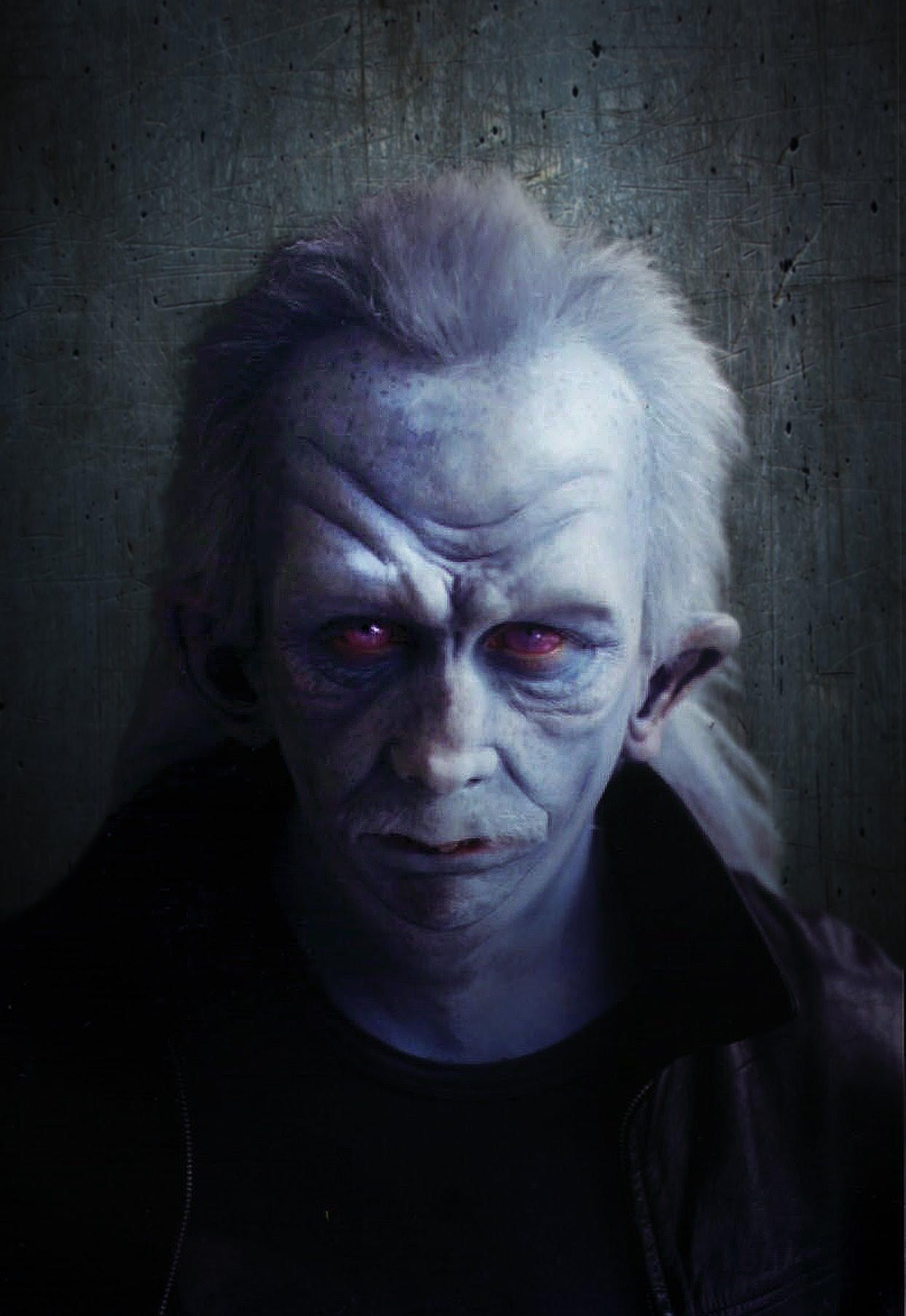 Making Farscape's Aliens Truly Alien
Farscape was produced by The Jim Henson Company. Though best known for The Muppets, they had an established knack for the weird, wonderful, and occasionally disturbing with the likes of The Dark Crystal (1982), Labyrinth (1986), and The Witches (1990). What The Jim Henson Company brought to the series was their fantastic puppetry and animatronic creatures, such as Rygel and Pilot. These were not background characters, but fully realized personalities.
The multi-limbed Pilot was the greatest example of this. Bonded to Moya, Pilot was the navigator and liaison between Moya and the crew. Pilot's animatronics were controlled by a team of puppeteers, who were able to express an incredible range of emotions for this gentle creature, which was reinforced by the cast's naturalistic interactions with Pilot.
Rather than CGI, which was still in its infancy at the time, Farscape relied on practical effects using animatronics and makeup.
The Jim Henson Company designed the core cast of aliens (Zhaan, Pilot, D'Argo, and Rygel), but it was the Australian branch of the Jim Henson's Creature Shop, run by Dave Elsey, that was responsible for populating the world of Farscape with all these alien lifeforms. Their approach to designing the aliens was always that they should never be human clones.
Taking the Creature Shop to Australia
Elsey had been initially brought on to maintain the puppetry and animatronics that had been built by The Jim Henson Company. This role expanded to incorporate creature design when Elsey arrived in Australia, two weeks before production was due to begin with Farscape's pilot episode 'Premiere' (S1, Ep1)…
The one that has a commerce planet filled with aliens…
Lots of aliens.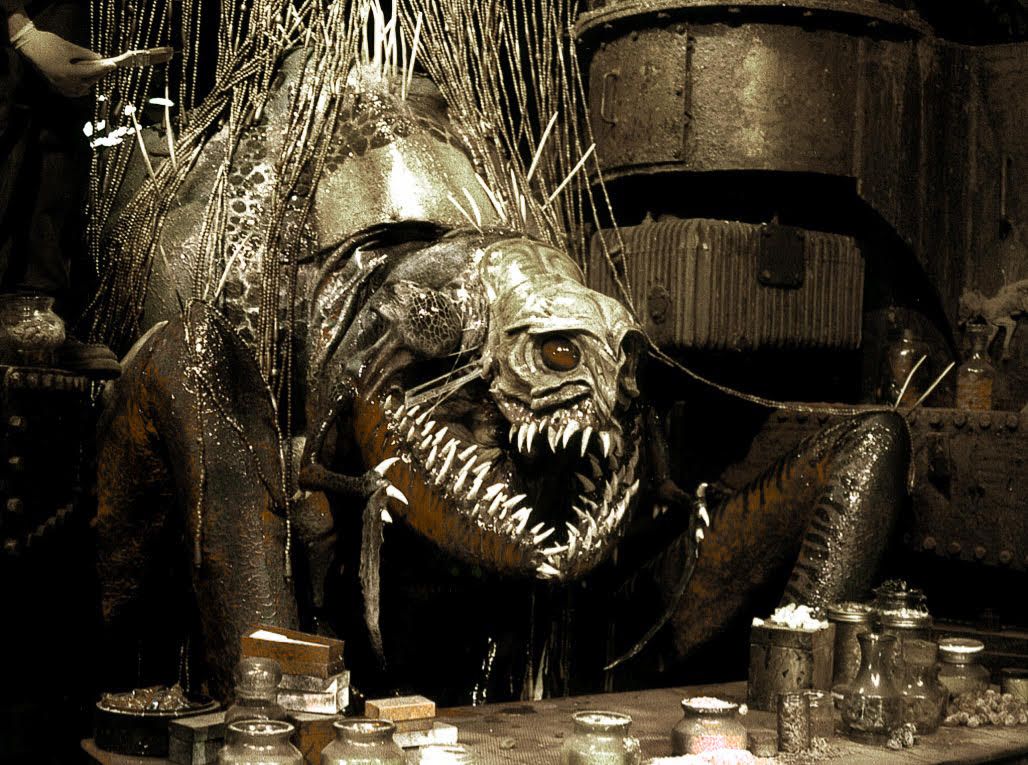 In order to achieve the seemingly impossible task of creating a galaxy of aliens to populate Farscape, Elsey recruited as many local effects and makeup people as possible. Unlike the UK and America, Australia did not have the 'Fangoria generation'; people who had been inspired to enter the effects and makeup industry by classic horror films.
Elsey was able to assemble a team of makeup and effects people, who would be responsible for populating the Unchartered Territories, but throughout the course of the series, it would never be more than 25 people.
Given the high bar that had been set by The Jim Henson Company, Elsey knew that Farscape's creature workshop needed to match that. "The aliens that had been built by The Jim Henson Creature Shop were spectacular," says Elsey.
"We had to build things that were equally impressive, even though we didn't have nearly enough time to do it."
Farscape was unafraid to explore mature themes. This is exemplified in the second season episode 'Crackers Don't Matter' (S2, Ep4), where Rygel is force-fed crackers by an enraged D'Argo. Even though we know Rygel is merely a puppet, the scene is played completely straight and remains shocking to watch. Farscape was also unafraid to explore sexuality, such as Chiana and D'Argo's numerous assignations, as well as the fetish scene in the episode 'Won't Get Fooled Again' (S2, Ep15).
"We had this concept amongst ourselves of gothic science fiction, as it has a dark sense of humor about it," says Elsey to The Companion. "We tried to put some dark themes in there, which suited me because a lot of them are ghost stories in space."
Due to the restrictions of television budgets, guest actors could only be hired ten days prior to filming. A consequence of this was that the creature shop typically only had ten days to build an alien not shaped like a human. Furthermore, clothing for the alien could not be made until the costume department actually had the completed alien to work with.
Expecting the costume department to create clothing for a non-humanoid alien was unacceptable in the remaining time. Instead, the Creature Shop took on the responsibilities of creating a costume for the alien as they designed it, allowing them to focus the makeup on what would be seen, and leaving the costume department to focus on the clothing worn by the humans – and humanoid – cast.
Evolving the Aliens of Farscape
The demands of creating new and different aliens for a television series meant that Elsey needed to regularly find new sources of inspiration. During the few weekends that he had free, Elsey would visit all of the nearby comic and book shops for inspirational artwork. "We found some great French comic books with this superb artwork for crazy ideas that you'd never seen in films, as well as Japanese and Chinese influences," recalls Elsey. "We would bring all this stuff in and make it all join together into different things."
Although the principal cast of alien characters had already been designed – and in some cases built – by The Jim Henson Company, Elsey was still responsible for maintaining and evolving the makeup and prosthetics.
D'Argo's costume evolved over time, to allow Simcoe to have greater flexibility and movement. Sharp-eyed viewers will also have noted that D'Argo's skin darkens in the second season, which was intended to make the costume as realistic as possible.
D'Argo had initially been built with blue contact lenses, but Simcoe argued against them, as they would have impacted upon his ability to express emotion. "I was adamant that I shouldn't have those contacts, because it takes away the involuntary dilation of your pupils," says Simcoe. "That's why you don't really read the emotions of people with contacts as best you can, or you read them as colder and more alien than what they are."
Some actors might have been unhappy with the number of prosthetics required for the role, but Simcoe was accepting of it and the time required, as it helped create the illusion of the alien worlds in Farscape. Whilst it would have been easier for Simcoe if D'Argo had been created as a suit with a helmet, he would have refused, as it would have hidden all of his acting. "Even though the prosthetics are what they are, it's absolutely my performance," explains Simcoe.