Warning: This article contains spoilers for The X-Files episode 'How the Ghosts Stole Christmas' (S6, Ep6). Proceed with caution.
'How The Ghosts Stole Christmas', the sixth episode of season six of The X-Files, is a terrific piece of television. As close as The X-Files gets to a 'bottle episode', set predominantly in one location and almost in real-time, it sees Mulder and Scully investigating a haunted house on Christmas Eve.
It features a skeleton cast, with only David Duchovny, Gillian Anderson, and guest stars Lily Tomlin and Ed Asner appearing on-screen, Tomlin and Asner portraying a long-dead pair who lure couples into festive murder-suicides.
While it all falls apart if you think about it too much — wouldn't Mulder and Scully consider returning on another Christmas Eve to investigate what certainly seemed to be an unambiguous supernatural experience? What is going on with the ghosts' ages given that they died young some 80 years earlier? — it's a really enjoyable, charming episode, with plenty to enjoy. There are impossibly eloquent chunky monologues all round, plenty of old-school jumps from slamming doors and lightning flashes, and a Hound of the Baskervilles (1902) reference followed immediately by a fart gag. All this plus plenty of insights into the Mulder-Scully dynamic (even if, to the disappointment of some 'shippers, it does confirm they aren't sleeping together) and a great delivery of the word 'paramasturbatory'.
'O Little Town Of Bethlehem': Finding The Haunted House
The whole episode came about as the result of two ideas: a desire to get to one particular moment, and the thought of doing an episode confined to one space. As Chris Carter — who wrote and directed this episode, as well as obviously creating the show — told author Andy Meisler for The End and the Beginning: The Official Guide to the X-Files Vol. 5 (2000), "It's based on an idea about a haunted house that Frank Spotnitz and I had been working on. Actually, the whole episode is about getting to the scene where David and Gillian drag themselves bloodily across the floor, and about keeping all of the action basically on one set and one location."
Shooting in one place and with minimal performers meant the episode had a much lower budget than usual. "It's the absolute record holder for fewest dollars spent on a sixth season episode, and also one of the most difficult shows that we've ever done," said Carter.
The Piru Mansion, the California home used for exterior shots, had been used for another sixth season episode, 'The Rain King' (S6, Ep8 – which was filmed before 'How The Ghosts Stole Christmas' despite airing two episodes later). Located less than an hour northwest of LA, Piru is a pretty popular filming location. A huge amount of TV shows have been filmed there, along with the 1954 version of A Star Is Born, the Sylvester Stallone classic Cobra, the 1999 comedy Happy, Texas, and the pie-based sequel American Wedding (the installment where Stifler eats a dog poo).
However, the mansion nearly didn't end up being used, for the rather dramatic reason that it came very close to burning down. As Ilt Jones, location manager (and one of the only Welshmen on The X-Files' crew) recalled: "I was home relaxing when I got a call from my assistant Francie Metz, who was prepping the mansion for the filming beginning the next day. She said, 'Ilt, I don't mean to alarm you or anything, but the whole hill behind the house is on fire.' I said, 'What?' It seems there was a big-time brush fire in the area.  I jumped in my car and broke every speed record to get there. When I arrived the ridges for five miles in each direction were blacking merrily. I'd never seen so many fire engines in my life. Seven or eight of those Super Scooper firefighting planes were bombing the area, and lots of water-dropping helicopters were buzzing overhead also. I thought, 'Oh God, this is great. What am I gonna do?' It looked like the fire would be on top of our mansion within minutes. So I sort of pathetically went over to some firemen who were just standing around — smoking cigarettes, I might add — and asked them what we could do to stave off this catastrophe and let me keep my job. They said, 'Don't worry about it! We've dug a fire break, it'll be cool.' And sure enough, about an hour later, the whole thing fizzed out — about three hundred feet from the house."
The Piru Mansion had in fact burned down once before, in February 1981, when an accident during a redecoration led to it being razed to the ground. It was painstakingly restored using old photographs and footage as references.
The inside of the house was a purpose-built set, which won production designer Corey Kaplan an award of excellence from the Society of Motion Picture and Television Art Directors. (She was nominated again the next year, for Season 7's 'Amor Fati', and won again the year after for the Season 8 episode 'Without.')
"I got a call from Frank [Spotnitz]," she told Meisler, "And he asked me, 'Do you think we could shoot a whole episode on one stage?' And I answered, 'Well, why don't we do something like My Dinner With Andre, where the camera just stays in one room and keeps circling and circling the action?' And he said, 'Well that's a good idea, I'll go tell Chris about that.' And Frank called back a day later and said, 'Okay, we're going to do it. Chris is inspired. We'll just have the camera circle around one of the sets.' Then I said, pretty naively, I guess, 'Why don't we do it in Scully's apartment? It's one of our permanent sets and we haven't shot anything at all there this season.' And that's when he asked me: 'Do you think you could build a mansion?'"
Spotnitz and Carter's requirements for the interior were simultaneously vague and exacting: "It had to be bleak, but not too bleak," recalled Kaplan. "Decrepit, but not too decrepit. Deserted, but not too deserted."
'All I Want For Christmas Is You': Casting The Ghosts
Given that there are only four people in the episode, the long-dead Lyda and Maurice needed to be portrayed by talented actors. The X-Files has a great record of unearthing unknown talent — a lot of huge stars, from Aaron Paul to Jack Black to Jane Lynch, had early bookings on the show — but on this occasion, they wanted to go for more familiar faces.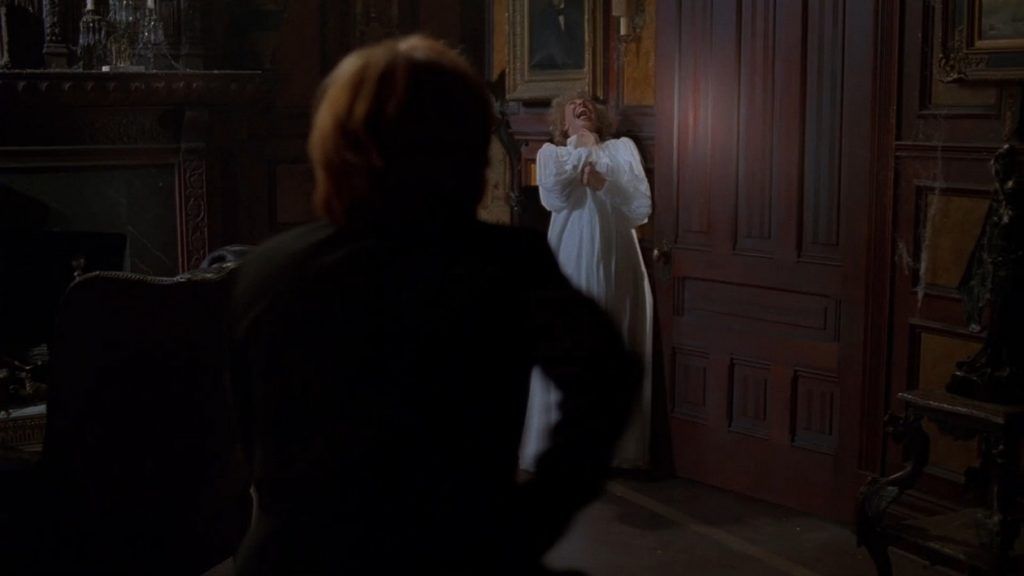 Lily Tomlin's involvement in the episode came about because of her love of the show. She told The AV Club in 2012: "When The X-Files came on, I asked to meet with Chris Carter because I wanted to get on the show. I went over to see him, and he said, 'Well, Lily, we rarely cast anybody who's really recognizable because it stretches the credibility.' And I thought, 'Well, that's a kiss-off.' And then three years later, I'm driving in my car, and my cell phone rings, and it's Chris, and he says, 'I just got an idea, and I'm writing it right now.' And that was it. I went and did it, and it was great. I loved that show."
Casting director Rick Millikan remembers it similarly but on a slightly quicker timeline: "The way that all started was that Lily Tomlin approached us a couple of seasons ago. Her agent called, actually, and told me that Lily loved The X-Files and would love to come on the show someday. So I told Chris, and he had me set up a meeting for Lily with him, and they got together and discussed some ideas for the future. Well, two years passed, and then suddenly Chris decided to write this episode for her. Originally, I think, he had Bob Newhart in mind to play her husband. But Bob Newhart didn't want to do it. Obviously, it all worked out very nicely."
In Newhart's absence, Tomlin was joined by fellow 1970s TV icon Ed Asner, best known at the time for playing curmudgeonly journalist Lou Grant on both The Mary Tyler Moore Show and his own eponymous spin-off, Lou Grant. Modern audiences arguably know him best as the voice of Carl Fredricksen in Up and Santa Claus in Elf — which co-starred original choice, Bob Newhart. In fact, later in his career Asner became Hollywood's go-to for Christmas roles, playing Santa around a dozen times, but that was yet to happen at the time of filming his festive X-Files appearance. An extraordinarily prolific actor, Asner had hundreds of credits by the time of his death in 2021, with several voice-acting animation projects yet to be completed.
While this was the first time the pair had worked together, they did so one more time, with Asner guest-starring as himself on an episode of Tomlin's Netflix series Grace & Frankie.
'Simply Having A Wonderful Christmastime': Filming the Episode
While 'How The Ghosts Stole Christmas' was a cheap episode, it was also a difficult one, with Carter recalling, "We worked very hard on this one, especially towards the end of the shoot. The final day, as I remember, we filmed for nineteen hours straight, from 3 pm on a Friday afternoon to 10 am Saturday morning."
Duchovny and Anderson both had issues with the excessive amounts of goopy blood they were covered with on the shoot (although Anderson did later describe the episode as "really fun" and pointed out how much she enjoyed working with Asner).
For the holes in Lyda and Maurice, visual effects producer Bill Millar used a technique that had been used on the big screen a few years earlier, or as he put it, "the same thing they did previously on that movie Death Becomes Her, but we did it better and with less money." Lyda's gown was an exact replica of one from the 1890s, which would have meant it was a few decades old when she died in 1917, but given that the ghosts have somehow both aged about 50 years over an 80-year period and Maurice has somehow gained weight after death (Lyda laments "he didn't have a gut"), durable nightwear is hardly the oddest thing about this particular pair of Yuletide spirits.
'Last Christmas': The Ending and Beyond
At the end of the episode, before Scully comes to visit bearing gifts, Mulder is seen watching the 1951 movie Scrooge, starring Alistair Sim (and released in the USA as A Christmas Carol). It seems to be a favorite of the show's creators — the other Christmas episode of The X-Files is called 'A Christmas Carol' and revolves around a family with the surname Sim.
Fans of extremely tenuous connections will be delighted to know that the movie is also featured in Lethal Weapon, two episodes of The Sopranos, and the 1988 festive comedy Scrooged. Scrooged has a few X-Files connections. Wendie Malick — who appeared in the X-Files Season Six premiere 'The Beginning' (S6, Ep1), just a few weeks before this episode, as FBI Assistant Director Maslin — appears in a supporting role, and the child actor who plays a young version of Bill Murray's character went on to appear in the notoriously dreadful Season 7 episode 'First Person Shooter' (S7, Ep13).
'How The Ghosts Stole Christmas' aired on December 13th, 1998, oddly enough the furthest from Christmas that the final episode of the year had ever been until then (Season 1 had 'Fire" on December 17th, Season 2 had 'Excelsis Dei' on December 16th, Season 3 had 'Revelations' on December 15th, Season 4 had 'Paper Hearts' also on December 15th, and Season 5 had 'Emily' on December 14th).
And, currently, on Disney+, the title is erroneously given in singular as 'How The Ghost Stole Christmas'. It's a festive miracle. God bless us, everyone.
This article was first published on December 2oth, 2022, on the original Companion website.
As a member
of The Companion,
you're supporting original writing and podcasting
, for sci-fi fans, by sci-fi fans, and totally free of advertising and clickbait.
The
cost of your membership
has allowed us to mentor new writers and allowed us to reflect the diversity of voices within fandom.
None of this is possible without you
. Thank you. 🙂
Comments