Warning: This article contains spoilers for The X-Files episode 'The Sixth Extinction II: Amor Fati' (S7, Ep2). Proceed with caution.
In 1995, when I was eight years old, I became fixated on the character of Fox Mulder (David Duchovny). As I look back, this was surprising for a couple of reasons. Firstly, I was far too young to be watching a TV program featuring serial killers, violent cults, and gross sewer worms (don't watch The X-Files episode 'The Host' – S2, Ep2). Secondly, it was a little strange that I had such a strong affinity with a 30-year-old fictitious male. Why Mulder and not the incredible, more relatable Dana Scully?.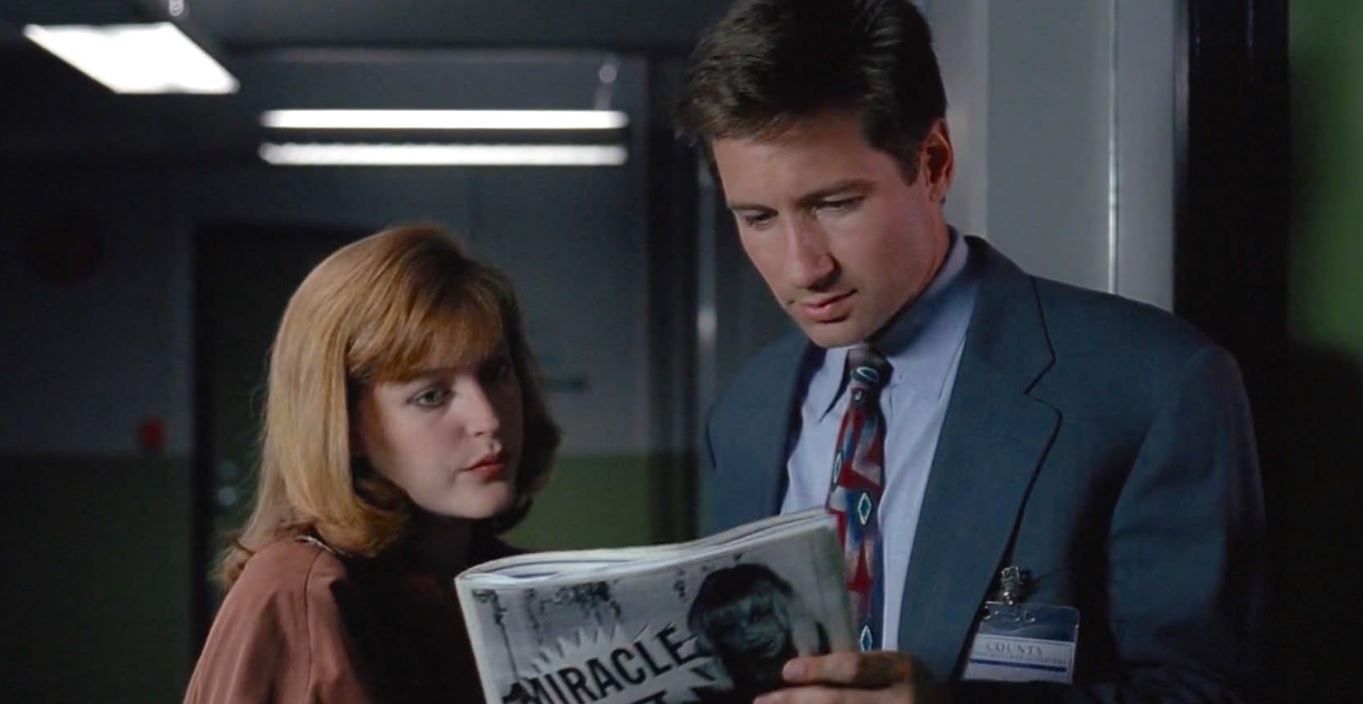 Arguably, creator Chris Carter and star Gillian Anderson's greatest contribution to pop culture is Dana Scully. Back in the days when female characters were either stereotyped as meek housewives or overtly sexualized, Scully was a huge step change in female representation in TV. Driven, smart, and incredibly accomplished (how many people have managed to become a medical doctor and an FBI agent? That's shooting a gun and using a scalpel), Anderson's portrayal of Scully is said to be directly related to an increase in women in STEM professions during its lifespan.
Why then, when I forced my friends to play The X-Files in the garden (they didn't have a clue what I was on about) did I always play Mulder and not Scully? Why did I have a collection of The X-Files trading cards that I swapped with my cousin to make sure I had all the Mulder ones? In true X-Files form, this mystery would take me over 20 years to solve.
Coming Out and Coming Back to The X-Files
In 2018, at the age of 29, I came out as gay and two years later, as non-binary. It took me a while to fully realize my queer identity. I spent my teenage years in the grip of a fundamentalist Christian church, where being queer, of any persuasion, was forbidden. After a long journey, I finally made peace with who I was, leaving the church just before my 30th birthday.
Once I came out, after half a life suppressing my true personality in favor of being a 'godly woman', I went on a delightful journey to reclaim all my childhood interests. So, with a bunch of time on my hands during the first lockdown, I persuaded my girlfriend to do a full rewatch of The X-Files.
In the enforced stillness of the pandemic, catching up with the fullness of my identity in the rollercoaster of the past few years, I watched Mulder answer Scully's knock at this door with "Sorry, nobody down here but the FBI's most unwanted," in The X-Files 'Pilot' (S1, Ep1). All at once, I understood why little me was so drawn to Special Agent Fox Mulder.
Chris Carter, despite – or perhaps, because of – his original intentions to paint their protagonist as a detached, intense, porn-loving, rebel, had accidentally created a queer icon.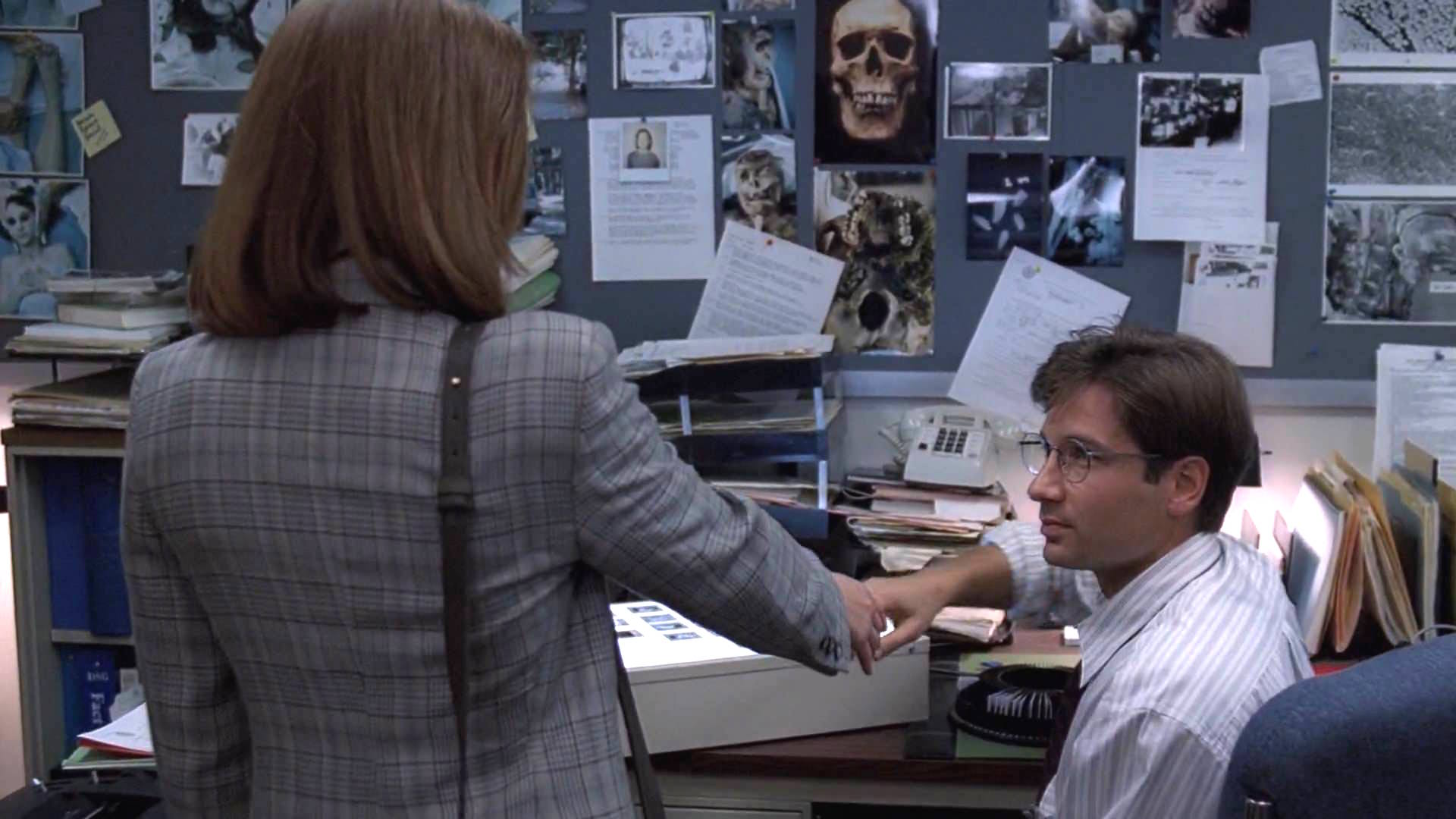 Fox Mulder and the Concept of Queerness
When I speak of queer in this context, I am not reading Mulder as a gay character per se. Rather, I am reading him as an embodiment of the queer experience; that is, as a character that exemplifies many of the realities that queer people face, the perspectives we see, and the behavior we portray. Often countercultural and straying from heteronormative realities, the queer experience disrupts the status quo. Queer individuals, with a critical perspective on gender binaries, often invert expectations in western capitalist structures. This can be a liberating and life-giving way to live, but, thanks to dominant societal discourses, can also be a painful and grating one.
When I had reached my thirties and rewound back to The X-Files 'Pilot' (S1, Ep1) in 1994, in a very on-brand time paradox fashion, I saw 31-year-old Mulder looking back at me – as me. As I plowed forward through the entire The X-Files back catalog, I saw more and more of my queer experience embodied in the character journey of Mulder. Here are some (of the many) reasons why:
Mulder Has a Lot of Haters…
"He had a nickname back at the academy; Spooky Mulder."
In the prelude to the entire X-Files journey, when Dana Scully is assigned to work with Fox Mulder we learn, through her eyes, that everyone thinks Mulder is a bit of a joke. After witnessing what he believes to be his sister's abduction by aliens when he was only 12, Mulder develops a "consuming devotion" to the extra-terrestrial and paranormal. Willingly assigned to the X-Files and placed in the basement by his superiors, Mulder gains a reputation for believing in the most extreme possibilities behind these cases and of course, most famously, in alien life. Ridiculed and ostracised as 'Spooky Mulder', he is left alone in the basement with his interests.
It's not just a life of light mockery that Mulder has to endure. From series start to finish, Mulder is personally and unfairly targeted from every angle for doing his work. There are his real enemies that aggressively oppose his search to uncover the truth; the secretive syndicate, the villainous Cigarette Smoking Man (William B. Davis), arch-nemesis Alex Krycek (Nicholas Lea), and of course, whatever monster lurks in the closet this week.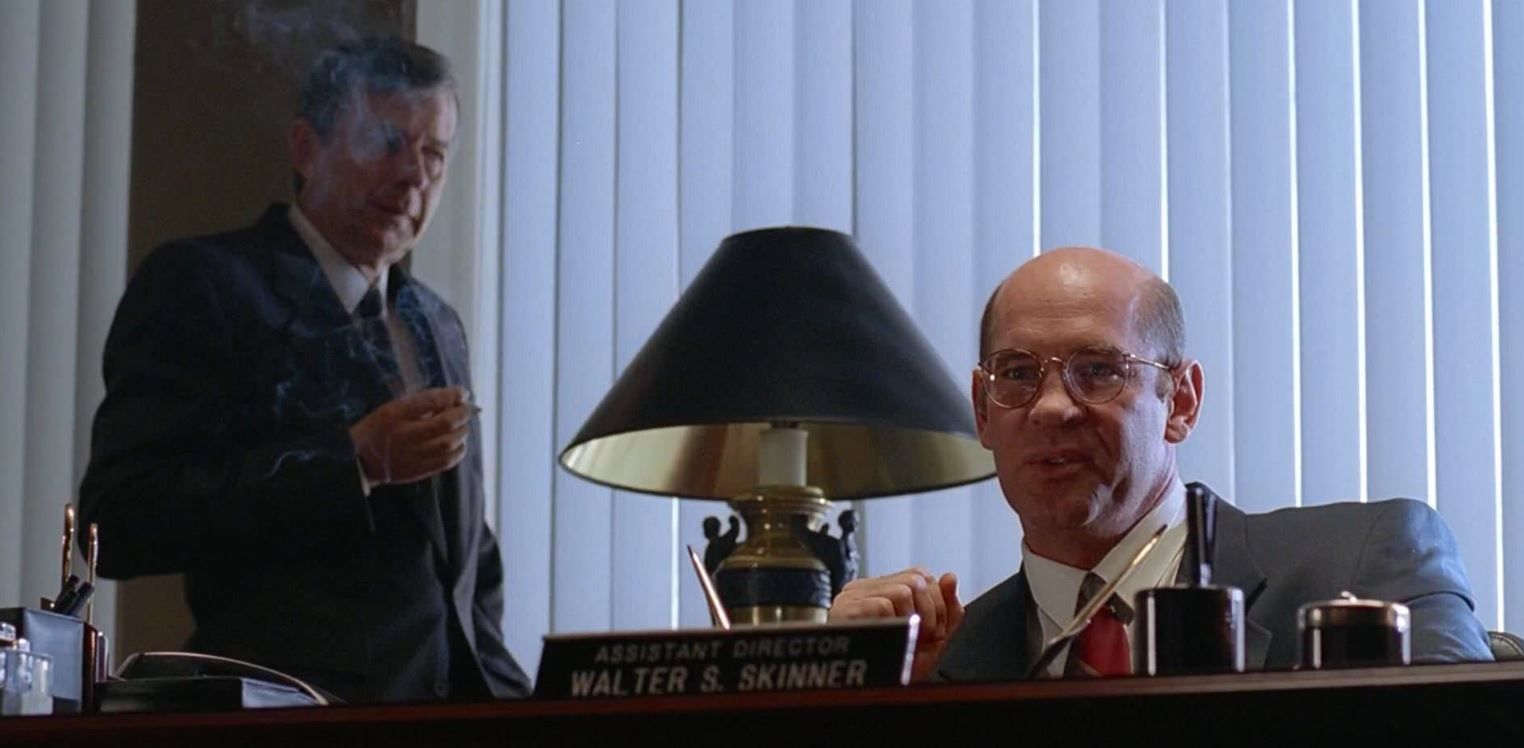 But there are also other, closer colleagues, even friends, and family, that entirely misinterpret or misunderstand who he is and his devotion to seeking the truth. Old flame Diana Fowley (Mimi Rogers) claims to share his perspective on the world before choosing to betray him. His mother and father(s) turn out to be involved in the very conspiracy he's trying to uncover and even Assistant Director Walter Skinner (Mitch Pileggi) struggles to consistently trust his methods or instincts.
To those of us living queer lives, with 'different' interests, world views, or just mundane subversions like the clothes we wear, Mulder's experience is a familiar one. There are people out there that actively hate what I stand for, that believe homosexuality is sinful and that gender is a binary concept set in stone. In other, less overtly aggressive ways, there's also the stranger that constantly misgenders me or the well-meaning relative that never quite 'gets it'. There will always be that 'unspoken conversation' about my life I'll never get to have with those I love the most.
But we keep living in ways the experience of our skin has taught us to believe. We don't give up.
…but Mulder Has a Chosen Family
"That's why we like you Mulder, your ideas are weirder than ours"
As a group of self-proclaimed "truth seekers", the legendary 'Lone Gunman' conspiracy theorists Frohike, Byers, and Langley, are Mulder's proverbial queer community. First appearing in The X-Files episode 'E.B.E' (S1, Ep17), the Lone Gunmen, seem at first to Scully as "the most paranoid people I have ever met". Yet, eight series later, she not only understands their arguments but loves who they are.
Frohike (Tom Braidwood), Byers (Bruce Harwood), and Langly (Dean Haglund) share the same proclivity for the paranormal as Mulder, believing the same truth as him, and, as a result, share the same struggle. In many ways, as we see in The X-Files episode 'Jump the Shark' (S9, Ep15), they demonstrate that they will go further than him to do "whatever it takes" to help "fight the good fight".
The Lone Gunmen are our queer heroes, our chosen community, and the people running beside and ahead of us. They are the people that inspire us from afar or are the ones that get beside us when we need help. Without our community, we have no bearing on how to make sense of our place in the structure of this world; we're left out in the Bermuda Triangle, drowning.