Warning:
This article contains spoilers for
The Expanse
episodes 'The Big Empty' (S1, Ep2), 'Safe' (S2, Ep1), 'The Seventh Man' (S2, Ep7), 'Immolation' (S3, Ep6), 'Intransigence' (S3, Ep9), 'Dandelion Sky' (S3, Ep10), 'Guagamela' (S5, Ep4), and 'Tribes' (S5, Ep6).
This article deals with abuse and trauma. We'd encourage anyone affected by the subject matter to make use of the resources offered
by the UK charity Mind
.
During the early episodes of The Expanse, Amos Burton (played by Wes Chatham) is portrayed as the resident muscle; Canterbury's hardened mechanic who is unafraid of violence. In the second episode of the first season ('The Big Empty'), Amos threatens to throw James Holden (Stephen Strait) out of an airlock for putting them all in danger:
"I can take a core apart and put it back together with my eyes closed. But ask me whether or not I should rip your helmet off and kick you off this bucket, and I couldn't give you a reason why I should or shouldn't. Except Naomi wouldn't like it."
However, as the series progresses, we learn more about his backstory and discover that Amos is not merely a psychotic thug. Instead, Amos is a survivor of child abuse, who is striving to overcome the mental trauma.
The Use and Abuse of Violence
One of the first things we learn about Amos is that he is comfortable around violence and familiar with its application. This is exemplified when Miller (Thomas Jane) confronts Amos about a friend's death, in the second season Expanse episode 'Safe' (S2, Ep1). Amos repeatedly warns Miller to walk away, but as soon as Miller attacks, Amos does not hold back and almost beats Miller to death. What is most terrifying in that scene is not the violence, but that Amos appears completely emotionless. It was only the intervention of Naomi Nagata (Dominique Tipper) that prevented Amos from killing Miller.
Amos's disturbing familiarity with violence becomes a theme for the character, as the layers of seeming sociopathy are peeled away to reveal a deeply traumatized character. In an interview with CBR, Wes Chatham explained that "There are circumstances that happen [when Amos] completely loses control of that defense mechanism, then you see straight into his heart and the thing that he has been trying to protect the whole time."
Amos understands at a fundamental level that he is not like other people. He can also recognize others who share his lack of empathy. For example; in The Expanse episode 'The Seventh Man' (S2, Ep7), Amos is able to extract vital information from Paolo Cortázar (Carlos Gonzalez-Vio), the scientist found at Thoth Station. Likewise, in Season 4 it is Amos who quickly realizes that Adolphus Murtry (Burn Gorman) is the greatest threat on Ilus.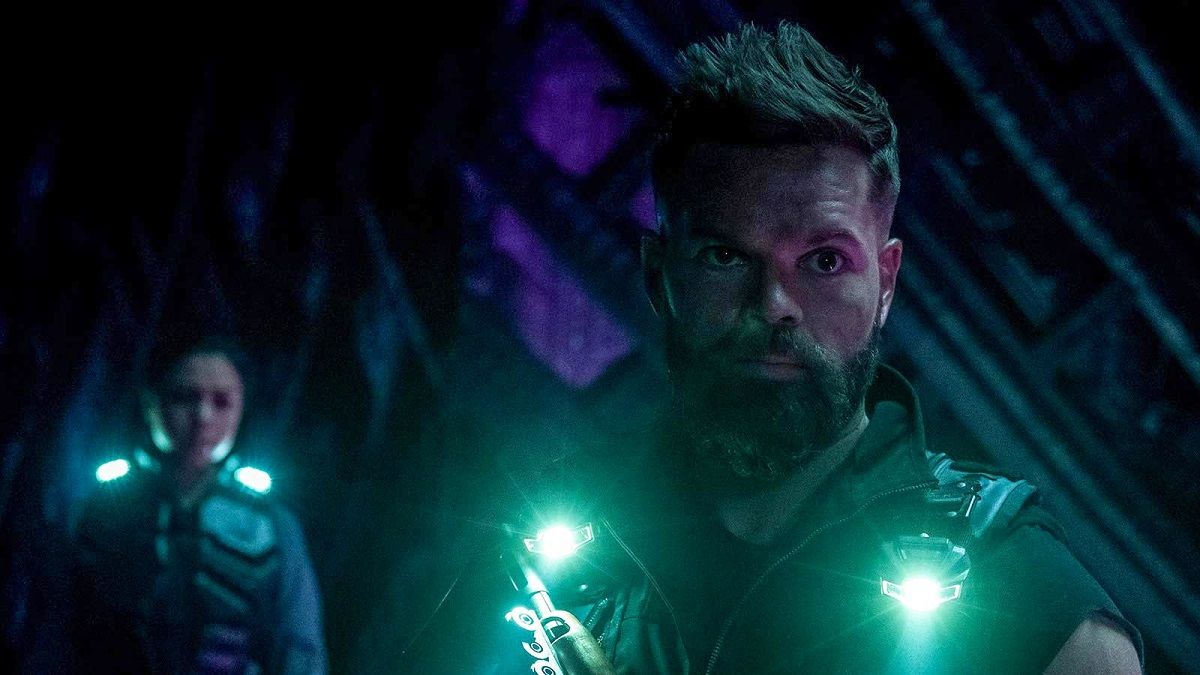 Amos and Murtry have much in common. Both rely on fear to get their way and are familiar with violence. However, Murtry, unlike Amos, is in command and does not have the moral compass of his crew to temper his brutality.
Yet, Amos is aware of the brutality of violence and how it sullies him. When Praxideke 'Prax' Meng (Terry Chen) is going to shoot Dr. Strickland (Ted Atherton), it is Amos who intervenes. Amos understands that Prax is not a killer. This is not to save Strickland's life but rather to save Prax from becoming a killer.
Amos: "You're not that guy…"
Strickland: "Thank you, thank you…"
"I am that guy," says Amos to Strickland, before shooting him.
Amos Burton's Childhood Trauma
Amos is not completely uncaring, as he is extremely protective of children. There is a telling moment during The Expanse episode 'Immolation' (S3, Ep6). The crew has returned to Rocinante with the children they rescued from the research station. It is Amos we see caring for the children. Unfortunately, witnessing the ring gate being formed, Amos swears loudly in front of them. That scene encapsulates much about his character; Amos is someone who will care for and protect children but does not realize the ramifications of his behavior.
Similarly, in The Expanse Season 4, Amos befriends Chike (Nathaniel McParland), a recently orphaned child who is now blind. Although Chike is surrounded by his people, it is Amos who holds the boy's hand and promises to see for both of them.
In the aforementioned interview with CBR, Wes Chatham explained: "There's a book called The Body Keeps the Score, and it's just a book on trauma and how trauma manifests in people's lives. You read this book and the great thing about this book is there's case study after case study after case study and you're like, 'Oh, that's interesting.'
"And you start to see these common things of people that have gone through similar situations and how they have similar defense mechanisms and how that manifests. And then you tie that all into the choices of what you make [as the character]."
Moral Decisions and Relationships
Many of Amos's actions are guided by his companions. Just as Amos seeks to protect the crew, he looks to the others for moral guidance. Amos can recognize those who are 'good' or 'bad' but struggles to make ethical/moral decisions. Instead, Amos focuses on the needs of the moment, without considering the wider consequences or how they impact the community.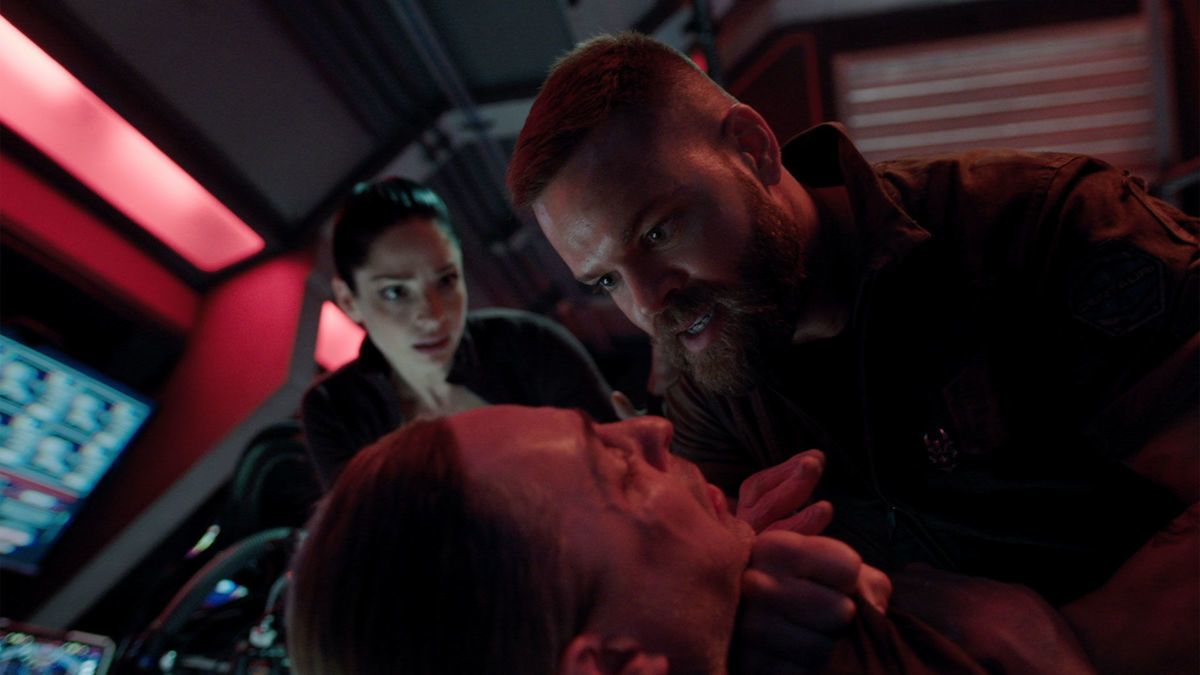 A prime example of this is in The Expanse episode 'Intransigence' (S3, Ep9) when Amos calmly forces a documentary team to take a spacewalk to the nearby spaceship after Monica Stuart's (Anna Hopkins) cameraman Elio 'Cohen' Casti (Brandon McGibbon) sabotaged Rocinante. Amos recognizes Cohen as a threat to the ship, and thus Cohen must leave. However, as Cohen was blind, Amos also spaced Stuart with him, so she could help Cohen into a spacesuit and guide him to a nearby spaceship.
However, Amos's loyalty to the crew is not absolute. After Naomi betrays the crew of Rocinante, Amos realizes the danger of relying on another for making decisions for him. At first, Amos attempts to make his own decisions, and becomes increasingly emotionless, but is visibly shocked when a child accuses him of being a bad man in The Expanse episode 'The Seventh Man' (S2, Ep7).