We've seen creepy pictures of corridors full of seemingly dead bodies, as well as pictures of scared astronauts and damaged Alien-esque stasis booths.
But we want more, so we grabbed Glassner and got him to give us some details about his second collab with Devlin following The Outpost. Like The Outpost, The Ark is filmed at Serbia's PFI Studios and the two serve as showrunners. Although the studio previously played host to the Netflix movies Tau (2018) and Extinction (2018), according to production company Balkanic Media, The Ark is the first sci-fi series shot in Serbia.
"[Dean] called me and he said, 'You know, there's no reason to do this in Serbia for locations because it's entirely set in spaceships, so we're never gonna go out of the studios. But I want to use that crew, what do you think?' And I said, 'Yeah, let's do it.' And so we've been doing this show there too."
The Ark stars Outpost alum Reece Ritchie (Rellik, The Lovely Bones) as the Darwinian Lt. Spencer Lane, and Tiana Upcheva as Eva Markovic, leader of Ark One's maintenance, engineering, and life support systems.
They're joined by an international cast including Christie Burke (Maid, The Haunting of Bly Manor) as low-ranking officer Lt. Sharon Garnet, Richard Fleeshman (The Sandman, The Gallery) as the head of the ship's navigational system, Lt. James Brice, Stacey Read as Alicia Nevins, a brilliant young woman and member of the Waste Management team, Ryan Adams as Angus Medford, a young man with a green thumb, Christina Wolfe (The Weekend Away, Batwoman) as manipulative psychologist Cat Brandice, Shalini Peiris as Dr. Sanjivni Kabir, the Ark One's chief physician, Miles Barrow (The Peripheral) as ensign with an identity crisis, Baylor Trent, Pavle Jerinić as the hard-nosed head of security, Lt. Felix Strickland, and Lisa Brenner (The Virtual End, Bad Samaritan) as military veteran, Commander Susan Ingram.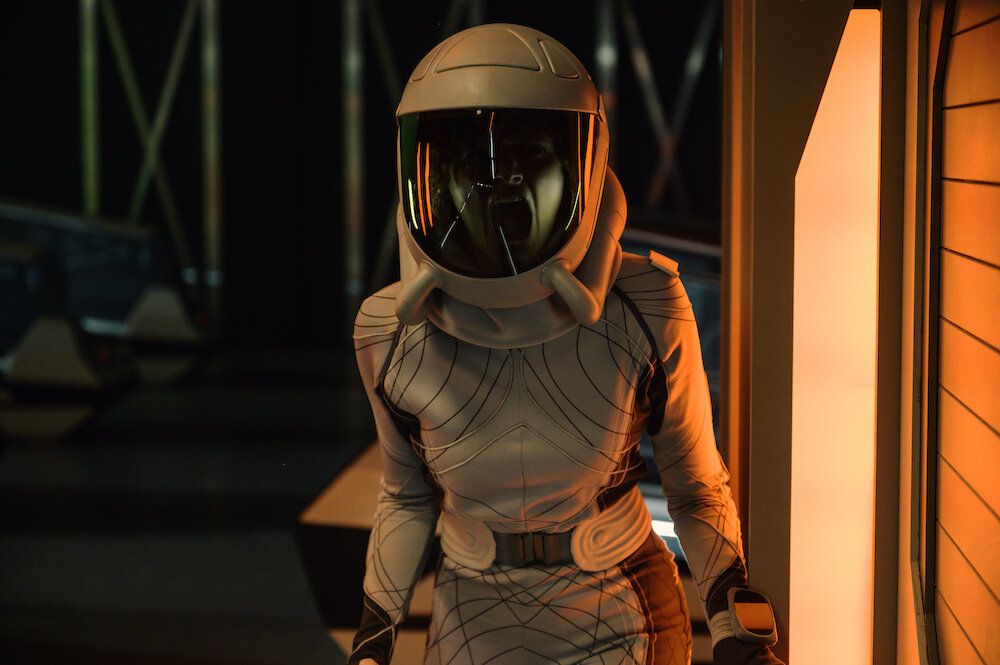 The Ark takes place 100 years in the future when planetary colonization missions like that of Ark One are humanity's last chance of survival. As the show unfolds, catastrophe causes the deaths of senior officers and the loss of supplies. With a year left of their journey, the survivors are forced to make hard choices.
"It's set only probably 100 years from now," says Glassner. "So it's old technology that has been pushed to the limit to make these ships try to rescue people off of Earth which is collapsing. And we go with one of the ships and have all kinds of fun adventures."
There are no aliens – so far anyway – and it's all based as closely as possible on real science.
"I mean, there's some rules we have to break to be able to do the show," admits Glassner. "So we've just invented a faster-than-light travel method, but we don't even start off having that, that's a big story point of how we get it.
"It's really a survival show. It could almost be set on an island somewhere and be just the same. It's been great, I just directed the last episode of the first season."
The Ark is the Stargate SG-1 co-creator's first science fiction series since he served as co-executive producer on the final season of Falling Skies in 2015. The Ark will premiere in 2023 on Syfy with a 12-episode first season.
This article was first published on September 27th, 2022, on the original Companion website.
As a member of The Companion, you're supporting original writing and podcasting, for sci-fi fans, by sci-fi fans, and totally free of advertising and clickbait.

The cost of your membership has allowed us to mentor new writers and allowed us to reflect the diversity of voices within fandom. None of this is possible without you. Thank you. 🙂
Comments