It's 1995 and Danny Elfman and Tim Burton aren't speaking. They first met a decade earlier when Burton was looking for a composer to finesse his 1985 oddball debut, Pee Wee's Big Adventure. With Elfman, the director not only found a musical collaborator but a kindred spirit whose fascination with the macabre matched his own sinister sensibilities.
Throughout the early '90s, the duo established their own quirky pop-culture niche with Beetlejuice (1988), Batman (1989), Edward Scissorhands (1990), Batman Returns (1992), and –produced by Burton, but directed by stop-motion supremo Henry Selick – The Nightmare Before Christmas (1993). Then, as quickly as it started, everything suddenly fell apart – and it took a Martian invasion to set them back on track.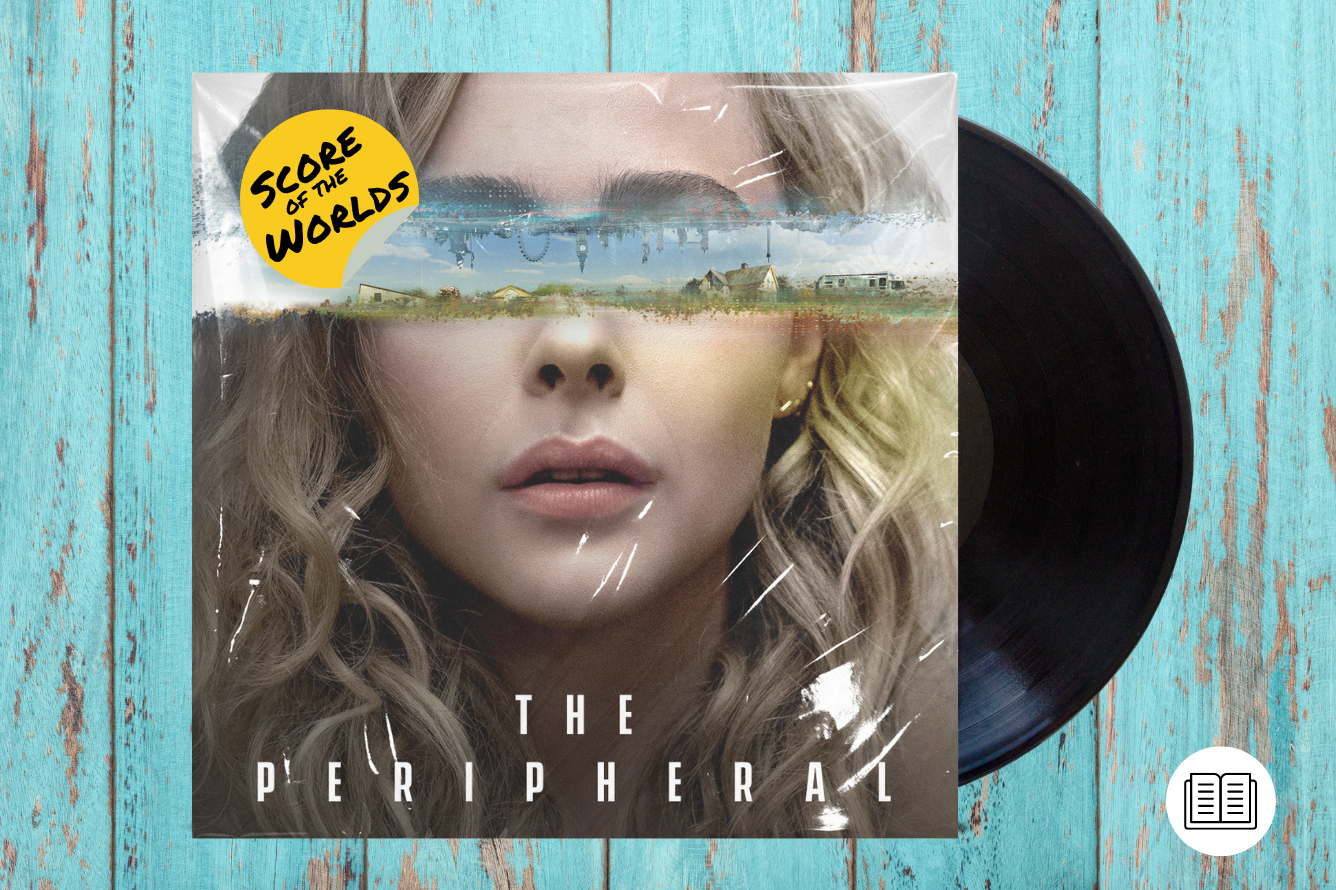 "It was one of those things that just had to happen," admits Elfman, speaking exclusively to The Companion. While he remains respectfully tight-lipped on the exact reasons behind the rift, the ex-Oingo Boingo songwriter believes the creative intensity of their early collaborations made a clash all but inevitable.
"We had a period at the end of The Nightmare Before Christmas where we had a bit of a meltdown. It's why we went through a year of going our own way," reveals the 67-year-old composer. "The Nightmare Before Christmas was just so much work. It was spread out over almost two years, and in the middle was Batman Returns, so there was a lot of room for personality clashes and emotions," he adds.
"It was one of those movies where I thought, 'This is just really fun. I shouldn't be getting paid for this'."
Reuniting with Tim Burton
This temporary break in the duo's winning streak saw Elfman noticeably absent from Ed Wood, Burton's 1994 biopic of the eponymous cult filmmaker, and his infamous UFO movies of the 50s. Raised on B-movie fodder, this missed opportunity was certainly felt by Elfman; but as 1996 arrived, so did an unlikely second chance at scoring the same kind of flying saucer epic that lit up his childhood.
"I'll never forget my agent getting a call from a producer who said 'Do you think Danny would ever want to speak to Tim again?' I was on a plane to Kansas the next day. We met in a coffee shop near where he was shooting Mars Attacks! and we just hugged and said 'forget about it'," he laughs, recalling the moment he and Burton put their differences aside. "We didn't even talk about it. It was that simple."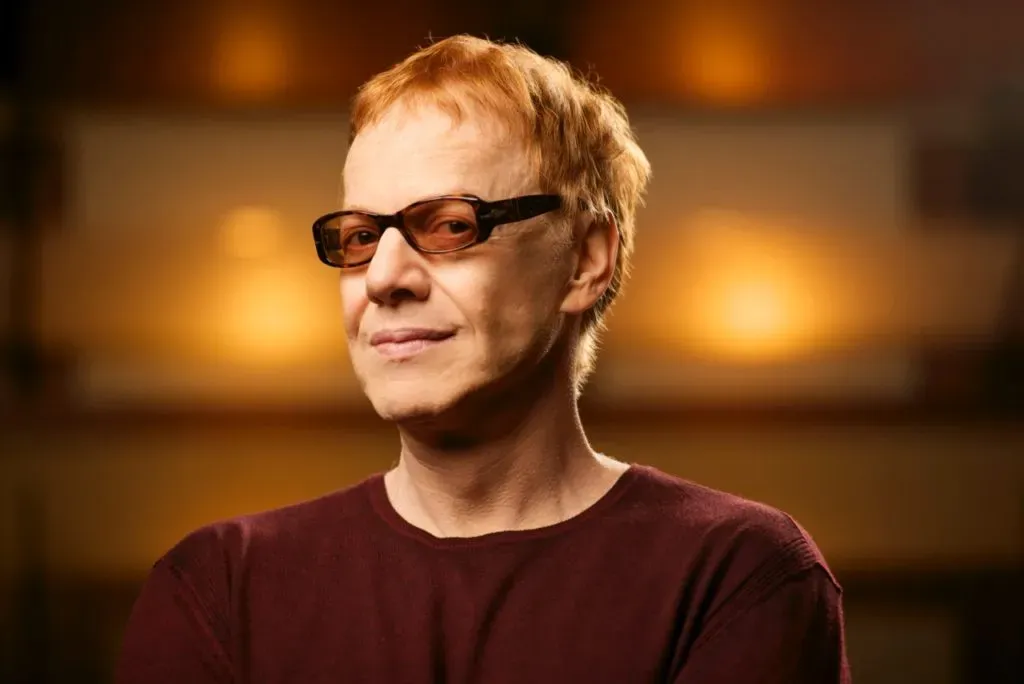 Meanwhile, Burton was hard at work on his latest project and he needed Elfman's expertise. Based on the Topps trading card series of the same name, Mars Attacks! saw the filmmaker gather a star-studded cast led by Jack Nicholson, Pierce Brosnan, and Natalie Portman for a black comedy that pitted Earth against an army of bulbous-brained Martians. With their relationship back on track, Elfman was keen to pick up where he and Burton had left off – this time with a more balanced work ethic: "It really was like hitting the ground running but with a bit more smarts than before because I'd learned from the situation," says Elfman looking back.
"At that point in my life, my emotions ran too hot and I would frequently find myself getting too close to a situation. Time allows you to pull away and see things in perspective with the bigger picture. What I learned is that, whenever I feel like I'm getting that way, I try to pull back and think 'does it still seem like such a big deal?' Nine times out of ten, the answer is 'not really'."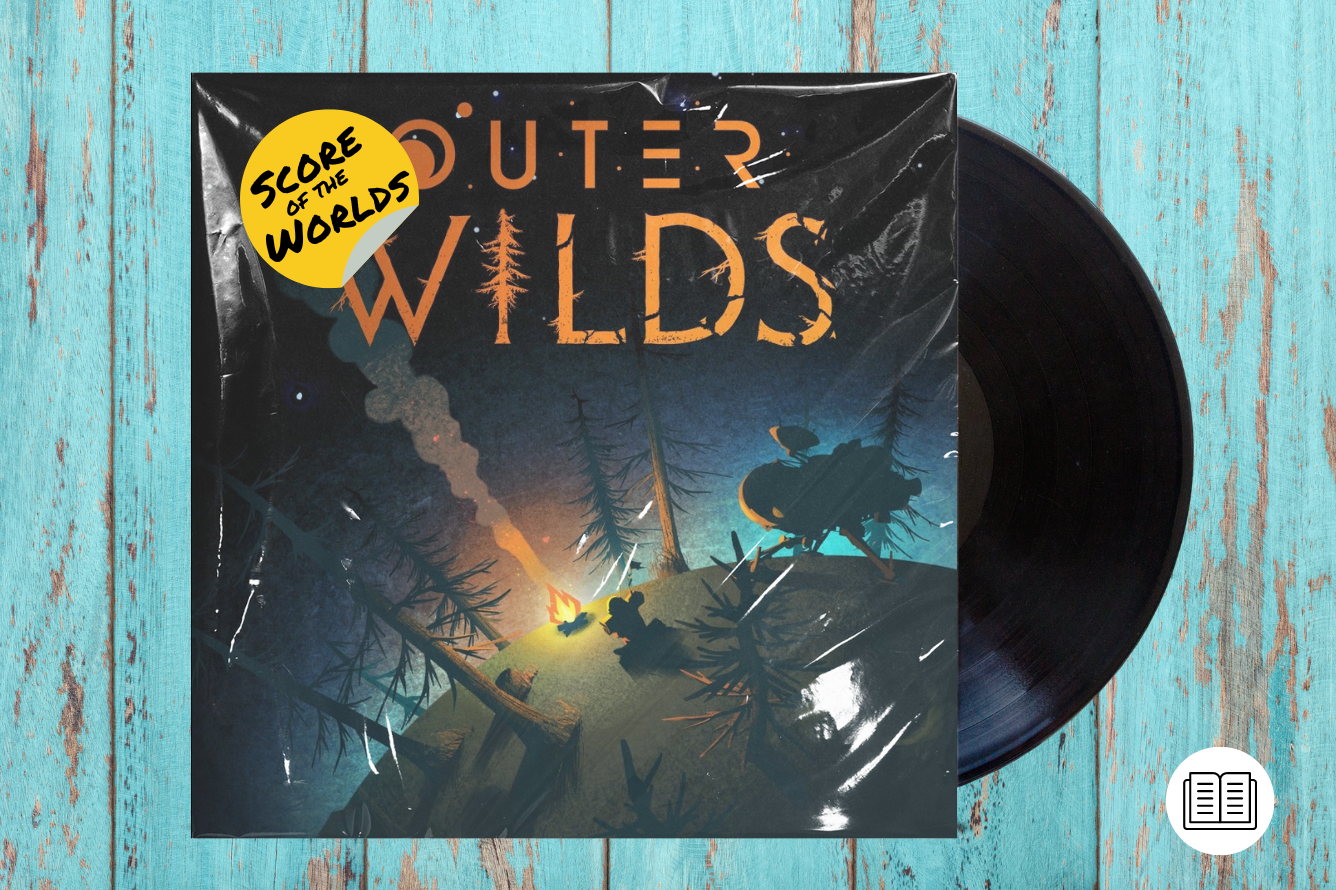 Improved working relationship aside, Mars Attacks! finally gave Elfman the alluring opportunity to explore a retro sandbox that was intrinsically linked to his youth. "It was my whole childhood," he beams, commenting on the nostalgic nature of the schlocky UFO invasion genre. "That was why Tim and I bonded when we first met on Pee Wee's Big Adventure; we realized we grew up on the same movies – specifically horror, sci-fi, and fantasy. That's all I lived for as a child. Every single weekend of my childhood I was at the movie theatre, and every single weekend they played two different movies catering to this young audience," he explains.
"The movie that inspired me to want to get into film music was The Day The Earth Stood Still but beyond that there was This Island Earth, Invaders From Mars – they were all firmly embedded in my psyche."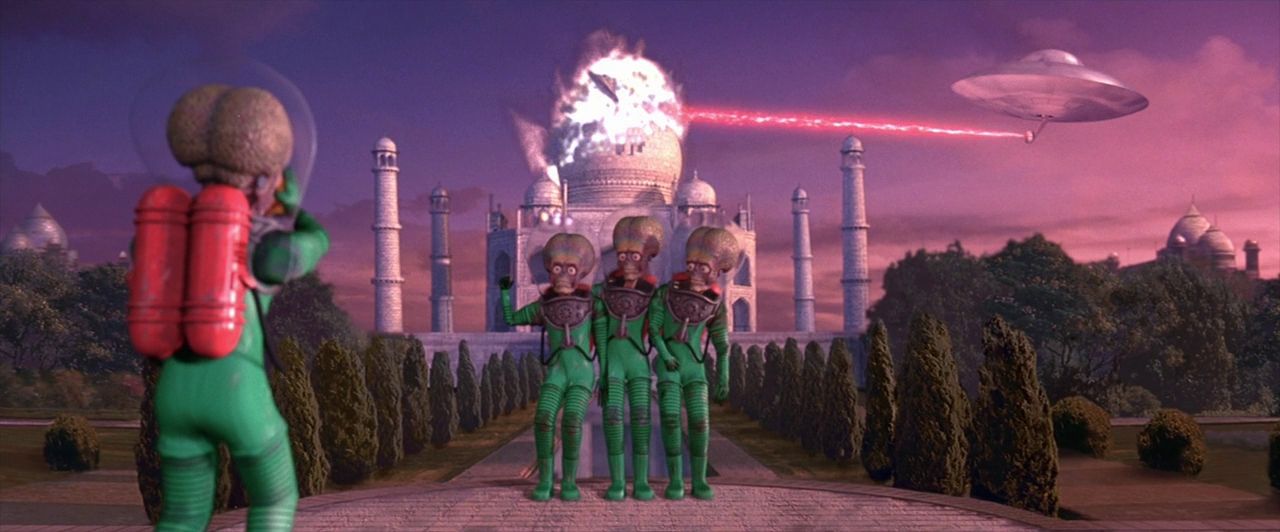 With its chrome UFO fleets silently hovering in the sky, grinning alien threat, and zany, world-destroying chaos, Burton's take on the genre came with irresistible dark humor and its tongue firmly in cheek. The mixture ticked all of Elfman's boxes: "I was very excited about it," he tells us. "Whatever size sandbox I'm usually allowed to work in, in Tim's movies the box would double in size – whether it's darker, sillier, or both. I got to have some real fun playing tongue-in-cheek and being loose and free with the music. Now and then a project comes along where you go, 'this is going to be so much fun' – and this was one of those moments," grins Elfman. "I was happy to be back with Tim, I was happy on set looking at the flying saucers, and then when I saw a rough cut of the film I thought, 'Ah yes, I know exactly what to do here.'"
In fact, the composer's vision was so clear, Mars Attacks!' eerie, theremin-laced score practically wrote itself. "Tim sent me a bunch of the Mars Attacks! cards but when I looked at an animatic of the opening sequence where one flying saucer becomes two, becomes nine, becomes a thousand – it was a rare moment for me. I literally heard the opening music in my head," he reveals.
"I told them to hold the picture and I ran out into the lobby and made a whole bunch of notes." With its marching tempo and building choir, Elfman's grandiose hero theme perfectly matched the sly, in-on-the-joke vibe and threat level of Burton's visuals. "It was a rare case where the whole thing just played right out for me," he continues. "That's happened about half a dozen times in my life and I've scored well over 100 films, so it's not the norm that it's that easy. I saw that opening and just heard the whole thing – and it's exactly as it went in the film."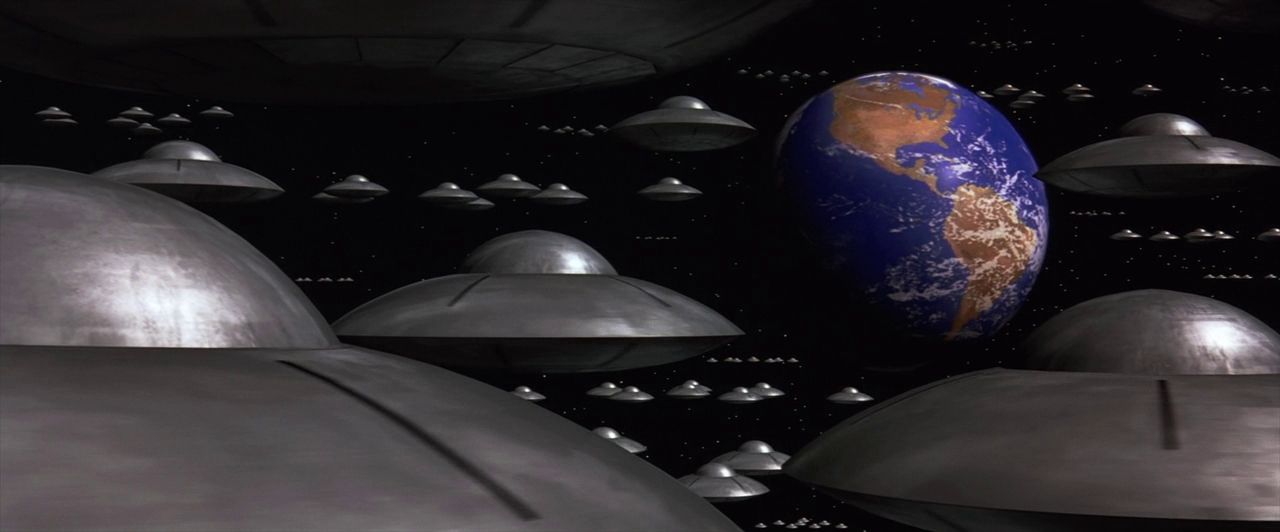 Mars Attacks!'s Blend of Influences
To bring his score to life, Elfman turned to the classical greats, splicing their styles with his own tastes while trusting that his finely-tuned songwriting instincts would lead him in the right direction. "In my head, I heard this piece inspired by Prokofiev; it was very Russian, there was a manly choir and heavy brass," he says, detailing the creation of the movie's oppressive opening score.
"At that time I was listening to a lot of '60s lounge and tropical music like Martin Denny, so applying that to the female Martian who goes to The White House and bites off Martin Short's finger was just so much fun," smiles Elfman, remembering one of the movie's most memorable sequences. "I don't work analytically and that's probably one way that Tim and I are very similar. I just jump in and what's there is there," he adds. "In the case of Mars Attacks!, it's a very simple thematic score and that made it very narrative and easy – and when I'm doing a narrative score it's very second nature for me.
"It was one of those movies where I thought, 'This is just really fun. I shouldn't be getting paid for this'."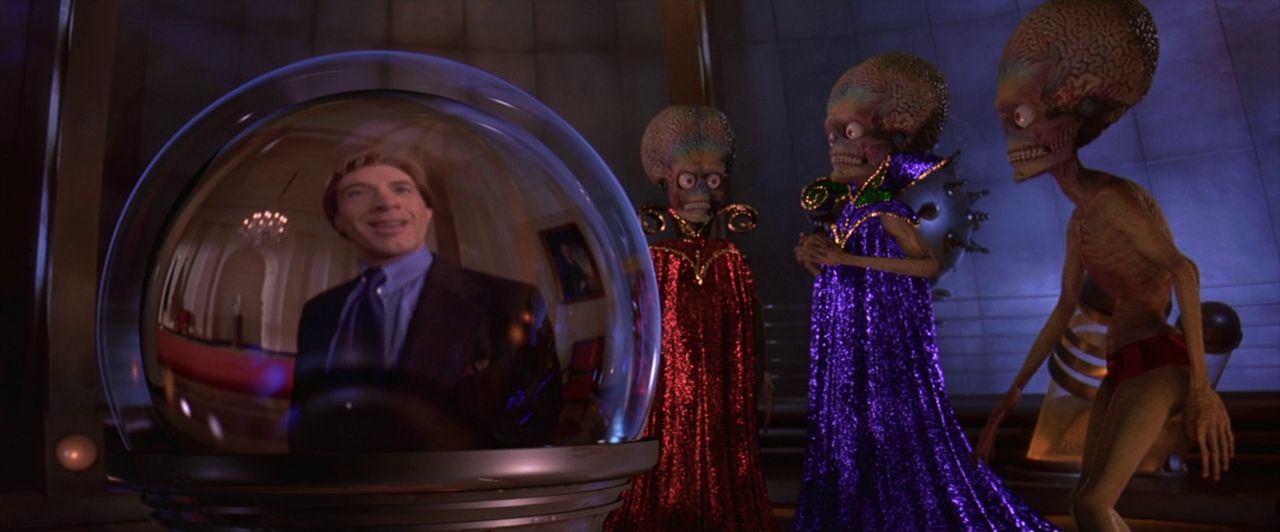 Since they first met 35 years ago, Elfman has gone on to compose scores for 18 of Burton's movies – from Pee Wee's Big Adventure in 1985 to Dumbo in 2019. As you might expect, such an extensive working relationship has helped the pair perfect a shorthand that's become a tried and tested recipe for success – but according to Elfman, it was there from the beginning: "Tim doesn't give input beforehand, he only really gives input after he hears something," says the songwriter on how he and Burton collaborate.
"He really talks very little about his films before we start, it's almost like he just wants to show me the movie." On other features, spotting sessions where composers sit with a director to break down a movie's musical beats may last days, however, with Burton, the process is much different. "With Tim, for an hour and 45-minute movie, the spotting session will be an hour and 50 minutes. He doesn't want to analyze it. On Mars Attacks! I don't really remember him offering anything other than a 'you know what to do' vibe."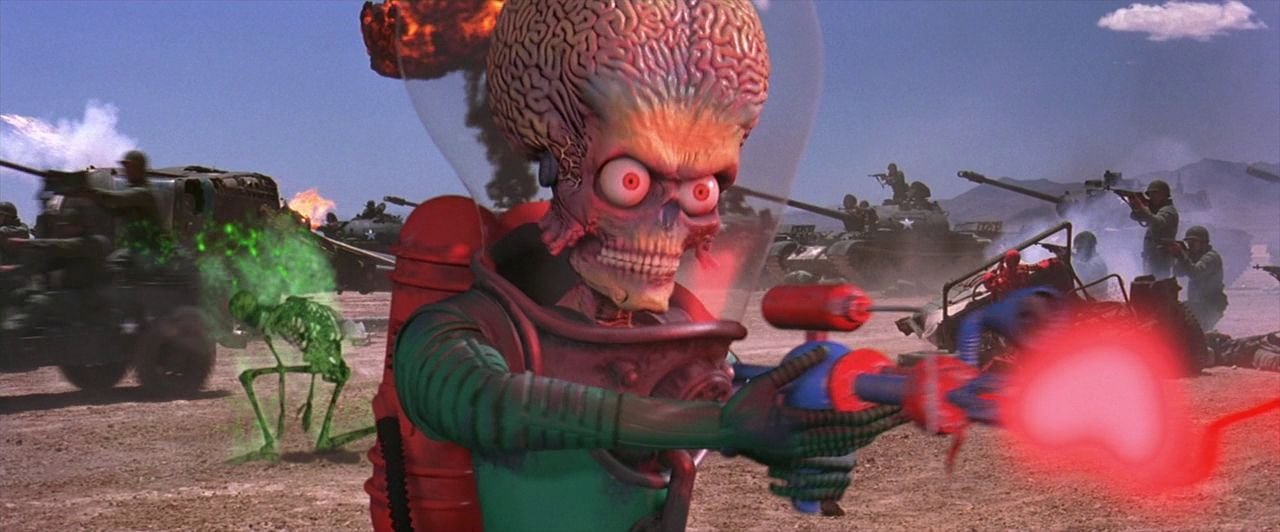 One of the key ingredients of Elfman's alien invasion score is the theremin – an ethereal electric instrument that's controlled without physical contact from the conductor. It's a tool that was frequently used by one of Elfman's musical heroes, Bernard Herrmann, a composer whose work on films like Alfred Hitchcock's Psycho (1960) and Vertigo (1958) heavily influenced his dramatic style. However despite these two figures looming large over Mars Attacks!, Elfman assures us neither was relied upon too heavily when writing: "I never think about what's too much or too little," he says on knowing how much theremin was too much theremin. "I just go scene by scene. If I've gone too far, Tim will say – but he rarely does that to me," he smiles.
"I was playing more tongue-in-cheek here than I would in a different type of film and Berrnard Hermann didn't do a lot in that regard. Even though Herrmann played a huge role in my life – and I'm using a theremin much like Herrmann did in The Day The Earth Stood Still – the music itself was more Russian and less inspired by Herrmann than many other scores I've done."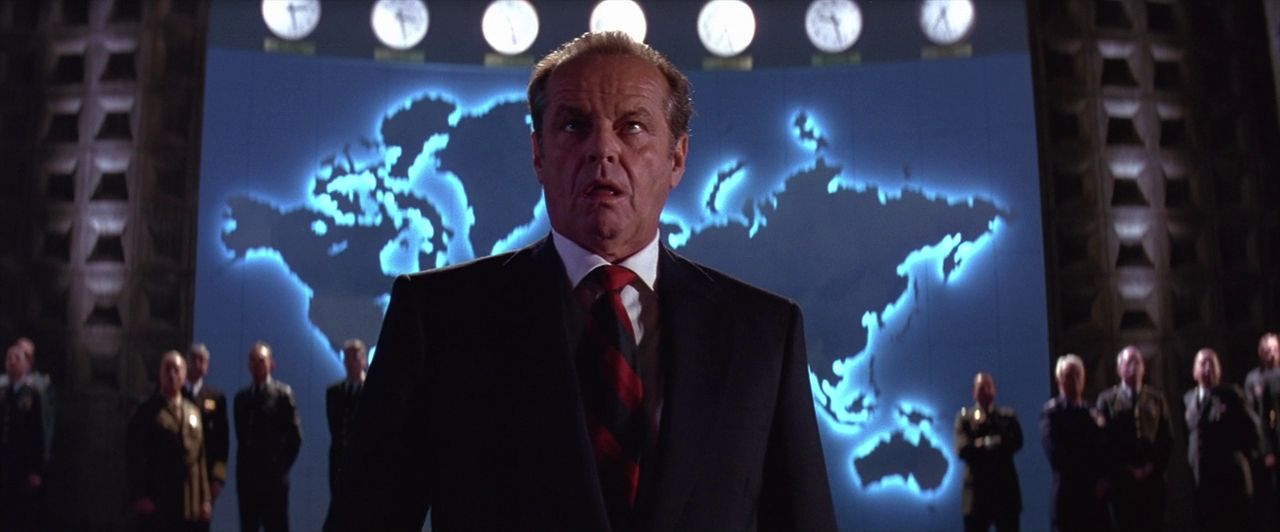 Looking Back on Mars Attacks!
It's now 2021 and Danny Elfman and Tim Burton are very much still speaking. In the 25 years since Mars Attacks! was first released in cinemas, Elfman has returned to his live music roots – appearing on stage for a number of in-person performances showcasing many of the iconic and beloved scores he's created alongside his gothic filmmaking muse. Whenever it comes time to unleash the UFOs, Elfman still takes immense pleasure in revisiting the music that helped mend a broken friendship – and judging by their reaction, crowds do too: "It's one of those scores that when the opening starts with the theremin, the audience always gives a nice 'Oh boy!'," he smiles, remembering past airings of the film's theme. "You can sense they're down for it."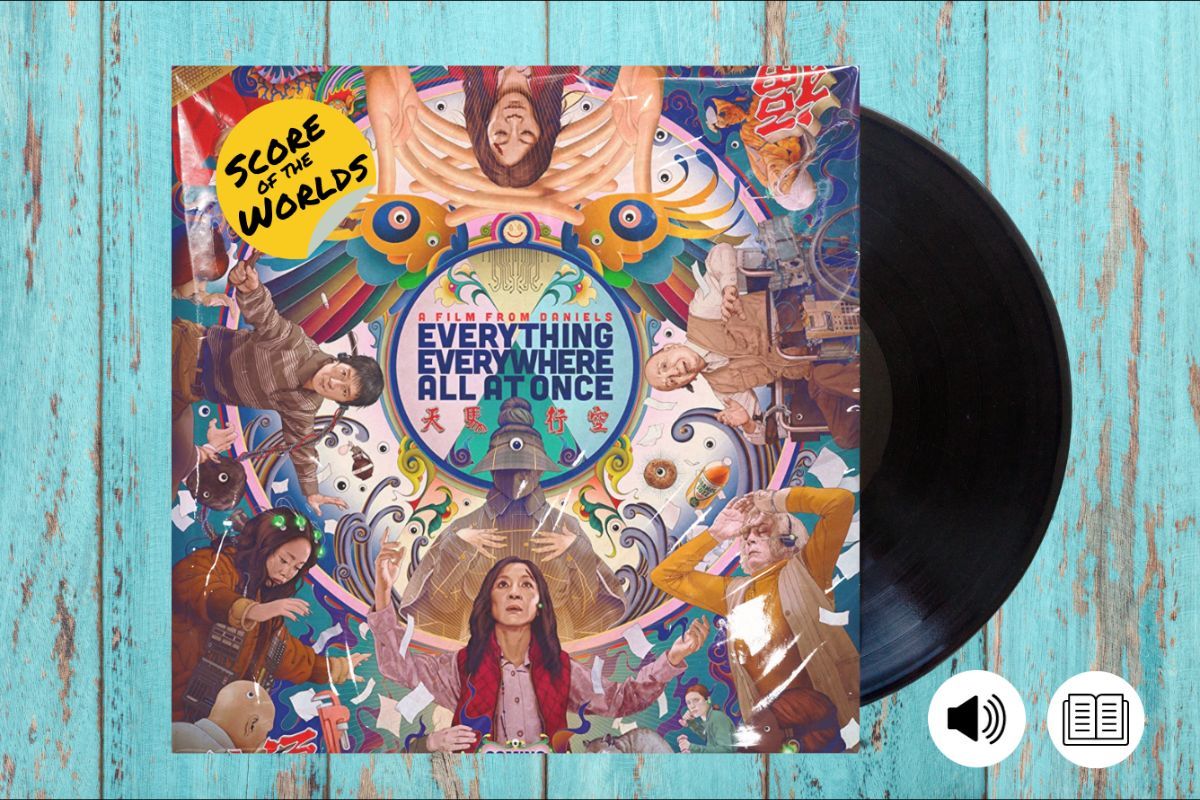 What's more, hindsight has revealed Elfman's Mars Attacks! experience as a golden moment of clarity and simplicity in a profession that can often be plagued with frustrating creative blocks. "It just exploded out of me," he says, still in awe at the fluidity and ease of the writing process. "Writing Mars Attacks!, writing The Simpsons theme – there are only a few other moments like this where it just comes instantly – and balancing against that are thousands of hours of struggling uphill," he laughs.
For a composer that has worked on more than 125 different feature films, with countless directors, over a career that has spanned more than 40 years, the rarity of his time on Mars Attacks! certainly doesn't go unappreciated: "I wish they'd all be like this," smiles Elfman. "Sometimes it just flows without any struggle. It's a reminder that it can be that way and the next time you feel like you're losing years of your life on a project, you have to remember that it's not always like that. Every now and then you get a free pass."
This article was first published on January 7th, 2021, on the original Companion website.
As a member of The Companion, you're supporting original writing and podcasting, for sci-fi fans, by sci-fi fans, and totally free of advertising and clickbait.

The cost of your membership has allowed us to mentor new writers and allowed us to reflect the diversity of voices within fandom. None of this is possible without you. Thank you. 🙂
Comments