Warning: This article contains spoilers for the Lexx episode 'Brigadoom' (S2, Ep18). Proceed with caution.
As far as sci-fi shows go, Lexx was something else. Sexy, quirky, a Canadian-German co-production, it was never afraid to take risks. And then for the 18th episode of its second season, it went one weirder. The crew – ship's captain Stanley, morose undead assassin Kai and sexpot Xev – travel to a planet that's outside the time-space continuum and end up participating in a musical theater show that doubles as a dig into Kai's backstory.
The result, 'Brigadoom' (S2, Ep18), was first broadcast on 9th April 1999 and has become one of the most beloved installments of the cult series. More than 20 years on, we caught up with four of the episode's key members to find out how it came together.
As Told By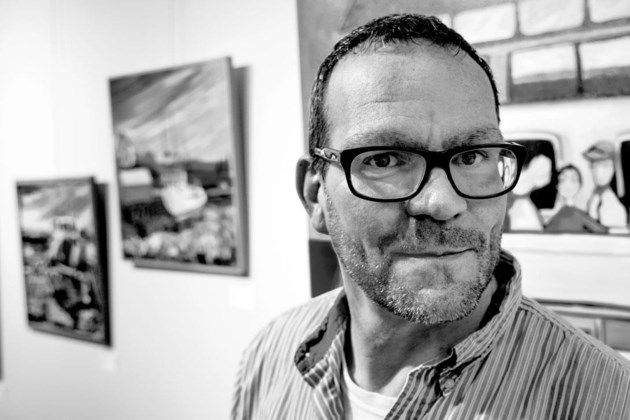 Andre Haines (composer and musical director): I had completed my first opera that had been staged down in Yarmouth at the Arts Centre there. [Lexx co-creator Lex Gigeroff, also Andre's brother] came down and saw it. He said, 'Listen, I want you to come [and] meet [producer] Paul [Donovan] and see about maybe getting a chance to do this musical.' So I said, 'Okay, of course, I'd love to do that.'
Brian Downey (actor; Stanley H. Tweedle): I thought it was a crazy idea. I think one of the fears I had was that I can't really sing. Even though I made my living for ages as a rock-and-roll musician and a folk musician, that doesn't require a lot of singing. Lots of standing around in tight pants.
Xenia Seeberg (Xev) to Starlog: "It fascinated me a lot, personally, because I had a chance to sing. From the bottom of my heart, I'm a singer and that made the show an exciting challenge."
Haines: I went over [to Paul's] home in Halifax and his wife brought out a book of little German folk tunes. The idea was that I was to sit at the piano and improvise. So I open up the first one. I play the tune as it's written, a little folk tune. And then I start different improvising, you know, changing the time signature, changing from major to minor keys, you know, rhythm pattern changes that kind of stuff. Just kind of horsing around. And then I got the job.
While Haines wanted to write original songs for the episode, the producers decided on using Teutonic folk tunes as the basis of music in the show. The storyline around which the music fitted saw a set of mysterious theater performers – led by a monologuing narrator (Jeremy Webb) – explain the history of the Brunnen-G, the race to which Kai (McManus) belongs. But while Xev and Kai are keen to participate in the production these thesps are mounting, Stanley is more concerned about leaving and continuing their overarching mission.
Downey: They wanted me to be part of the ensemble, on stage. Thank God that Paul and the writers were genius enough to work around my sulkiness, [and] my refusal to cooperate. But it worked out well because I think the idea that Stanley was refusing and went away and came back gave a little more attention to the storyline.
Of course, shooting a comparatively low-budget TV programme means that you don't have the luxury of time. The whole thing had to come together very quickly. Bill Fleming directed, Gigeroff, Donovan, and Jeffrey Hirschfield shared writing credit and Mary Lou Martin was the choreographer.
Lex Gigeroff (who died in 2011) to Lexxverse: "I find it hard to believe that Andre and I basically knocked off all the songs in about two days."
Downey: The rehearsal time was incredibly short. We had like a week all-in to do everything.
Haines: The fear was once it's done and once it's recorded, it can't be changed. At the same time, we were working with the singers, teaching them the music, [and] working with Michael and Xenia on their voices. It all happened very fast.
With everything as close to ready as possible, the ensemble descended on Studio One of Electropolis, the production facility where Lexx shot in Halifax, Nova Scotia. Alongside the main cast, local music legend Lorraine Segato of the band The Parachute Club played the Time Prophet, and expat Englishman Jeremy Webb was the Master of Ceremonies.
Jeremy Webb (actor; Master of Ceremonies): I'd met [casting director] John Dunsworth when I'd come over on a little exploratory mission to see whether I could make a new career and a new home in Canada. He loved the fact that I trained at the Bristol Old Vic and that I did a lot of Shakespeare and stuff. I remember one day he had me doing a Hamlet soliloquy in his office, which was like a street front. All these people were walking past his storefront office, watching me do full-on Shakespeare because I was trying to impress this Canadian casting director. I forgot about this until I knew I was going to be talking to you but I auditioned for Stanley [when they were originally casting the series].
Lorraine Segato (actor; The Time Prophet): I was living in Nova Scotia waiting to release a record and had just finished a music video with a director who happened to be directing in the Lexx series. He asked me if I wanted to play a character named the Time Prophet and I said yes. Time Prophet was intended to be a cross between a wise woman and a prophetic seer.
Haines: I believe that Michael [McManus, Kai] had had some training and done some singing on the stage. I think he maybe did The Threepenny Opera? I mean he did have vocal abilities, right?
Downey: McManus fucking loved it! You kidding me!? Get a chance to sing on stage in a costume that's not his regular costume? Hell, yeah. Xenia too becomes more than just a sex symbol or the desirable entity in the show, I think she loved getting out of that box and trying something else. And she can sing.
Haines: Xenia was a delight to work with – loved to sing, was beautiful and happy and joyful all the time to be singing.